The GSI Outdoors Escape HS 3l Pot and Frypan is a major upgrade to your current cookset. The most obvious feature is the pot's collapsible design, expanding it from 1.75" tall when it's collapsed to 5.25" tall (or 3 liters) when expanded. The nylon walls had me questioning its durability and compatibility with a camp stove, but as the directions and warnings promised, the pot easily held up during dinner-making for three.
The pot and pan fit seamlessly together and pack nicely into a mesh stuff sack that has extra room for utensils, a lighter, or other cook kit accoutrements. Let's get into the details:
GSI Escape HS 3L Pot
The pot's base, a 'heat sink,' is made of anodized aluminum and has a protective wall with ventilation slots to keep the heat in and protect the flame. I was surprised to notice that water seemed to boil faster with this pot, which I'll attribute to the efficient design. I used the pot on both a small backpacking stove and a Coleman camp stove and it performed equally well with both. Because of the larger design of the 3L pot when fully extended, it felt a bit unstable when perched on the backpacking stove but it wasn't unbearable.
The pot's walls are made of silicon and easily expand and the collapsible design shrinks like an accordion, yet are stiff enough to hold their shape without collapsing while cooking or moving the pot around. Measuring marks are clear to see on the inside of the pot's walls, giving measurements in both liters and ounces. I found this feature particularly helpful because I'm terrible at eyeballing it and because of the pot's size and shape, I definitely would have been way off if I tried.
The handles on the pot warm up but never got too hot to touch and GSI Outdoors have included silicon thumb pads on the lid to help with easy straining of water without burning your thumbs. The handles double as a locking system with the thumb pads, securing the lid in place for transport or to store food.
The manual cautions against using the pot as food storage but it was late into the evening and I went against their warning…which leads me to my favorite feature of this pot. With a half-pot of leftover sautéed veggies and my tent calling my name, I secured the pot's lid in place, collapsed the pot as small as I could make it, slipped it into the cooler and went to bed. The adjustable height made it the perfect size to hold whatever amount of food we had and its collapsibility meant I didn't have to take up more coveted cooler space than needed. The veggies kept well overnight, leaving me lunch the next day. Although I'll heed the company's warning about not storing food in the pot, if you're in a pinch (or just lazy), the pot doubles as the most efficient storage option you'll find.
One downside I did find was that the silicone siding holds onto food smells after use. It wasn't rancid or terrible, but you can definitely tell what was eaten the night before. That being said, after we boiled water in it, the smell went away and the smell didn't affect the taste of the water.
GSI Frypan
With a 1" depth, the 9" frypan is a great accompaniment to the pot system. A metal handle is coated in silicone to protect against it getting too hot and folds under the pan for out-of-the-way storage when stacking the system. The frypan is anodized aluminum with advanced tech Teflon coating and, if you're like me and have no idea what that means, essentially it distributes heat more evenly so you're not constantly moving your food to the middle of the pan to cook it. This made for noticeably less cooking times and more evenly cooked food.
Possibly the only gripe I have about this setup is the frypan's folding handle mechanism. The handle uses a sort-of 'squeeze' mechanism to lock it into place when moving it between storage-mode to use-mode. Once in place, a locking tab flips over to lock the handle in place, keeping it from collapsing while cooking or moving while transporting. In theory, this is great, but in practice it was cumbersome and needed a lot of fiddling with to make it work. The key, as I realized, is that the lock had to be lined up perfectly to lock in.
Favorite Features
Collapsible yet durable silicone pot
Pot's adjustability makes for easy storage of leftovers in a cooler
Pan's 1" deep sides keep food in the pan
Evenly distributed heat made for quicker cook times and better cook results
Great packability
Downsides
Folding handle system on fry pan
The pot held food smells after cooking
Dimensions: 3L Pot
9" diameter
75" tall when collapsed
25" tall when expanded
75 internal diameter of heat sink
8oz / 447g
Dimensions: Lid
Dimensions: Fry Pan
9" diameter
1" wall depth
7oz / 247g
Overall Impression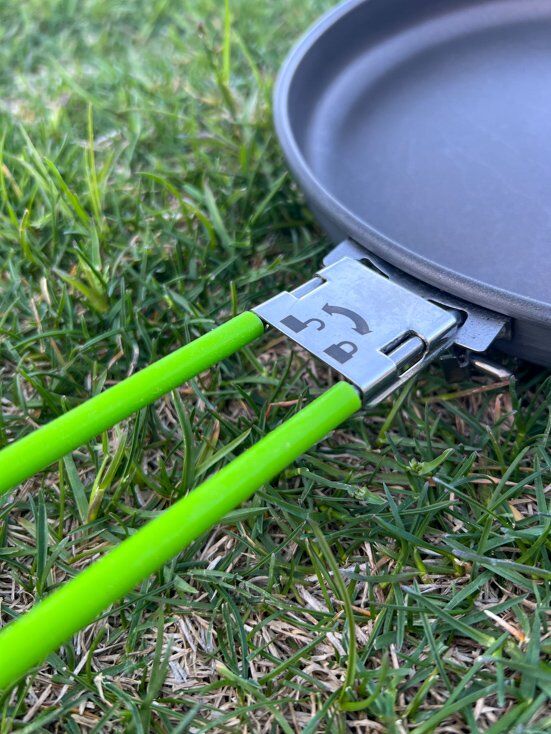 Cleanup with both the pot and pan was easier than other pots and pans I've used. I typically rinse my cookware with a bit of water then wipe it down with a towel (if you haven't stacked your camp kit with a few towels to replace a roll of paper towels, I'd recommend it. Much more useful, longer lasting, and you just toss them in the wash when you get home) after using them but don't do a proper wash until back home.
With GSI Outdoors Escape Pot Only ($59.99), wiping them down was all they needed to remove any residue and neither aluminum surface held any burnt or stuck-on mess.
Related Articles: