The Helly Hansen Ridge Shell Jacket is a higher-end choice from Helly Hansen specifically designed with freeriding in mind. Details such as the backpack friendly pocket orientation, high visibility visor, and included RECCO tag make the design well suited to 'off piste' skiers and riders.
H2FLOW
The Helly Hansen Ridge Shell jacket is fairly heavy-duty, weighing in at or above a traditional insulated jacket. This seems to be due to the fabric weight, as most features on the jacket are minimally designed as you would expect from a technical piece of outerwear.
The "Helly Tech® Professional 3-ply fabric with FLOW membrane" fabric is thick and has a look and feel similar to skin or animal hide. There is some stretch to it, and as you would expect from H/H it seems quite durable. The medium size option was just a touch restrictive on me (5'11" 155 lbs) with the collar feeling a bit tight when wearing a few base-layers.
I found the powder skirt to be too short, especially where it connects at the front of the jacket where it is only about 2″ wide. This really restricts the ability of the jacket to move while using the powder skirt connected to pants, oftentimes pulling above the pants and not providing any snow protection.
This jacket would be well suited to short hikes or backcountry excursions, but its weight and heavy fabric are too much for any longer tours unless you're going out in frigid weather.
Temperature Regulation
I first wore the Helly Hansen Ridge Shell in conditions that varied from blizzarding to partly sunny with temps between 25 and 30 °F while lapping a chairlift along with a few short hikes. With a wool shirt and fleece, I was quite comfortable throughout the day between hiking and riding up the chair.
Temperature regulation was fairly good. The fabric definitely has great breathability, especially considering its thickness. I did stay dry on the inside but did notice that the fabric readily absorbed moisture. Especially annoying were the wrist cuffs, that became soggy by the end of the day and took considerable time to dry out. Additionally, when wearing a backpack the back of the jacket shell will get saturated with any snow lingering between the jacket and pack.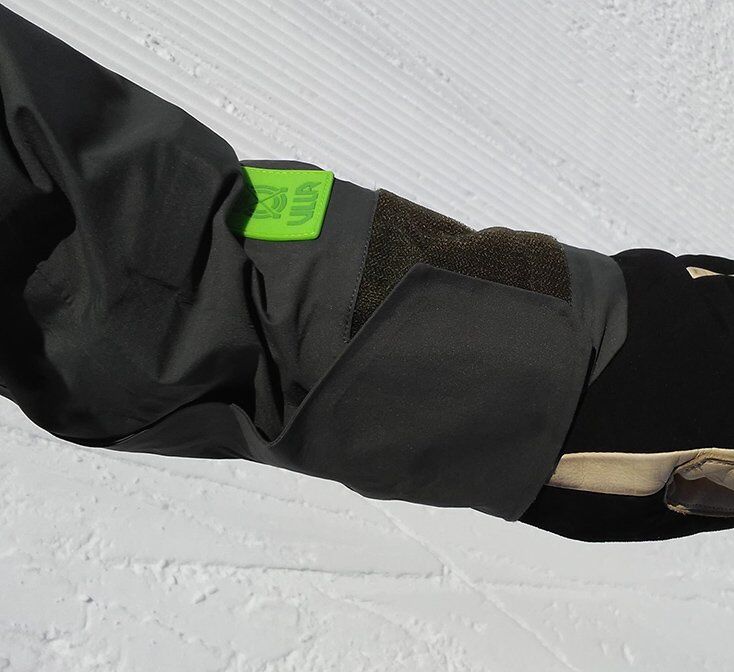 I took this jacket out for a few days of splitboarding in the Tahoe backcountry to get a feel for how well it traveled and functioned with a pack. While the breathability is good, the jacket was usually too warm to wear while ascending except during a strong wind with temps in the mid 20's.
Ideally, a shell jacket shouldn't be too warm to wear while skinning up a slope during snowfall, but the material of the Ridge Shell jacket, while breathable, is just too warm to function optimally as a shell in mild winter climates. However, the pit zips are fairly long, and let a fair bit of air to help regulate. The pocket setup is quite good for touring purposes. The two bottom front pockets can fit under a backpack hip strap, remaining usable while the chest pockets are also accessible. Combined, there is plenty of pocket storage space that doesn't add too much bulk to the jacket. The inner chest pouch is zippered with mesh, providing secure vented storage, but not of the same capacity of a standard un-zippered pouch.
Overall Impression
While there are some good freeride design elements, the Helly Hansen Ridge Shell Jacket ($650.00) jacket misses the mark for a versatile and technical shell. While I would expect to stay dry on the inside, the water absorption of the fabric and weight of the material prevent it from being on par with other jackets at similar price points. Perhaps this jacket would fair better and not absorb water with temps below 20 °F, but I wasn't able to try it out in those conditions.
There are always trade-offs with breathability and waterproofness, but I don't feel that the water-
Related Articles: