The K2 Farout Bindings are pulled onto the pucks, as opposed to being pushed on as with Spark and Burton split bindings. It's not really a huge big deal, but it felt somewhat counter-intuitive on the first attempt and continued to feel kind of awkward in the backcountry testing, too.
Few things have seen more revolving door treatment in my split setups than bindings.
I've bounced back and forth between Spark, Karakoram and Union for years, have seen initial efforts and old standbys fail in the field in new and unexpected ways, while the often maligned early stuff often holds up better than new entrants to the scene. I like the advents that Spark has brought to the table, but I still keep a set of old-time Blaze's handy when and if the need arises. While the pin system isn't perfect, most complaints have more to do with operator error or sloppiness at changeover than the actual materials or equipment itself.
Mounting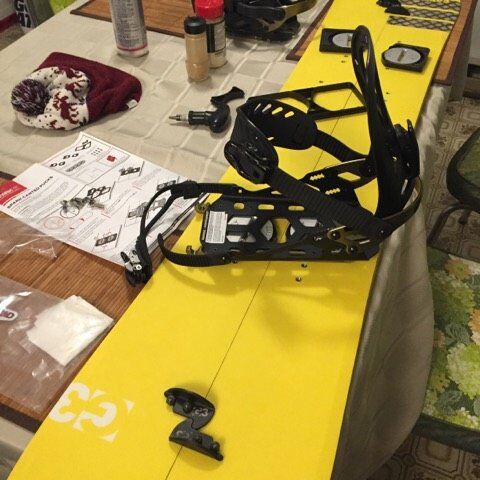 With that mindset in mind, I was pumped to receive a pair of the new K2 Farout Splitboard Bindings amongst my FINAL NOTICE mail and reminders to book my dog in for her annual physical.
Taking a seat at the veterinarian's office, the impression fresh out of the box was good. Lightweight aluminum baseplate and heelcup, easy adjust straps, easy adjust walk/ride mode on the highbacks equaled a pretty tight looking set of binders designed to easily slide onto the Voile puck system.
After my dog got greenlit for another turn around the sun, I decided to splurge and buy her a salmon skin roll, and some canted Spark pucks to mount the new bindings up.
And that's when things started to go somewhat awry (don't worry, the dog was fine).
K2 Farout Binding System
The online stuff I could find from the brand showed K2 spokesmen effortlessly sliding the bindings into place, while I found myself struggling to get the interface to gel anywhere as smoothly as the vid (K2 and other manufacturers take note: demonstrations on a flat, waist height bench at a skihill do not represent what goes down in the backcountry; Show me real-world, not best-case-scenario).
True, you can still "push" the bindings into place by pushing on the toeside end and baseplate, but the heelcup is right there and just kind of laughs in your face as you fiddle around with trying to get a smooth transition done. It's like that lazy, gawking friend that just stands uselessly by as you struggle to fix something that just needs one more hand involved to eaily execute the task.
"I just wanna push you!"
Now- Full disclosure- the setup I mounted the Farout bindings on doesn't feature K clips, the new Spark hooks are a halfway decent seam lock system. They're the old timey Chinese hooks which are quite frankly, a pretty sad excuse in terms of what's available to modern board manufacturers.
BUT – I had a heck of a time getting the bindings into place with the torquing on the board drawing the seam slightly apart enough that every transition from uphill to downhill was met with dread as opposed to stoked anticipation.
The lock mechanism on the K2 Farout Bindings almost makes up for the "pull-on" workout, but I did find that snow tends to gather in the divot that receives the lock mechanism, and it's not that easily cleared with the scrapers most of us tend to carry. It's like I needed an additional "pokey" tool for when it ices up really badly, a folding paraframe knife beng required more than once.
Still, when it is in place, the aluminum locking mechanism works great.
Tour Mode
My suspicion is that in developing the Farout, K2 had to skirt patents or other design considerations in order to not step on other manufacturer's collective toes(?), hence the slight departure from what we've already seen. But the use of the Voile platform does feel like a bit of a headscratcher. The hooks or mandibles that slide underneath the metal bar and toepiece to get you into walk mode performed well enough for a couple days, but then the bushings started to slide around like beads on an abacus. Clearing snow from between the bushings and where they are meant to sit on the provided toe piece bar added another level of frustration.
Similarly, the on-the-fly adjustment of the bindings straps is handy if you want to let someone else try your setup, but I gotta say it seems somewhat needless. In fact, while skinning up I managed to pop the adjustment tabs open several times over 5 days of testing.
It's the same reason we don't skin with our ratchets between our ankles, and proved to be a bit of a nuisance. I would do away with that option.
Still, there are opportunities to correct some of these features and I would hope K2 revisits some of the aforementioned items. Fact is, the bindings (once in place) perform really well on the up and down. The straps are comfortable, the forward lean adjustment is simple, and again, the pop tab walk/ride mode adjustment is great. If there's a way to go with "push" over "pull," that would be better body mechanics (ergonomic), and the on-the-fly strap length adjustment could easily be shelved- Most of us aren't changing boots midday, there's really no need to shy away from a fixed/static fastener design.
>>> K2 even managed to sneak into our roundup of the best splitboarding bindings with the Farout.
Overall Impression
In conclusion, the K2 Farout Splitboard Binding ($399.95) represents a decent, reasonably priced offering to the splitboard binding market, and with a few tweaks they could be great.
As it is now, I would consider them average or good at best, and more likely to please someone unfamiliar with other platforms available.
Related Articles: