I have been testing the Komperdell CXP Pro carbon fiber 3 piece collapsible ski poles while backcountry skiing, splitboarding, and winter camping in the mountains surrounding Jackson Hole, Wyoming.
Lightweight Carbon Poles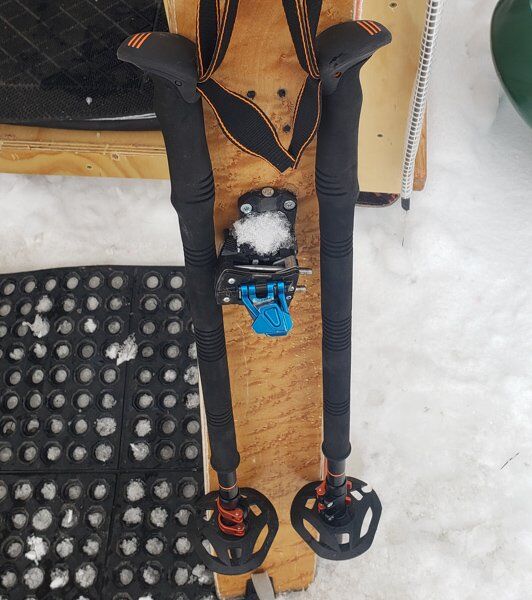 These ski poles are lightweight with two carbon fiber upper sections and a metallic lower section. They are adjustable from 140mm down to their collapsed length of about 55mm. The baskets are ideal for powder skiing and the straps are comfortable, long enough to easily slip the largest mittens into, and very easy to adjust to length even while wearing gloves out in the mountains.
My favorite feature of the Komperdell CXP Poles is the extended grips which are handy during steep sections of ascents when I want to move my grip lower on the pole without taking the time to adjust the overall pole length. These poles are designed for BC skiing and it shows.
The lock mechanisms appear sturdy, inspire confidence, and work well: so far I have not experienced any slippage in the poles even when balancing my whole 210lb body atop them. The color scheme looks pretty sharp to me: mostly black with bright orange accents. Best of all these poles were made by our friends in Austria: they are not cheapo crap made far from snow by folks with no real connection to the global ski community.
Best Use
These Komperdell poles are ideal for backcountry skiing and snowshoeing but are less ideal for splitboarding because even when fully collapsed they are too long to fit inside a typical ski pack. Unlike most splitboard specific poles the Komperdell CXP Poles do not break down into three pieces to stow inside a pack for the descent. However, they are easy to securely strap to the outside of my pack thanks to those beefy straps and extended foam grips.
As a bigger guy who skis more often than I splitboard this is preferable for me. I would rather have a stronger, sturdier, more reliable pole out there: over the years I have broken a lot of poles and one bad slip in the skintrack is all it takes for me to snap splitboard specific poles that are designed to break(down).
Overall Impression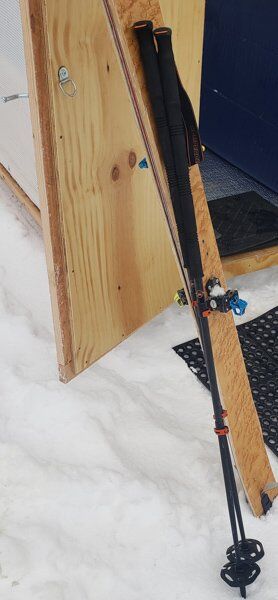 I have nothing bad to say about these Komperdell poles. They look good, they feel good and sturdy, and most importantly they are lightweight, feel well balanced, and work great in the deep snow I am usually searching for. One thing I will say is that the big powder baskets on these poles are not ideal for ascending really steep slopes in firm snow conditions, so if you are looking for a skimo specific set of poles you might look elsewhere. If you want a top notch 3 piece collapsible pole for resort skiing, backcountry skiing, and snowshoeing the Komperdell CXP Pro Pole ($249.99) should serve you well.
Related Articles: