I took the La Sportiva Firestar Evo Shell for a June hike in Uinta Mountains near Salt Lake City. It was a cold, rainy, and windy day with temperatures starting the hike around 36 degrees. I instantly knew this shell would be great.
I was able to fit 3 layers of clothes underneath the shell and had plenty of space to fit more layers if needed. It did an excellent job of blocking the 15mph wind and keeping the cold from creeping into all the small crevices.
20,000mm Waterproofing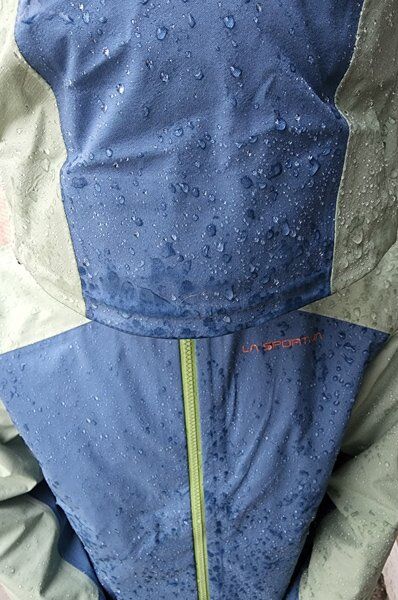 As the rained picked up I zipped the jacket all the way, tighten the Velcro on the sleeves, and flipped up the large hood. The shell is rated 20,000mm waterproof meaning it doesn't get any better and I fully believe it. I stayed completely dry and the water droplets rolled right off the jacket.
The Velcro sleeves are a great addition to this jacket as you can fit the sleeve both under and over gloves. I tried it both ways and prefer it on top of my gloves, but it's a personal preference.
Waterproof Zippers
The zippers are double lined making them waterproof, but they do have some rigidity when zipping. They do need a little tug to zip up. The lining on them is excellent though and feels very sturdy and do their job at keeping water out.
Ventilation
Once the rain stopped and the moisture filled air started to warm my surroundings, I opened the large side pockets for some airflow. The pockets double as ventilation with a mesh lining to allow airflow when desired.
I would have preferred ventilation openings elsewhere, because you can't carry anything in your pockets without obstructing the airflow. It is a minor inconvenience, but not a big issue for me.
Sustainability
Sustainability is important to me and LA Sportiva is doing a great job at keeping their products carbon neutral. The Firestar Evo Shell is made from 100% recycled polyester and polyamide. You would never know it was made from recycled material as it is very durable. The colors of the jacket are a favorite of mine. They are not too shinny but are still reflective and bright.
The shell is lightweight coming in under 1lb. While I do wish the jacket was packable into the pocket, I appreciate that it does squish down well. I would like to add that this La Sportiva women's hard shell has a waist hem cinch that would keep snow out and your heat in the winter time.
It also can fit a helmet under the hood and has a cinch for tighter adjustments. While, I didn't test these features in there appropriate season I think this are important to mention if you are looking for an all season hardshell.
Overall Impression
Overall, the La Sportiva Firestar Evo Shell ($249.99) is a hardshell that would be great as a top layer for hiking, skiing, biking mountaineering, or any other outdoor activity. I would absolutely recommend this hardshell to anyone any time of the year. It fits true to size, windproof, waterproof, and stylish.
Related Articles: