The La Sportiva Ultra Raptor GTX lives up to its name with the endurance and capability it offers on the trail. Unlike other runners that leave your feet soggy on longer runs, the waterproof, breathable GORE-TEX membrane keeps your feet high and dry when it counts. I've taken these with me all summer on Teton trails, and the Frixion XF outsole has truly impressed.
Impeccable traction and grip on zig-zag trails allow endless switchbacks to come with ease. Mud, scree, and riverbeds prove navigable without slowing down in these rugged trail runners. Like a powerful rapacious bird, these shoes encourage aggressive mountain running.
GORE-TEX Lining
The stability and grip of the La Sportiva Ultra Raptor shoes are unmatched in both wet and dry conditions. On a long run through varied weather, these well-structured runners protect against hail, driving wind, and loose scree on uneven terrain. You can trust that whatever the trail brings, the La Sportiva Ultra Raptor GTX Womens Shoe will adapt. With GORE-TEX lining and reinforcements on the lacing harness, your foot feels completely protected up to the ankle, and you are sturdy and confident in your stride. The reinforced toe bed protects against exposed root systems and sharp rocks while keeping toes mobile and comfortable in the footbed.
Designed for longer runs with more variable turf, the Raptor prevails. I sampled these for the first time on a moderate local run in Teton Valley. The ease of running with these in Darby Canyon, an intermittent and sometimes rugged ascent and the descent was consistent and reliable. The all-terrain cushioning was apparent in the downhills, rocky scrambles, and creek crossings. I skipped across logs, ran through shallow water crossings and hopped across smooth boulder paths with little effort. The response system at quick turns on the trail and sudden stops eclipsed other runners I have sworn by and brought a new level of trust in my shoes. Images of raptors swooping for prey sifted through my imagination, as I climbed up the aspen-laden trail evenly, and just as smoothly transitioned to downhill running, like the crest and fall of a raptor's flight path.
How Does the Impact Brake System Work?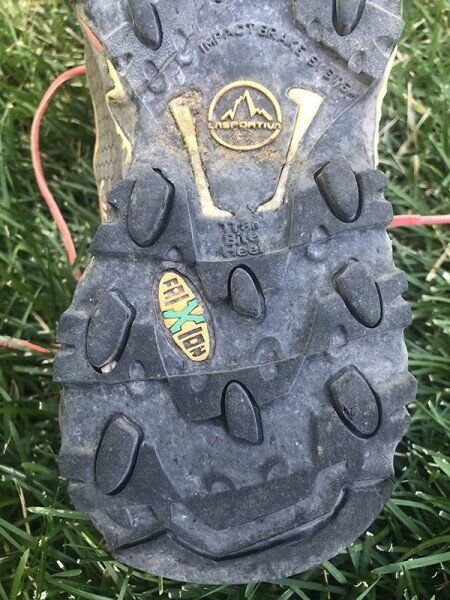 The impact brake system helped with rock hopping and avoiding holes and drop-offs in the trail. And my ankles felt solid through the midsole, made with a nylon molded flex transfer shank. I didn't have to slow my pace in response to changing trail conditions or readjust my footing to compensate for the shoe. Instead, the La Sportiva Ultra Raptor morphed to all conditions naturally. From sole to outsole, this shoe is an all-around go-to good buy for serious trail running, endurance running and peak bagging. Definitely ideal for the traverse addict — five peaks in 24 hours would be a worthy goal in these durable, athletic shoes. They would be well suited for a lofty agenda like Boulder's Skyline mission, a traverse that connects five peaks in the Rockies, a Teton Traverse or an international destination peak mission.
Despite wet and muddy conditions, I arrived back at my car without a single fall or major slip. These all-terrain shoes kept me on track all day, in my groove. They define all-day wear on both rough trails and rutted dirt roads. When I peeled my sweaty socks off, the outsides were dry. My feet cooled and dried quickly, and it was a speedy recovery from a ten-miler.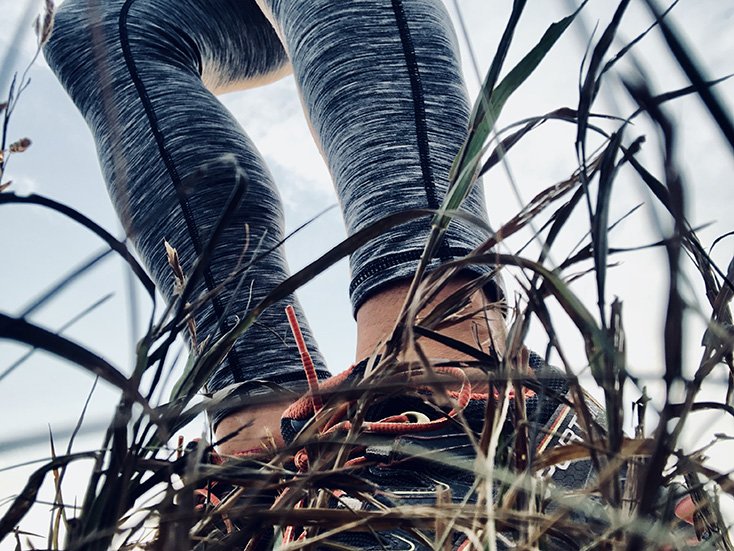 Beware. These shoes might enhance your performance and confidence on the trail. Light as a feather in the face of wildlife and unexpected stops, these shoes are versatile, dependable and solid. And if you run into a herd of cows in an Idaho canyon like I did, they are easily circumnavigated with the quick response and stealthy gait of La Sportiva's Ultra Raptor.
Overall Impression
It all depends on what you are looking for in an off-road shoe. The La Sportiva Ultra Raptor Womens GTX Shoe ($165) weighs in at 700 grams and is not ultra-flexible. The shoe hugs the foot like a glove and doesn't allow a lot of shifting, so it isn't ideal for track running. But if you are an aggressive mountain runner and you want to be prepared for variable conditions in wet and muddy weather, three seasons per year, this is definitely the runner for you.
Related Articles: