Aero-friendly design. Robust ventilation. Handsome styling. Unlike a variety of helmets on the market, the POC Ventral Air Spin isn't content with choosing two of the three. This road- and gravel-friendly brain bucket is aimed at the cake-and-eat-it-too crowd.
POC Ventral Air Spin Fit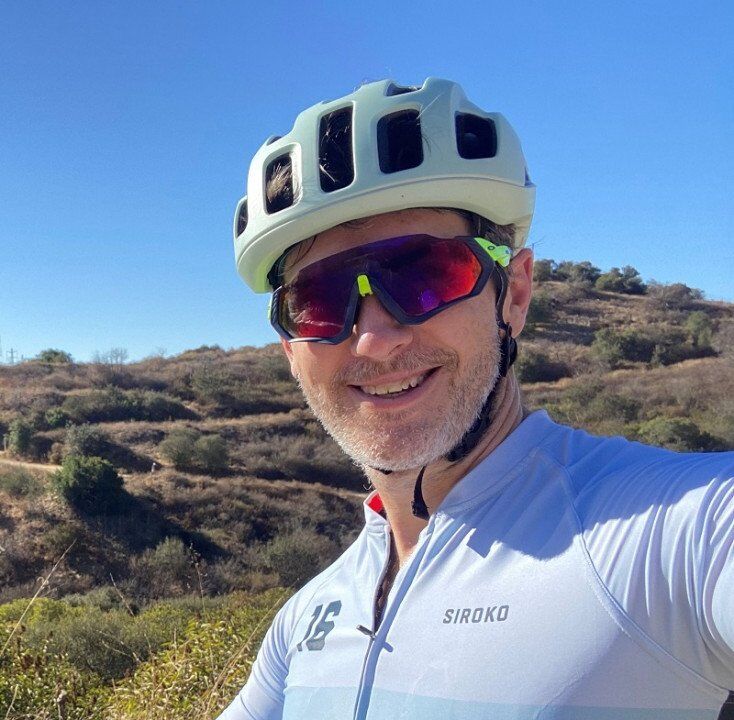 POC created the Ventral Air to be a happy medium between its more common Octal and its more aero-oriented Ventral Spin. Thus the Ventral Air gives you plenty of ventilation and a nod to aerodynamics without falling into the full-aero trap of fewer vents or odd styling.
The fit of the Ventral Air is robust and comprehensive; once it's properly adjusted (a super-easy process), it secures itself to your head so thoroughly it feels like actually buckling it would be redundant (please do it anyway). Compared to my Giro Synthe, the Ventral Air also feels like it covers more of your scalp and truly sits around your head rather than simply on it.
Helmet Weight
The flip side of this is that while it weighs roughly the same as my Synthe (both are around 270 grams), the POC somehow feels heavier on my head and less breathable when not in motion. It's not that it's uncomfortable, it just feels like there's more there there, compared to some of its other lightweight rivals.
But once you're in motion, the Ventral Air's best features truly shine.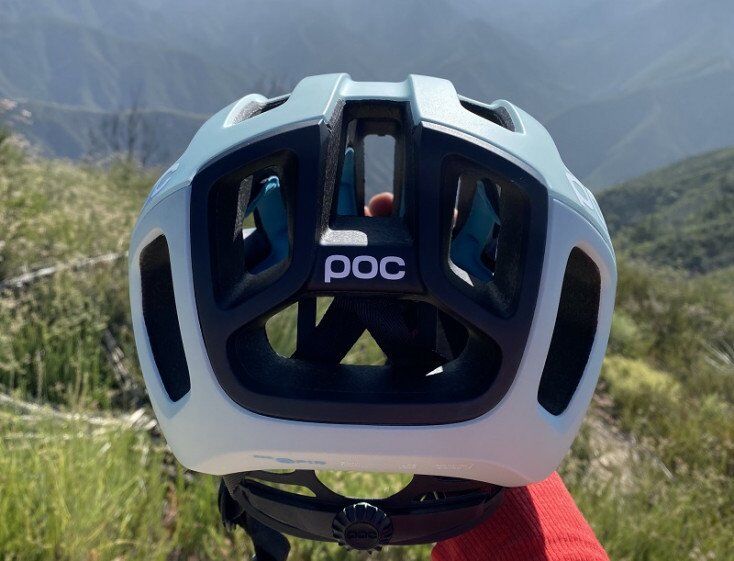 With speed pushing air through the helmet and over your dome inside, this thing is remarkable. It's like someone turned on a shop-vac at the back of your head and it's sucking massive amounts of air through the helmet. The effect is striking and immediately noticeable. I can't recall any other helmet with that conspicuous a level of airflow.
The only downside to this is that this POC can't replicate that feeling on slow, sweaty climbs. Sure its low weight and significant ventilation is an asset, but without air being forced through it, it feels a little more cumbersome than something like the Synthe.
POC MIPS
In terms of protection, the Ventral Air is that it uses POC's own in-house 'Spin' rotational impact protection system. That's opposed to many of its peers, which use more common third-party setups like the also-Swedish MIPS.
While POC was one of the first brands to start using MIPS in its helmets, in 2018 POC introduced its own Spin system, winning several industry awards in the process. The setup more cleanly integrates the rotation-protection system into the helmet for better airflow.
Subsequently, MIPS sued POC for patent infringement, the two sides reached an amicable settlement, and then the pair later announced they would work together again.
None of this should preclude anyone from choosing the Ventral Air over a MIPS-equipped rival in the name of safety. It is, however, worth noting that of the 23 road helmets with five-star crash ratings from Virginia Tech and the IIHS, the only three without MIPS are those that use Bontrager's WaveCel setup.
Other goodies with the Ventral Air include an 'Eye Garage' that supposedly secures your sunglasses better than rivals (it didn't seem that special), a slick soft drawstring bag for storage, and a handsome palate of colors that POC products are known for. My tester you see here is called Apophyllite Green Matte, named after what Google tells me is a crystal that aids in spiritual healing. So I've got that going for me, which is nice.
Overall Impression
Overall, the POC Ventral Air Spin ($249.95) felt like an excellent all-around helmet that will suit the needs of most road and gravel riders. I found myself reaching for it most of the time throughout the winter, spring, and summer here in Southern California. Only when it got hot hot, or I knew my ride was going to include heaps of slow climbs, would I opt for my Synthe.
Related Articles: