The RadRunner 3 Plus is a compact utility ebike that's bursting with integrated features and customizable options. It's the most recent iteration of Rad Power Bikes' cargo-carrying model that's designed for an active lifestyle and running errands in the city. But can it claim victory over cars and realistically replace daily gas-guzzling trips around town?
We've tested the redesigned RadRunner and jotted down our thoughts below.
About Rad Power Bikes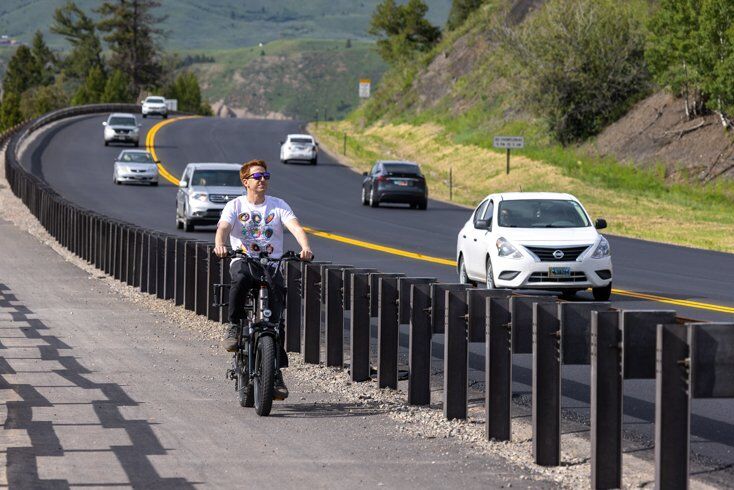 Rad Power Bikes is one of the most popular ebike brands across North America with a large fleet of affordable models. The RadRunner 3 Plus launched this summer and features some major changes from previous generations. It's designed as a compact utility bike that carries cargo or a rear passenger, all without being as large as other models that have a huge wheelbase length.
The integrated rear rack and other optional accessories mean you can carry a serious amount of stuff— this model has increased its maximum payload capacity to 350 lbs.
RadRunner 3 Plus Frame Size
The RadRunner 3 Plus features a new frame design and battery placement for a sleeker look. I enjoy the aesthetics of horizontal tubing that matches the flat rear rack. The frame is slightly longer than that of the original model and RadRunner 2 so its more stable and there's plenty of room for rear cargo or panniers without hitting your legs while pedaling.
The step-thru frame design facilitates getting on and off the bike and the one-size-fits-most frame is recommended for riders 4'11" to 6'2". We noted that the bike fits great on smaller riders but extra tall users might feel a bit cramped.
Colorways
The ebike is currently only offered with a dark grey paint job but pre-ordering is available for the green "Boss Moss" version. That special colorway uses RheoLight which is a coating with crystal glass pigments to better refract light to that makes you more visible to motorists at night. It's a neat feature that we haven't seen in bikes before so I'm interested to check it out once the green model is launched.
Compared to the other RadRunner models, there's significant price jump with the 3 Plus costing $2,299 and the Boss Moss version tacking on an additional $50.
750W Rear Hub Motor
The RadRunner 3 Plus relies on a 750W rear hub motor with five pedal assist levels and a throttle mode. The top speed is 20 mph and significantly improved acceleration than previous models. Riders used to be able to easily "hack" or increase the maximum speed but I'm unsure if that option is still possible on this model.
I appreciate the half-twist throttle instead of a full throttle design that's safer and more comfortable to use. During testing, we noticed that the bike felt a bit slow on the first couple of pedal assist levels but can still consistently reach the RadRunner 3 Plus top speed when needed. There's a cadence sensor instead of the higher quality torque sensor that delivers a smoother and more responsive acceleration.
Battery
One of the biggest changes on the RadRunner 3 Plus is the semi-integrated battery. Rad Power Bikes is known for this unique battery placement that allows for easy removal and sleeker appearance than a fully external battery. Some people prefer complete integration inside the frame, but I enjoy this balanced design and it avoids having a bloated, oversized downtube.
The older models placed the battery behind the seat tube which added weight farther towards the rear, which is already heavy due to the rear hub motor and any added cargo. The 672Wh battery provides a range of between 25 and 45 miles on a single charge. It's not available yet, but Rad Power Bikes has said they're planning on adding the option to mount a second battery under the rear rack to double the range.
Customizable E-Bike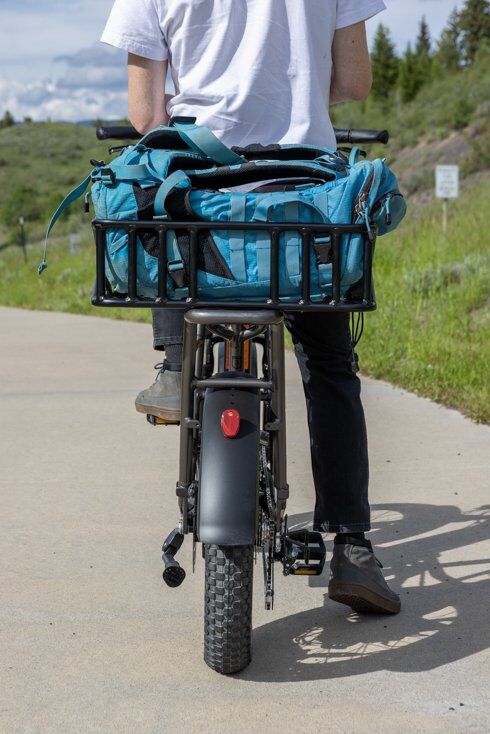 A major plus of Rad Power Bikes ebikes is the huge selection of accessories to customize your setup. This is especially relevant for the RadRunner 3 Plus which can be fitted with a rear seat pad, front rack or basket, center cargo hold, and tons more. We tested the ebike with the rear cargo setup that's perfect for city errands or grocery trips.
There are virtually endless configuration options that you can order directly from the brand. The add-ons don't run cheap but they're well-built and designed specifically for Rad Power Bikes products.
Components
The RadRunner 3 Plus boasts solid components that'll stand up to heavy use in the city. A much-appreciated tweak is the upgrade to Tektro hydraulic disc brakes instead of less powerful mechanical brakes. The bike weighs a hefty 75 lbs. so strong stopping power is a good idea, especially when loaded up with cargo or another passenger.
The "Plus" part of the model name means there are multiple gears and this model has a Shimano Altus 7-speed drivetrain. It's a common, reliable componentry choice for entry-level ebikes and the trigger shifter is a step up from traditional SiS shifters.
How's it Ride?
Testing showed that the RadRunner 3 Plus delivers a smooth and comfortable ride, even on pothole-ridden streets. The 60mm suspension fork and wide tires provide plenty of cushion. The Kenda K-Rad 20×3.3" tires have reflective sidewalls and the K-Shield puncture-resistant casing. The medium trend pattern provides enough grip while still being efficient on paved roads.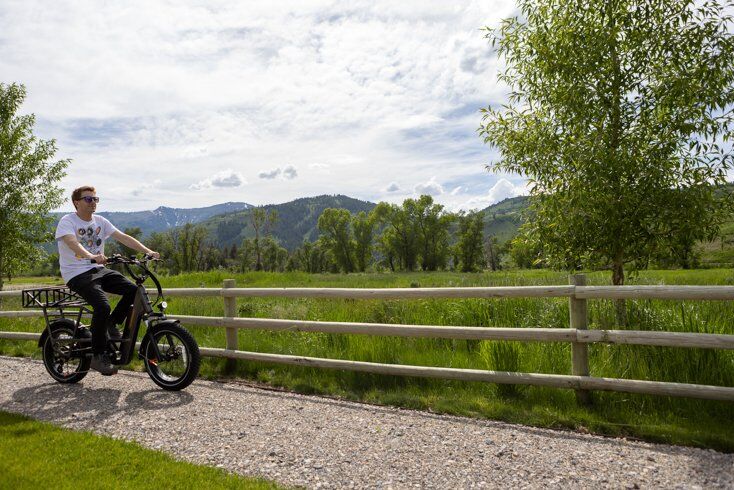 In terms of the contact points, I appreciate the alloy pedals that are more durable than plastic ones but the saddle leaves a bit to be desired. It's a wide shape that can be awkward for some riders who want a more sportier seat. The riser handlebars allow for an upright riding position and are wider than most.
Other touches include the full-coverage front and rear fenders and the integrated front and rear lights. This new model swaps out the center, motorcycle-style kickstand for one mounted on the side— whether or not that's an upgrade is up to personal preference.
Overall Impression
This latest addition to the Rad Power Bikes fleet is built to conquer the city and it fulfills that promise. It's a quality urban cargo bike that's more capable than most and super customizable if you have the budget for add-ons. The RadRunner 3 Plus Electric Utility Bike ($2,299) is a versatile ebike that can easily replace car or metro trips, but its compact design means it can't swap for the family minivan when carrying multiple kids or serious cargo quantities.
Related Articles: