Is this soap box available for a minute? Oh, it is? Great. Let me snap on my Smith Maze Helmet, (safety first), and hop up here real quick…
Recently, I was part of a panel that was giving advice to beginners on things they should do when picking up the sport, skiing or snowboarding. The most common responses were to take lessons from certified instructors and, you probably guessed it, bend your knees! My number one tip was: wear a helmet.
But here's the thing. That same recommendation applies whether you are catching your first magic carpet, have gotten comfortable on the blue square runs, or just received an invite to hit the backcountry with Jeremy freaking Jones. No matter how comfortable you are or how ill you think your on-mountain moves might be, please wear a ski or snowboard helmet. Until you learn to control Mother Nature AND all the other people on the hill, control what you can and make sure the Smith Maze Helmet or any other suitable brain bucket is part of your kit.
And he sticks the landing! Yes, I just did a triple cork off the aforementioned soap box. High degree of difficulty. Glad I was wearing the Smith Maze, you know, just in case. Now that we know helmet = good, let's talk more specifically about this one.
Unisex Helmet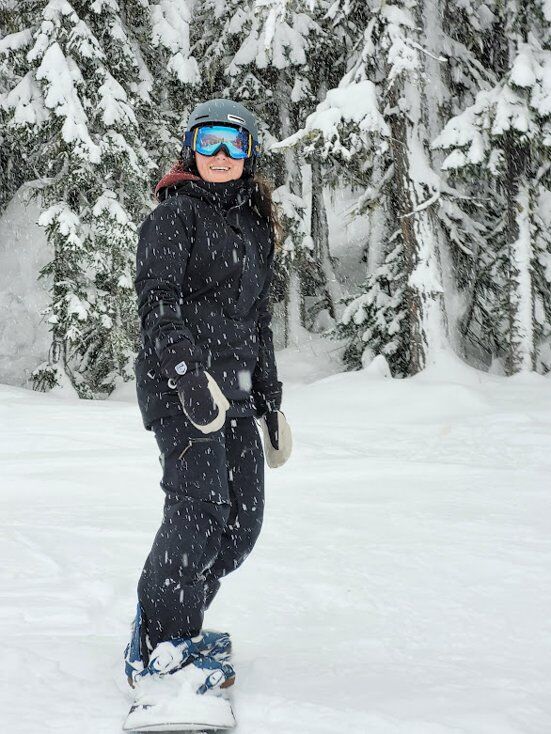 This unisex Smith Helmet looks good on anyone with plenty of surface area for stickers from all your favorite mountains. My shred partner and I both tested out the matte charcoal version. While the debate still rages on over who wore it best, one thing is undeniable, the Smith Maze helmet is comfy. Full transparency, I was a little surprised.
Let's just say that one of us has a more substantial noggin than the other and we can't typically share headwear. The Smith Maze touts itself as having a self-adjusting lifestyle fit system that flexes to match your head shape, and I can honestly vouch for this snow helmet's ability to accommodate. It even offers beanie compatibility if you like to rock a head sock underneath.
Customizable
I'm a goggles under helmet kind of guy. She keeps the strap on the outside. We were both happy, because this snowboard and ski helmet provides a removable goggle strap lock for both preferences. Want more customization? The Snapfit SL2 ear pads are removable and are even audio compatible. Snuggle up those ears and bump the tunes or keep your head cool and embrace the whispers of Old Man Winter, either way the Smith Maze gives you options.
MIPS Protection
Ok, let's talk safety for another moment. This dome defender features the MIPS system. This configuration allows for a small, tactical movement inside the helmet when impact occurs. It's a minor movement that has the potential to make a massive difference by reducing rotational forces on angled impacts.
What else can I say about the Smith Maze MIPS Helmet? Just a few housekeeping items, I suppose. Some fixed vents use AirEvac™ tech to manage airflow climate control that wards off goggle fog. The helmet profile fits quite well under a hood if you need to flip it up. Oh, and this helmet is delightfully lightweight. Like forget-it's-up-there-lightweight.
Overall Impression
If you're considering getting a helmet, either your first one or a replacement, you can't go wrong with the Smith Maze Helmet ($155.00) for skiing or snowboarding. You'll look good, you'll feel good, and you'll be doing right by your most important asset. Wear a helmet for impact protection!
Related Articles: