Fitwell has been making high quality climbing and mountaineering footwear since 1979. If your from the US your probably haven't heard of them because they are a Italian based company. A few years ago they designed a splitboard specfic, snowboard mountaineering boot. They are now gaining traction to the US market but are still hard to find at shops and can be only ordered directly from Fitwell.
I have been using the BC (backcountry) boot for the last 2 years in which they have been a roller coaster ride of a boot. Find out how they performed in my Fitwell Backcountry review below :
Fitwell Backcountry Review
I opened the box and these things looked, and felt like they wanted to stomp on some serious mountains. They felt much lighter than they looked weighing in at 2.1 lbs a boot but still a little heavier than what I am used too. I tried them on and wasn't sure on what to think. They felt good but man they were super dooper stiff. They needed to be broken in for sure.
Fitwell Soles
The soles are very well crafted. Weather you use semi-auto crampons or traditional strap-ons its a great fit. They also provide great support for a softboot when you are splitting. These Vibram soles aren't going to wear out anytime soon. I do notice a lot less feel when hiking and riding and that took a while to get use too. For crampon use you can't be it though. Having that stout sole saves the bottom of your feet on those long ascents.
Fitwell Backcountry Shell
Very durable, great fit with crampons, I like the traditional lacing but the laces are cheap on the Fitwell Backcountry Boots. I broke one the second day and replaced both of them with hockey laces. The booster strap is an awesome feature. After breaking the boots in, they can be as stiff as a board or if you like flex in the upper part like me don't tie the laces as tight along with the booster strap and it softens the boot up.
A rivet midway up the boot also pulled out when I was tightening the laces which is a major bummer. I just skip that section of lacing now and boot still works fine but shouldn't happen on a $600 plus boot.
Fitwell Liner
For me, the liner that comes with the boot didn't feet me too good. First impression, it looks pretty sweet. I instantly found a pressure point on my lower shin though. I thought it would get better as the boot broke in more but it got worse. The laces and the lace lock on the liner is a let down. It did not lock the lace, I replaced it with burton lace and lock. I felt my heel moving around a bit too so I put some adhesive foam buttlerfly's on the exterior heal/ankle of the liner and it snugged it up. Still the pressure point though. I used the Fitwell liners for one season and then I tossed them. For the second season a bought an aftermarket liner from Remind Insoles. I was impressed with these liners. No pressure point, quality laces, lace lock works, very comfy.
Fitwell Sizing
The sizing is Mondo style which is a bit tricky. I got a size 285 and they seemed to match up to my size 10 Burton foot. It is really confusing and risky not being able to try them on. I lucked out.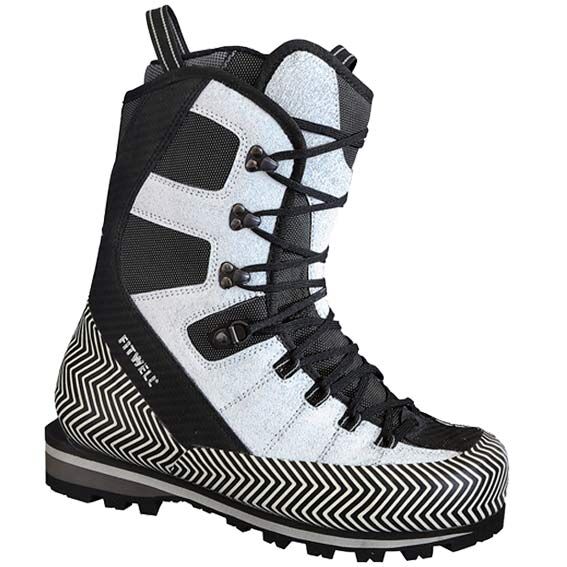 Bottom Line
If you want an awesome shell and sole that is going to love crampons, hold up to the most rugged environments, provide support for splitting, and empty your wallet, this is the boot for you. It is a nice option to have in your arsenal for those long alpine climbs and mixed rock. The torsional stiffness when splitting is noticeable but not a game changer for me. If you think they are going to be a perfect boot right out of the box I didn't get that in my experience with them.
I talked to others that ride the BC boot and it was for them. The concept is there and I do believe they are the best snowboard mountaineering boot but still have room to improve.
One other thing, customer service is weak since they are based in Italy and stuff.