So you're wanting to wear ski boots for splitboarding?  Or just want a splitboard hardboot.  My question is why?  Having skied for many years and surfed much longer I opt for the performance on the down.  Sure hardboots are crushers on the way up, which is where as splitboarders we spend most of our day, but keep in mind most people that make the transition to hardboots switch back to soft boots within a year or two.  Why not just go ski?  Skis are a much better tool for the backcountry, 1000% better.
I had help on this roundup from Nathan Fochler and Ryan Ariano.
If you want hardboots, here's some good options for someone looking to get into hardboot splitboarding: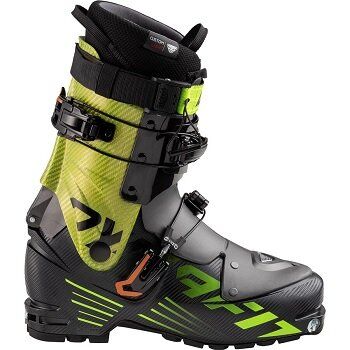 The Speedfits almost seem like Dynafit was trying to create a splitboarding specific AT (Alpine Touring) boot. Only having 2 buckles, an incredibly low weight and being fairly soft and flexy out of the box they are excellent for splitboarding. For riders looking for a little stiffer boot the TLT 7 or 8 likely will be preferable, but if you like a softer more playful flex the Speedfits are the ticket.  Requiring close to no modifications to make them feel awesome and surfy, the dialing in period of these boots is very fast.
While being very light makes for a super low weight setup, it also can make for chilly feet due to the thin shell and low profile stock liners; I put a pair of Intuition Pro Tour liners in mine and no issues. Dynafit is known for having quite narrow fitting boots, so if you have big wide feet like me you'll have to do a bit of bootfitting to keep your feet happy. Overall they're great boots and don't cost a million dollars, I highly recommend.
Price: $699.95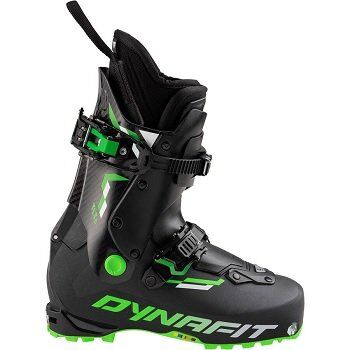 When I first made the jump to hardboots, I jumped into the Dynafit TLT5's. They're comfortable, light but sturdy. And even more the TLT line is the most-purchased boot for hardboot splitboarding given all the tutorials on mods you can do in the boots. Then I jumped up to the TLT8's, given the fact that they're lighter, have clips a bit more reminiscent of snowboard straps, but incorporate the same design and unbeatable treads.
It has the stiffness and performance I loved in the TLT5, but with updated buckles and lighter weight, as well as increased warmth. While some people like a lighter hardboot, I've found the TLT's break in just fine. Just block the boot from transitioning out of walk mode and you've got a killer snowboard boot.
Price: $849.95
The La Sportiva Baruntse isn't really a hardboot; it's more of a gateway from softboots to hardboots. But in reality it is a mountaineering boot that I rode hard for a couple seasons as I got sick of too-soft snowboard boots (and sick of being stuck trying to tie crampon straps on while my skier friends just stepped into their bails) but wasn't yet ready to jump to hardboots. Side-to-side, the Baruntse is stiffer than any snowboard boot I've tried. I replaced their factory liner with an intuition liner from one of my snowboard boots and got some higher ankle supper, but also in the process created about the warmest boot I've ever snowboarded in.
They're more waterproof than any hardboot or snowboard boot (as I discovered when I broke through the frozen skin of a creek skinning out one spring morn). And again, with the heel AND toe welts, I could throw on fully-bailed crampons for final approach (because there's nothing worse than being halfway up a steep approach chute and having your crampon come loose because it's held on by whatever knot your frozen fingers could tie)(and if you're saying "I don't like to splitboard anywhere that I need snowboard crampons and ice axe to approach", then why are you looking at hardboots?). For something more serious than a softboot but more comfortable and responsive than a hardboot, the Baruntse is that perfect medium.
Price: $420.00
Phantom Slipper ?
This one is cool…the very first ever AT boot specifically built for splitboarders. No modifications required. All those things the AT boot crowd have been doing to their boots for years, filing down blocks, re-drilling holes, cutting out chunks of cuff etc.. all gone. These boots were built to have all the pros of using an AT boot and none of the cons of having to mod them.
They use the Phantom LinkLever system which allows you to adjust the stiffness of the boot, and also the forward flex so you can customize the boot to your riding style. The buckle traditionally found on the toe-ish area of an AT boot has been moved to the ankle, keeping your foot in place more effectively and making for better performance while snowboarding. They have heel and toe welts so you can use full auto crampons with them, the shells and liners are heat moldable to maximize the comfiness. Basically they took all the best parts of the Atomic Backlands boot, (another great AT snowboard boot, but requires several mods) removed the skier stuff and made it into a kickass snowboard boot.
Editors Note: In all honesty though we haven't tested this or any Phantom products as John the owner doesn't want to send us anything to test, hmm wonder why.  So YMMV
Nowadays there are a ton of softboots built for splitboarding with support for touring, so why do you need hardboots? Do you see Jeremy, or Xavier or anyone for that matter riding hardboots?  Damien Sanders comes to mind or Craig Kelly in the early years, but he switched over to soft boots when he started chasing powder:
Related Articles: