Designed for first-time users and enthusiasts alike, the 11'6" Inflatable SUP from Swonder does not disappoint. Over labor day weekend, I took this board out to Jenny Lake in Wyoming's Grand Teton National Park. The morning provided pristine conditions for paddling and offered a perfect opportunity to put this board to the test.
Dimensions
When fully inflated the board is 6" thick and measures in length and width to 11'6" x 32". Being longer than the standard SUP, it proved quite stable on the water and offered plenty of standing room. I felt steady while standing as I encountered the wake from nearby motor boats, and was impressed with the board's ability to remain stable.
The deck is equipped with an anti-slip EVA traction pad that maximizes user comfort and adds an overall feeling of security to the ride. With a weight capacity of up to 300 lbs. a party of two could easily enjoy an afternoon on the lake on a single board.
E-Pump
The board can be purchased as a set with a floor pump or you can buy the e-pump. The e-pump plugs into a cigarette lighter and inflates the board to 75% of its capacity. The time and energy this pump saved me in the inflation and deflation process cannot be overstated.
Though inflatable SUPs are convenient across most aspects, having to pump up the board by hand is a notable downside. The E-Pump reduces this burden and allows for a more leisurely experience. For riders pressed on time, the E-Pump will by no doubt help to taper the car to water transition period.
Durability
The durability of Swonder's 11'6" SUP was put to the test during the descent from the parking lot to the lakeside. As I slid down a rocky hillside, the fully inflated board withstood bumps and bangs like a champ.
Constructed with military grade PVC and a drop-stitch system, this Swonder Inflatable Paddle Board is made to last.
Transportability
Swonder took care in producing a user-friendly board both in and out of the water. Two carrying handles have been thoughtfully placed on the nose and in the center of the board to aid in the entry/exit processes.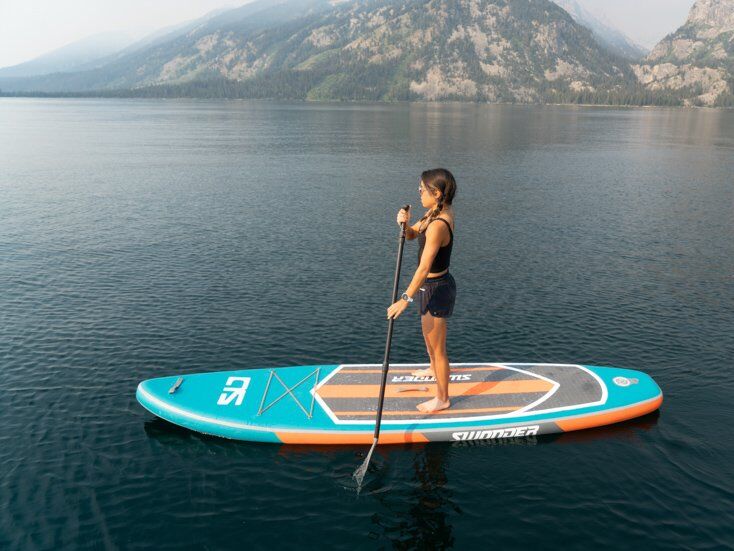 While on the water, the 4-point bungee system allows users to transport personal belongings with peace of mind. The system is perfect for securing smaller items such as sunglasses and sandals.
Overall impression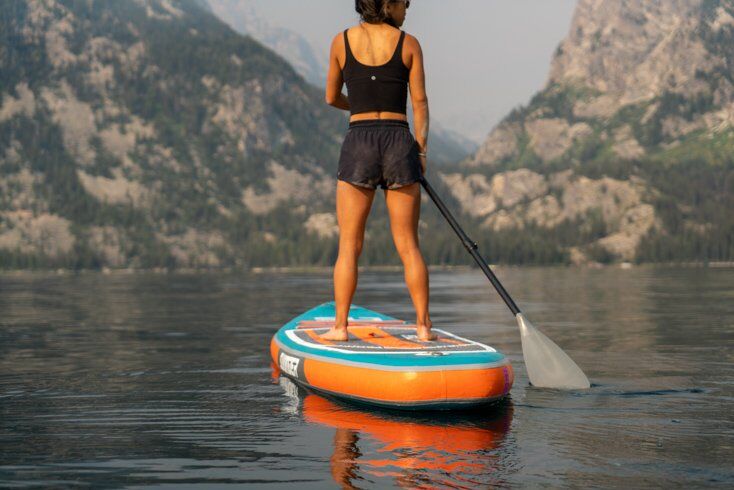 The Swonder 11'6 Inflatable Paddle Board Set ($269.99) with Standard Pump is a comprehensive setup perfect for novice paddleboarders looking for a hassle free experience on the water. Its stability on the water and its heavy-duty design make this board an excellent investment, and will leave buyers happy and satisfied.
The package includes a 3-piece handle, GRI-hand pump, removable fin, 10' leash and travel backpack. And the Electric E-Pump is available for $119.99
Related Articles: