Airthings came up with their View for one simple reason: Radon can seriously mess you up. Just check the EPA: it can cause lung cancer. Even if you never smoked (and think of all those fun cigarettes you will have missed out on for nothing). According to the CDC it's the second-leading cancer after cigarettes.
Where Does Radon Come From?
And you know where it comes from? Radioactive metals in soil, rocks, and groundwater. So if you get well water and run a hot shower? That's in the air. If you have a fireplace or stove that you use all winter (like I do), you and your family are also at risk. In fact, according to one website, with a wood burning stove the Radon gas can build up for years and stick around in the lungs, even after your kids move out of the house, for example.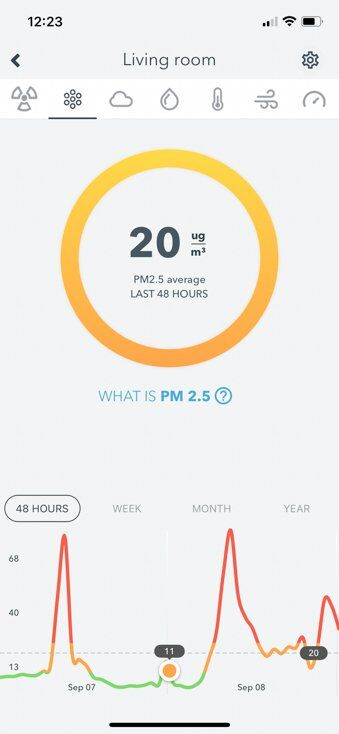 So what does the Airthings View tool do? Namely, it tests your air for Radon, a thing that used to take a bunch of tests and experts. All in the comfort of your own home, and you can test it every day if you want. Seriously, the Airthings view is a simple electronic device that hooks up to your smartphone and may just save your life, and the lives of your family.
Test For Radon, Particle Matter, and CO2
The air quality monitor in the Airthings View not only measures radon. It also measures particulate matter (PM2.5) and CO2, and even things like pollen levels. It's basically the most advanced air quality measuring tool ever put in a home device.
Then there's smart phone connectivity, through the Airthings Wave app, which measures your overall air quality and allows you to chart it. Even if you don't have the time to check your app, just wave your hand over the device and it'll tell you the numbers and your air quality. Literally, this is the evolution of existence: cutting-edge safety made stupidly easy.
Poor Air Quality Detected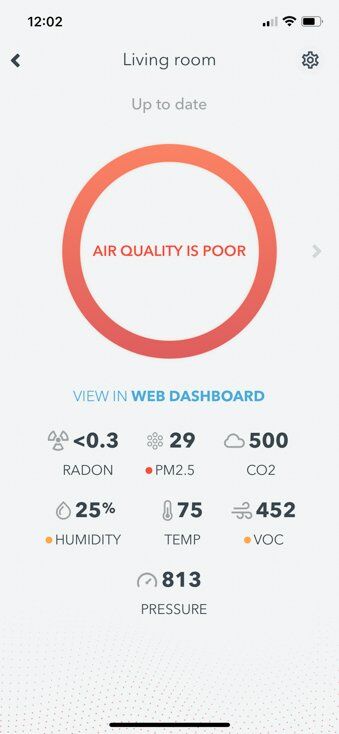 During our recent onset of wildfire smoke down in the Tetons during the biggest heatwave of the summer, I couldn't help but wonder how it was affecting me. The answer: The air inside my house was poor. The smoke particulates were awful. And heat is horrible.
Of course I'd been following it for a while and things had been good. Setting up the View is amazingly easy. You pull it out of the box. Turn it on. Follow the instructions to connect to the app. Then start measuring your air quality. It takes about a month for your device to begin measuring your air properly.
Overall Impression
I put it on top of the fireplace, where my previous Airthings device had been my sentinel for several years. There it is central in my house, conspicuous but oh so vigilant. And simple but oh so advanced. And of all the things I've tested, this is arguably one of the most important in protecting not only my life but that of my son also. The Airthings View ($199.99) is a truly essential and brilliant home accessory for anybody living the wild life.
The Airthings View is the only home item that might save my son's life.
Related Articles: