If you love to get outdoors, or even if you prefer to stay warm and snuggly inside, you are sure to enjoy any one of these books about the outdoors. These outdoor books are available in a variety of formats including hardcopy, softcopy, kindle and more.
Some of the books are more coffee table style while others can easily be packed away for your next camping trip.
Top Outdoor Books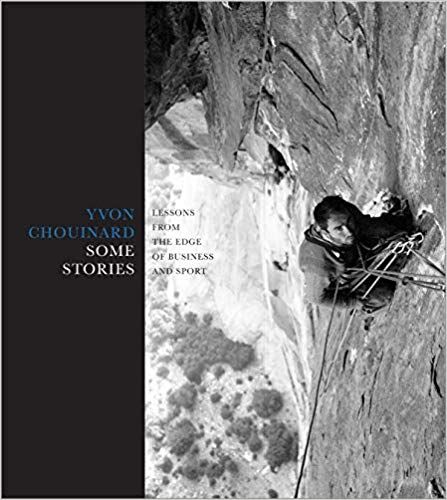 Some Stories: Lessons on the Edge of Business and Sport
There is nobody that knows the edge of business and sport better than Yvon Chouinard. Owner of Patagonia and author of this and other books, Yvon Chouinard offers his experience and advice to readers. As a master of his own sports, adventures, business and advice, only Yvon can truly capture what it means to illustrate nearly 80 years of professional and personal success stories.
"A master in the art of living draws no sharp distinction between his work and his play; his labor and his leisure; his mind and his body; his education and his recreation. He hardly knows which is which. He simply pursues his vision of excellence through whatever he is doing … " — Yvon Chouinard
In this book, you will be challenged by provocative thinking within the pages of this skillfully crafted book. With each story, a picture of Yvon's personal philosophies, thoughts, and experiences shows you what it is like to see the world through the reflective lens of the author's memory. Chouinard selected his favorite years and accompanied them with illustrative photos – many of which have never been seen before. Indulge in iconic photos of everything including fishing, climbing, activism, and more! [Purchase: $28.46]
Bushcraft Illustrated: A Visual Guide
Dave Canterbury is not just a New York Times bestselling author and YouTube star, he is also a wilderness expert. If you are ready to step your game up as an outdoorsman, then this is the book you need. Ladies, you too can be challenged to improve your wilderness and survival skills. Learn how to make and use tools, which plants are edible and which to avoid, along with how-to guides on shelter and more. Take this ultimate guide to the outdoors along with you on any adventure as a reference. Survivalist expert Dave Canterbury includes over 300 detailed illustrations to show everything you will need to survive. Just pick it up, locate the topic you need help with, and the book will include everything Dave wanted you to know. His ability show you how to get things done is what makes this book such a popular survival guide. [Purchase: $17.70]
Patagonia Simple Fly Fishing Revised Second Edition
Yvon Chouinard brings fly fishing to life in this modern-day guide to the sport. Including all types of catch tips, Yvon explains how to keep the evolving sport from becoming complicated. Forget high-tech gear and confusing flies, terminal tackle and high-priced fishing guides are no longer necessary. Once you have the Patagonia Simple Fly Fishing guide with you, the wisdom of Yvons experience brings simpler perspectives to mind. You can discover more of his techniques in the illustrated pages of the book with inspiring photos from fish artist James Prosek. Simple Fly Fishing is a captivating book that reveals the soul and deep secrets behind wet flies, nymphs and dry flies.
Based on the philosophy of the more you know, the less you need while fly fishing, Yvon makes it simple to set your cast. Are you ready to give fly fishing a try? Now you can. Or, if you are already a lover of the sport, you can amp up your game with this in-depth guide to keeping the sport of fly fishing simple and lifelike. [Purchase: $16.34]
As Above So Below: A Climbing Story by Chris Kalman
The fictional story takes you on an adventure up the Argentine Patagonia mountains. As you may already know, when something happens and you are climbing – a man has to face his own demons. The beautifully illustrated book includes work from the prolific Craig Muderlak. As Above So Below was also nominated for the Mountain Fiction Award at the Banff Mountain Book and Film Festival in Banff, Canada. [Purchase: $24.99]
Mountain States Medicinal Plants: Identity, Harvest and Use
This field guide is one of the best ways to learn how to use medicinal herbs. As a reminder to always bring along a trusty guide, author Briana Wiles included 120 of the regions most powerful wild plants to help you safely avoid anything that could harm you. The pages of the book include some of the clearest indications for plants in areas of Idaho, Montana, Wyoming, Utah, Colorado, And areas of Oregon, Washington, and Nevada. Each plant profile includes clear photographs, tips on how to identify the plant, medicinal uses, harvesting suggestions, and herbal preparations. [Purchase: $16.29]
The Art of Getting Lost: 300 Days of Adventure Big and Small
Part of the outdoors includes falling in love with adventures. No matter how big or small your adventure is, The Art of Getting Lost: 300 Days of Adventure Big and Small is included details that help to illuminate your wildest dreams. Get inspired to face obstacles as an outdoorsman or even in your personal life with this book. As a cross-country biker, author Brendan Leonard spent time on other adventures including a month rafting through the Grand Canyon, trekked Italy's Alta Via routes, hiked the original Haute Route, traversed Wyoming's Wind River Range and Colorado's Sangre de Cristo Range by foot and climbed big walls in Zion National Park, plus more. As a contributor to Adventure Journal and The Dirtbag Diaries podcast, Leonard brings his experience to you in this book. [Purchase: $16.67]
Backpacker Hidden Gems: 100 Greatest Undiscovered Hikes
For me, the best part about getting outside and into an adventure is that it is off the grid. Locally there are plenty of "hot-spots" where I can hear people chatting all the way to the top of the mountain and back about everything from their workday to their boyfriend. And to be honest I would rather be on an undiscovered hike. Backpacker Hidden Gems is filled with off-the-grid spots that are filled with panoramic views, private campsites, waterfalls, wildlife and more. Reveal some of the places across the county to your closest friends with this roadmap to 100 of the greatest undiscovered hikes. 200 photos make it easy to recognize the trail markers and may inspire you to take on these new horizons. [Purchase: $16.24]
Chasing Denali: The Sourdoughs, Cheechakos, and Frauds Behind the Most Unbelievable Feat in Mountaineering
The mystery of mountaineering comes to life in this story by Jon Waterman. Beginning on Denali, three gold miners called sourdoughs (because they always carried sourdough starters with them) claimed to have submitted after climbing over 8,000 feet of snow and ice. This dangerous climb continued on to a climb back down – in just one day. Read the book to find out if the expedition was a success or a hoax. [Purchase: $18.19]