The Arbor Coda Camber took everything I fed it and was hungry for in a snowboard and more. I need a stiff board. I'm on the heavier, meatheadier end of the snowboarder body type spectrum and I like to ride aggressively. Deep powder slashes like I was bashing some dream head-high lip. And it's nice to be airborne when possible, which means I need a board that absorbs sloppy and rocky landings.
How Does it Ride?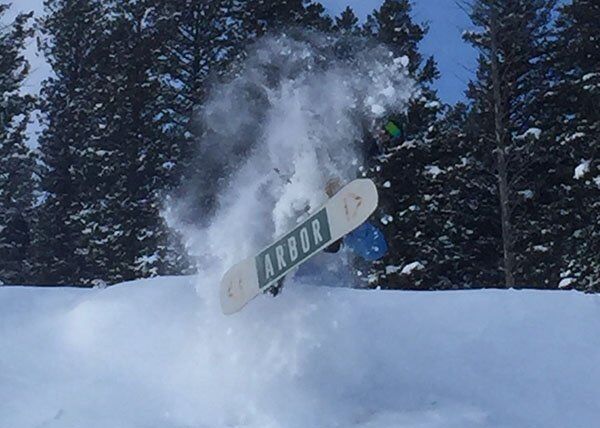 I got a good feel for how the Arbor Coda Camber handles variable, ungroomed conditions. How is it? Better than any one board at handling all 3 types and worse than specific boards at each.
It flew through a couple of inches of pow and sliced through crud. But in the deep, the original reverse camber Coda was missed. And for the sastrugi up top something a bit more directional, with a softer nose and a stiffer tail and a stance set further back, woulda tore through it like an ice ship to the poles. But that's not what this is about, specific conditions. This board is the contender for every company's all-over flagship. And the Arbor Coda Camber is winning.
Arbor Coda Camber vs Coda Rocker
Spending most of my time splitboarding and going after rowdy lines instead of tricks, I've forgotten about the playfulness that first brought me to the sport.  The Coda landed well from pillows and when the back leg got tired from the board's lack of inherent float, I could spin it switch play backward in pow.
The board grabbed more of an edge on the wind-scoured first turns due to the nose and tail shape than in the original camber. But it wasn't overly grabby getting into the stickier variable conditions that overturned my partner. And despite the stiffness leading to deeper turns and more powerful pops, it's still light and playful enough to jib.
I found myself testing the Coda in every type of terrain and as a one-board resort quiver, it was unbeatable. Open bowl to dust on crust to pow; bombing groomers and going off cat tracks. Regular and switch and back again. Responsive to every move but carried enough steam to bust through tracked powder.
Held well when it went full whiteout and I had to get down to the trees without being able to see where I was going. I took some laps with my toddler son, though and I have to say, I was disappointed with how much the Coda slid backward on the Magic Carpet. As if they didn't even think of beginners when they made it.
The 'Ghee was the perfect spot for the Coda Camber. With long groomers but also plenty of ungroomed terrain that actually keeps snow for a few days; rocks and cliff bands and small shots. It was more forgiving on spins, which could be tested in the park without too much congestion (though there was a Rail Jam blocking the lower section so I couldn't slide it) than most boards as stiff yet better on icy crud and variable conditions than a pow/park board.
Overall Impression
Arbor has always stood out in my mind as a company that makes stiff boards with the serious rider in mind. And the Coda, while softening somewhat to be more versatile, carries on this hard-as-wood tradition. No doubt the reverse camber would handle a bit better and more effortlessly in pow and some of the crud, but it wouldn't be able to handle the hardpack and the groomers. Nor would it be as responsive when I pushed for that high-speed, hard turn.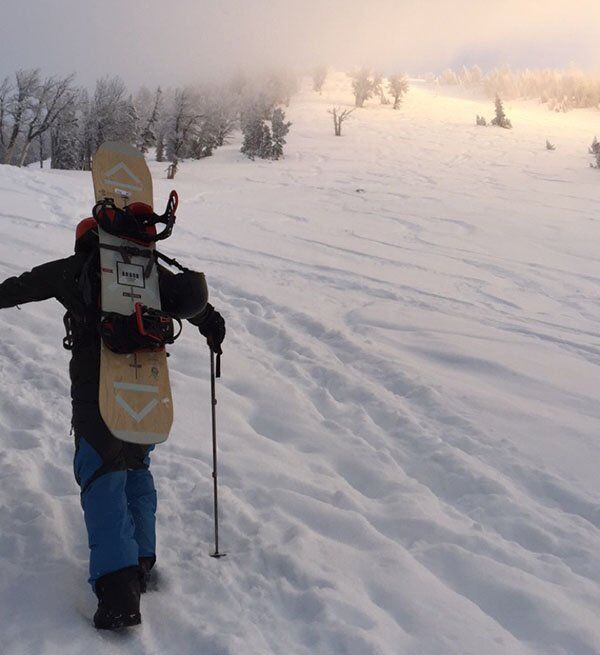 If you want a pow board or a big mountain charger, or a butter-pressing park stick, there are better options and certainly, the Arbor Coda Rocker would be a better choice.
If you're a big-mountain-minded shredder looking for a stiff board (but not too stiff — it is technically a mid-flex for Arbor, which is like rock-hard for some B companies) that excels in all conditions, or a resort rat dipping your toe into the backcountry, the Arbor Coda Camber ($545.99) needs to be your one board — or at least the centerpiece of your quiver.
Related Articles: