The Aventon Pace 500 E-Bike is a nimble and speedy bike. There are many days of fun to be had around cities and parks with this bike. If you're looking for a fast commuter or a city cruiser, this bike will satisfy your needs for both.
Everything about the Aventon Pace 500 is well built. The frame and hardware feel like it is built to last. The battery range is expected to take you up to 40 miles. The pedal assist and throttle are both very responsive and provide solid power to the wheels. This is the perfect bike for someone wants to use their bike to cover long distances quickly.
5 Pedal Assist Modes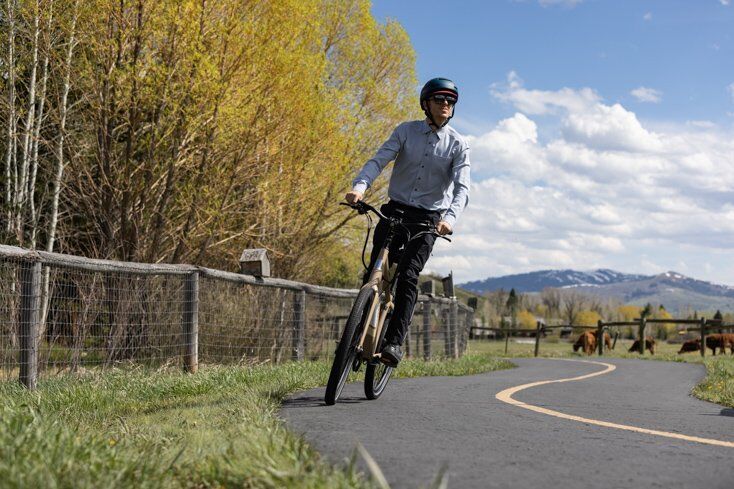 Finding the balance between man and machine is something that challenges every e-bike. How much power is too much power? How much assistance is too much assistance? Is the bike useable when the battery dies? The Aventon Pace 500 Electric Bike steps up to the plate and delivers with a perfect blend of human and battery powered fun.
The pedal assist has five levels of aid, including the option of having no pedal assist at all. The pedal assist occurs through the rear hub which gives the rider a sensitive feeling as to how much power is being given with each pedal stroke. The 500W motor gives the rider plenty of power.
Thumb Throttle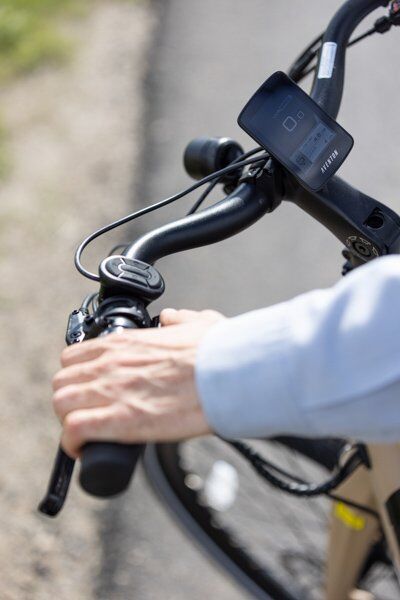 If you're in need of some help, there is a thumb throttle to give the 500W rear hub motor a boost. The throttle on the Aventon Pace 500 E-Bike is a lever throttle which sits quite comfortably on the headset. Using the thumb throttle felt very natural. Its best use is when you're carrying a load or starting uphill from a stop, and you need help to get started.
In the more difficult starting positions, the Aventon does take a second to get the throttle going when you're starting from a dead stop. In such cases, I would kick off with my legs to get going, but these instances were rare.
Sizes
Drivetrain
When not using the pedal assist or throttle as much, it is possible to ride this bike like a regular human powered bike. What makes riding this bike so approachable is that the shifting is phenomenal. With an 8-speed gear range (1.44-3.83 gear ratios), this bike is very capable without the pedal assistance and throttle.
I had a fun time cruising streets and sidewalks, shifting seamlessly up and down through the gears without a problem. I did not find any problems with the chain falling off or any hitches in the shifting. And this thing can really get up to speed. With a top speed of 28 mph.
Build
The Pace 500 has a sturdy frame with an upright geometry for a comfortable ride. The Aventon Pace 500 battery is built into the frame, with seamless cable routing. The battery takes 4-5 hours to charge fully. There are brake lights that are depressed and fully integrated into the frame that activate when the brake levels are pulled. A front headlight comes in handy for late evenings and early mornings.
The 27.5″ tires are a good size for this bike. Additionally, they are puncture resistant tires so that they can take a bit of a beating when you're riding on some rougher terrain. All speedy bikes should have good braking, and the Aventon Pace is no exception. The hydraulic disc brakes do well to make this bike stop on a dime. I had no problem coming to stop even while full throttling the bike.
Aventon App
The Aventon App can be used in conjunction with the Aventon E-bike itself. When you connect the app, you can track a lot of data on how your bike is being used. You can alter the performance of your bike and share your rides with other people who also use Aventon bikes. This is helpful especially since the bike has a display system in the cockpit which the rider can use to do real-time tracking of pedal assist levels, battery use, and distance travelled.
The controls for the screen and pedal assist toggling are located on the same control panel, next to the throttle.
Overall impression
The Aventon Pace 500 Next Gen would be an awesome bike for anyone looking to commute or do some city touring. It would be the perfect fit for those living in suburbs who have a few miles of commuting to work or to a mass transit station. Additionally, if you're looking for something that you want to use for exercise as well, this bike if fully capable of meeting that need.
Maintenance on the Aventon Pace 500 E-Bike should be minimal as there is no suspension to work on. With a price of $1,699, this is a decent price to pay for a strong and reliable e-bike which can be used in many ways. I highly recommend this bike, especially if you live in a city or suburb area with good commuting pathways.
Related Articles: