Aventon has upped its commuting game with the Level.2 electric bike that's now outfitted with a torque sensor. This second-generation model improves on Aventon's original commuter e-bike, remaining at the sub-$2,000 price point that's a great value for entry-level riders on a budget. But does this leveled-up e-bike successfully stand out among its rivals?
We've recently hopped on the Aventon Level.2 E-Bike to test its abilities and report on its overall performance.
About Aventon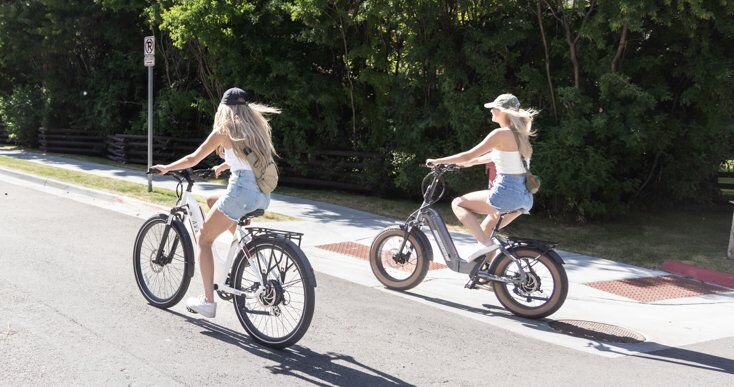 Aventon continues to be one of the top brands for accessibly priced e-bikes, boasting a large fleet designed for different types of riding. The flagship commuter model is called the Level which is now in its second iteration. The Level.2 has been on the market for a while now, so customers can take advantage of a slight price decrease— the current price is $1,799 compared to the original $1,949.
Customers are drawn toward the young brand because of its aesthetics, value for money, and compatibility with the useful Aventon app.
What Sort of Bike is This?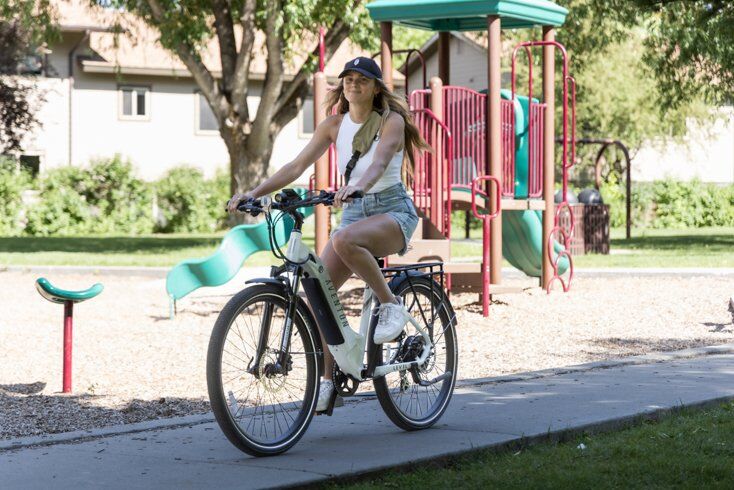 The Level.2 is Aventon's dedicated commuter machine that's fully equipped with a rear rack, fenders, and urban-oriented touches. The do-it-all-well design splits the difference between efficient hybrid bikes and more rugged fat bikes, meaning the e-bike can withstand heavy daily use in the city.
The Level.2 still has quite a large footprint with hefty tube shapes and 27.5" wheels. However, this updated version has slimmed down to 54 lbs. compared to the previous model which weighed 62 lbs. That weight stat is decently impressive for an e-bike that comes with front suspension and several included accessories.
Frame Size
Bucking the trend of e-bikes with few frame choices, the Level.2 is available with several geometry, size, and color options. There are both step-over and step-thru versions which are each available in two frame sizes. I appreciate the multiple sizes which actually allow riders to hone in on the most appropriate fit for their height and proportions. It's just not possible that one-sized e-bikes rated for all riders from 5' to 6'+ can be as comfortable.
The step-over model is available in clay gray and glacier blue colorways.
S/M Frame Size Best For Riders: 5'3″ – 5'10″
M/L Frame Size Best for Riders: 5'10″ – 6'4″
The step-thru version boasts elegant polar white and Himalayan pink (think that fancy rose-colored sea salt) paint jobs. To my eye, Aventon is one of the leading brands when it comes to aesthetics and I like the chiseled shape of the frame's downtube that hides the large battery quite nicely.
S/M Frame Size Best For Riders: 4'11″ – 5'7″
M/L Frame Size Best for Riders: 5'7″ – 6'1″
500W Rear Hub Motor
A 500W rear hub motor powers the Level.2 and features the biggest upgrade on the entire bike: a torque sensor. Commonplace on high-end electric bikes with mid-drive motors, a torque sensor is a premium piece of kit and a rare sighting on sub-$2,000 e-bikes. The sensor delivers assistance based on how much force is applied to the pedals rather than simply measuring the pedaling cadence. This makes for a smoother and more responsive performance that can also extend battery life.
There are 5 pedal assist levels as well as a throttle mode controlled by a thumb trigger on the left side of the handlebars.
Class 2 or 3
The bike is initially set up as a Class 2 e-bike but can be easily unlocked to its higher Class 3 potential with a top speed of 28 mph. It's a capable machine with plenty of watts but, during testing, we noticed that the e-bike prioritizes consistent power delivery rather than all-out speed.
The upper pedal assist levels aren't as punchy as other bikes probably because of the torque sensor and Aventon's refocused priority on the Level.2's battery life. I appreciate this kind of consistent, natural feeling boost that feels higher-end to me, but some riders might want more of a punchy package.
Battery
The large 15Ah battery pack is housed inside the downtube and offers a maximum range of around 60 miles. It's a spec improvement on the previous generation and I like the clean look of the battery integration, a hallmark of Aventon bikes. The battery charges fully in just 5 hours and can be removed from along the underside of the downtube.
Aventon E-Bike App
Level.2 riders can take advantage of the brand's own smartphone app to customize e-bike settings and connect with the rest of the Aventon community. Aventon is one of the only brands at its price point to have an in-house app and it makes it super intuitive to tweak your bike's specs and performance to your liking.
Another update to the Level.2 is the full-color LCD display instead of the older black-and-white unit. The matte finish ensures that there's no glare during the day and it's mounted neatly right at the center of the handlebars that doesn't clutter the cockpit.
Capacity
The included rear rack and black fenders mark the Level.2 as a purebred commuter bike. The rear rack comes with a 55 lbs. cargo capacity and the entire bike has a maximum payload limit of 300 lbs. including the rider. The Zoom front fork offers 65mm of travel to absorb pesky potholes and increase comfort on city rides. There's also a lockout function on the front suspension fork for more efficient riding on smooth roads.
We were pleased with the comfortable seat and relaxed riding position that improved everyone's riding experience while testing this bike.
Features for Riding in the City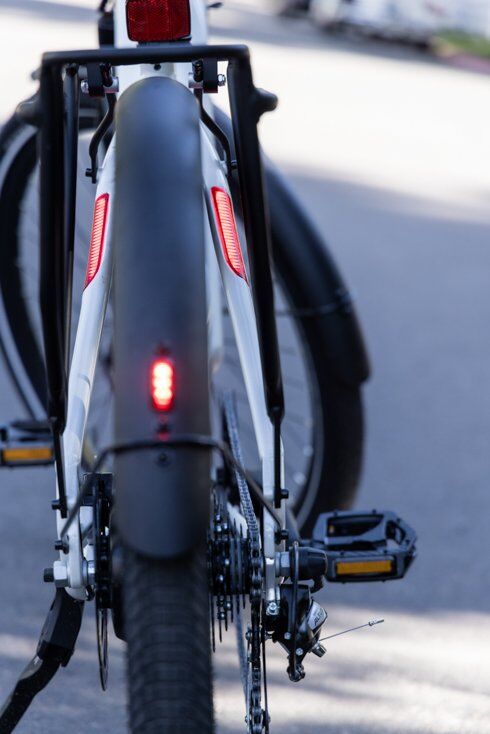 The integrated front and rear lights are a must-have for safe commuting and Aventon adds a bit of extra functionality to set this bike apart. In addition to the high-mounted headlight and rear light, there are brake lights integrated into each of the seatstays. These extra lights on the Aventon Level.2 E-Bike are visible from the side and rear of the bike and flash under braking. It's a nice feature but I expect that Aventon add turn signal functionality to these lights in the future, something that some other brands are already doing.
Hydraulic Disc Brakes
Another noticeable update is the Tektro 180mm hydraulic disc brakes which replace the Zoom brakes on the past model. It's reliable componentry that adds to the performance of the e-bike, and significantly better than traditional mechanical disc brakes still installed on some cheaper models.
There's a standard Shimano Altus 8-speed drivetrain that's nothing to write home about but combines efficiently with the pedal assist levels. The fast-rolling 27.5" wheels are outfitted with 2.1" hybrid tires with reflective sidewalks for a bit of extra lateral visibility at night.
Overall Impression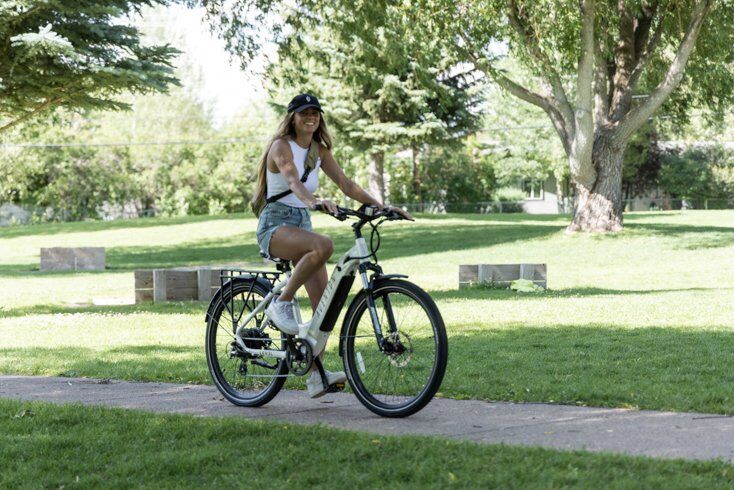 The Aventon Level.2 E-Bike ($1,799) has made a serious step up with the inclusion of a torque sensor in an overall attractive setup. Elegant color choices, commuting accessories, and innovative side lights help this versatile electric bicycle stay ahead in the crowded entry-level marketplace.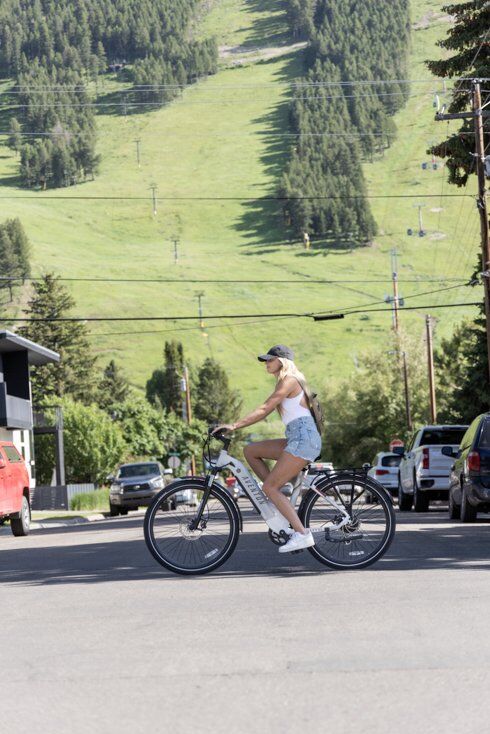 Priced under $2,000, it's not the most premium package out there but is a solid way to electrify your daily ride to school or work so you can pedal easy instead of sweating bullets. It's been nearly a year since the Level.2's release and its price has already been dropped, so the third generation could be already on its way.
Related Articles: