From Backcountry Access (BCA), comes the Tracker S. The BCA Tracker S is an easy-to-use avalanche transceiver, making it the perfect entry level option for those of us that are starting to explore the backcountry.
Buying a life saving device is no small task so we've done our best to highlight what you should consider when purchasing an avalanche transceiver.
Reliability
Avalanche transceivers are life saving devices and should be treated as such. Backcountry Access has an extensive record of quality transceivers that are well trusted by safety professionals. You can be sure that the BCA Tracker S is a reliable quality instrument.
Ease of Use
The second critical consideration when buying an avalanche beacon is the ease of use. While some advanced features may be vital to professionals, they may impede the everyday recreationalist. The BCA Tracker S is geared towards someone who wants a straightforward instrument with little room for confusion.
I was able to use the BCA Tracker S Avalanche Beacon the second I took it out of the box. The device is extremely straightforward and easy to use. For someone with my level of avalanche experience this is crucial. In high stakes, high stress scenarios it is critical to know how to use your device.
The BCA Tracker S makes this easy for those of us who aren't in the backcountry daily.
LED Display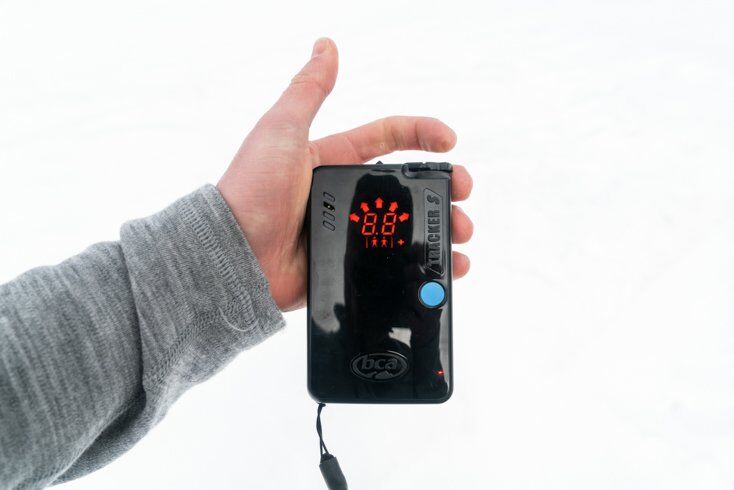 The BCA Tracker S comes with a straightforward, bright, LED display. During practice burials I found the signals very straightforward and easy to read. BCA and many other trackers use symbols rather than words so the beacons can be used universally.
Features
The BCA Tracker S avalanche transceiver is simple by design and has everything you need but nothing you don't. A few of the noteworthy features are as follows: multi burial indicator, close proximity indicator, and signal suppression mode.
The max range for the BCA Tracker S is 55 meters. From what I've seen this is fairly standard among avalanche transceivers. I tested my range with a group of 6 other people and the BCA Tracker S had the longest range (second place was only a meter away).
The BCA Tracker S does not include some of the more advanced features like motion-sensing auto revert and upgradable software. This is not an issue for those starting out but could be a deal breaker for professionals.
Overall Impression
The BCA Tracker S ($299.99) is your best bet for a reliable, easy-to-use avalanche transceiver. I would recommend this instrument for anyone who is starting out or doesn't want to be bogged down with extra features. If my or my partner's life was on the line I would want to be equipped with the BCA Tracker S.
Related Articles: