A good snowboard backpack is essential for anybody who takes their riding seriously. Obviously a solid pack is a must have for any backcountry riding, (and given all the inbounds slides the last few years, probably not a bad idea for inbounds riding on deep days). But it's also really convenient to have a smaller snowboard carry backpack for resort days.
There's a lot of snowboarding backpacks out there. Luckily we at Mountain Weekly News basically live in our backstrapped haulers so we did the tough research for you.
Here's a video of what I carry in my splitboard backpack.
Best Snowboard Backpacks
The smallest pack on this list is made by the same company that we turn to time and again for keeping us alive with their beacons: Ortovox, and their Freerider 22L. That's right, the Ortovox Freerider is 22 liters. This is so slim that you have no excuse for not just keeping this in your car with a full avy safety kit, ready to go. It still has a shovel probe pocket, and storage room for the basics but that's it. No, I wouldn't suggest this for big days. But it does have a ski carry, and a board carry, and an axe carry, and enough room for the absolute essentials.
The Freerider 22L is made of 420D nylon, with 2 external and 2 internal pockets and a claimed weight of a little over 2 and a half pounds. Yeah, that's right, 2 pounds 10 ounces. You'll definitely want to use the hydration bladder in this instead of a water bottle but in turn this backpack won't threaten to knock you off the chairlift. Go light, go little, keep it simple with this small backpack designed by an authority in backcountry safety, Ortovox.
Best for: Backcountry users looking to keep it simple.
Price: $180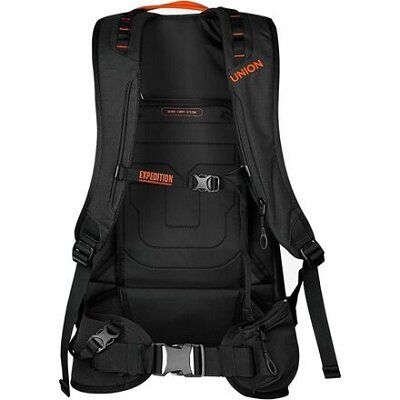 Union makes some of the best standard bindings, some of the best touring bindings, and now they make one of the sickest little snowboard packs on the planet. To start off, this is the pack you need if you're a fan of the Union Rover Approach Skis since it holds them safe and sound for the descent. Plus there are all sorts of cool, crazy little pockets (from lined goggle pockets to front avalanche tool pocket) and all sorts of gear loops for hanging things like your split crampons or your helmet off the outside.
What I really love are the board carry options on the Union Rover Backpack. Vertical carry, horizontal carry (sled much?), and even both a vertical and diagonal ski carry thanks to the Approach Ski setup. The 600D polyester and the beefy 38mm webbing means this 24L pack will outlast even your rowdiest adventures. At 24L, it's the perfect pack to wear on the lift to carry all your accessories or for a quick slip outside the gates. Plus Union's black and orange colorway is kind of fire. This is one of the best snowboard carry backpacks for someone wanting to try splitboarding but set on using their own solid board in the backcountry.
Perfect for: Playing on split, approach skis for snowboarders, or sled
Price: $149.95 Backpack, $399 Approach Skis 
A few years ago a friend told me Mystery Ranch disappeared from the pack game for a while because their packs were just too good for the average person to understand, and the Mystery Ranch Saddle Peak Pack lives up to this claim. Do you go big on gnarly, icy, rocky treks? The 840D nylon with Carbonite can handle even the sharpest jabs, whether from cliff or ski edge. It's got a zip that goes the whole way down not only on the avy pocket but also on the main pocket, giving you access for days.
This Mystery Ranch Backpack features a telescoping, stretch-woven yoke, one of the most comfortable shoulder attachments ever. Few 25L backpacks actually have an adjustable yoke (the place where the shoulder straps come together); this slim profile pack will probably be one of the few adjustable ones you'll see riding the lifts at your local resort. Of course making one of the sturdiest bags with all the bells and whistles means that this men's snowboard backpack might be a bit much for a casual rider. But that doesn't describe you, does it?
Best for: The serious rider who doesn't compromise.
Price: $218.95
Grand Targhee is my local resort and has some of the craziest weather I've ever seen, which has got to be why the Gregory Targhee 32 Pack is made to handle whatever mother nature can throw at you. That 1000D Cordura front diagonal guard panel is practically bulletproof (though obviously it's for handling ski or board in split mode edges). Then there's all that anodized aluminum hardware to deal with the cold since, you know, plastic tends to snap off in super cold conditions.
I love a pack with a helmet carry system and this Gregory Backpack has it including all sorts of ice climbing features, like a bungee ice tool system and a hipbelt shaped to work with a harness. Because, let's be honest, if you don't ice climb, you've definitely thought about it so might as well be prepared. Avy pocket is dialed and I always love a U-Zip backpanel for serious mission access.
If you're serious about the mountaineer part of "snowboard mountaineer," the Gregory Targhee's the pack for you.
Perfect for: Big days
Price: $199.95
If you're looking for something that can hold everything you need for a daytrip in a sleek, low-profile pack, the Mountain Hardwear Powabunga is the one for you. It holds 32L, with dual side zip pockets for skins, water, extra gloves and hat and goggles; plus of course there's the front pocket for you shovel and probe.
The 500D CORDURA nylon is super light but also super durable, able to handle crazy poking gear and grinding your pack against ice and rock. But the outer is the real winner here: a snow-shedding stretch woven back panel with an HDPE framesheet keeps all your gear dry. And the all-black coloring makes it a member of the Secret Stash Society, ensuring you can keep your mountain ninja getup dialed and will be allowed to ride Baker. This Mountain Hardwear 32L Backpack is the perfect pack for daytrips and adventures slipping outside the resort gate.
Perfect for: Stealth ninja daytrips
Price: $200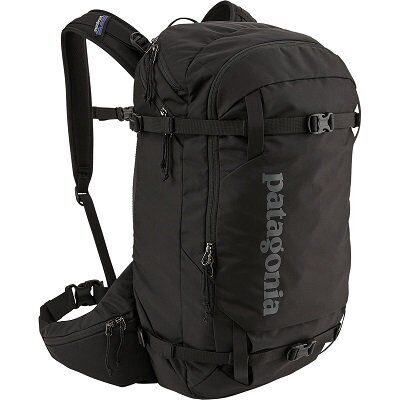 Patagonia's Snowdrifter Backpack has been my go-to pack and what else would you expect from the legendary Patagucci? Of course since this is Patagonia, they have both front and A-Frame carry for the skis. And the Cordura nylon with DRW treatment makes this one of the most protected, waterproof packs on the list. The shoulder's insulated shoulder pocket is made to keep your hydration pocket tube from freezing. And the arm straps in general, they're really padded to make this comfortable for long days touring in the backcountry.
I love the huge opening on the Patagonia Snowdrifter 30L Pack. It makes making it even easier to go through all your gear since when you're on a mountain adventure, time is precious and access is paramount. Even more important since this main compartment is cavernous. Though of course there's also a dedicated front compartment for your avalanche tools. But given the beating backpacks take, and Patagonia's industry-leading replace and repair policy, this Patagonia Backpack might be the last daypack you ever buy. This was our editor's pick for the best splitboard backpack we tested for 2021/22.
Perfect for: Daily driver
Price: $179
Dakine has been making sick packs for decades, seemingly all leading up to developing this avalanche  airbag ready Poacher R.A.S. 26L Backpack. So let's start with the obvious, yes, your airbag fits into this pack. The front avlanche gear pocket rolls down for super easy access, and front pockets on that pocket for the little things like goggles, wipes, bars, whatever.
I love the option of a zip from the inside of this Dakine Snowboard Backpack (you know, the part that goes against your back) but it's also cool that it has vertical board and ski carries. At 26L, you're not gonna have much room for crampons, extra foot, 2 pairs of goggles and 3 pairs of gloves, especially when packing the airbag. Which makes the Dakine Poacker Backpack the perfect backpack to hold a snowboard on shorter tours or longer backcountry treks.
Perfect for: Deep airbag-necessary short days
Price: $219.95
The Volcom Iguchi Slack Vest is like the opening to "Tale of Two Cities": It's the best of packs and it's the worst of packs. Though the "worsts" actually come from the user so we're here to educate you all on backcountry. Let's be honest, the Volcom Bryan Iguchi Vest rips if you know what you're doing. "Slack" comes from slackcountry, which is unpatrolled terrain that is easily accessible, either from a ski resort's gates or from a mountain pass. Thing is, slackcountry is no less dangerous than normal backcountry (though the heavier crowds may mean that the snowpack is a bit more beaten down, that doesn't mean anything if you're the first person dropping in the morning after a big dump). And while the vest has special pockets for your shovel and probe, you need more for a big day in the backcountry. Bringing me full circle to what this vest is for: slackcountry. Or as our editor wants it called, BACKCOUNTRY…
If you're going for a 5+ hour tour in a national park, you need more than just your avy tools found in a snowboard vest backpack. But if you're just slipping out of the gates and know where you are and how to get back in-bounds, this is perfect. Beacon, shovel, probe, with room for a few other snow testing tools is really all you need. Same if you're going on an hour car-to-car tour. With 600mm waterproofing and a V-Science Rugged Nylon and Polyester build, this is a super beefy vest, with guide-certified radio pocket and foam padding on the shoulders and back. Honestly, this should be a go-to anytime you're resort riding with the possibility of dipping outside of the boundaries.
Plus, this is endorsed by Bryan Iguchi, one of the true forefathers of backcountry freestyle riding. If Guch stands by this vest, so do we. Just bring a pack too if you're going touring in a National Park.
Perfect for: Quick dips into the backcountry
Price: $325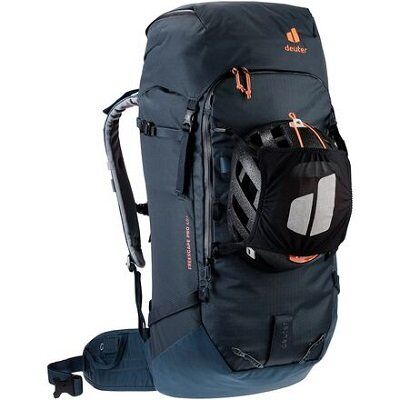 When you're planning a big trip, you need a big pack that does what you need and nothing more; Deuter has deliver just that with their Freescape Pro 40+. That's 40L plus of space, more than big enough for extra jacket, gloves, bivy sack, water, food, first aid kit. Plus the front avy tool pocket. The back is made for double ice-axe holding, around your crampons like a true badass, with a helmet carry.
There's the main back pockets with a top lid that fits over it snugly, plus the little extra side pockets for phone, liners, whatever. The softstripe shoulder pads make this float on your back nicely, which is good since you'll have your board or skis on the back, or you could do an A-Frame carry with the board in split mode, my favorite for the final approach.
It should be noted that this is basically an evolution of the Deuter Guide 45+, my pack of choice for the better part of a decade. But with updates like, for example, a back zipper to make it super easy to get at your stuff while board is strapped to the back of this Dueter Backpack. Got a yurt trip coming up? Look no further than the Deuter Freescape.
Best for: overnight snowtrips.
Price: $210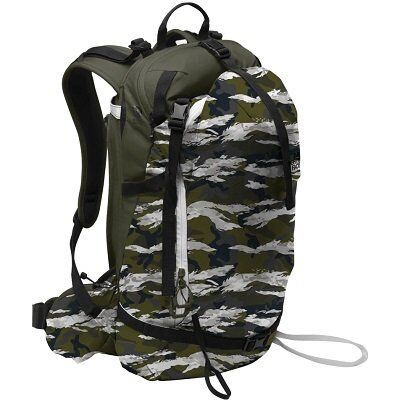 I like North Face's Summit Series, and the Snomad 23L, inspired by the Summit Series, delivers a true skimo pack like only the top name in high alpine exploration can deliver. This North Face Snowboard Backpack starts with a 200D ripstop non-PFC DWR finish on the front and a 420D nylon non-PFC DWR on the sides and back and you've got great water repulsion and durability at a lower weight. Where it really separates itself are its mountaineering options.
I love the integrated helmet mount on top of The North Face Snowmad Backpack so you don't have to choose between carrying your board or your noggin protector on your back. Then there's the fact that the ice-axe loop is adjustable side to side but still lo profile enough to not catch on anything. Because yes, if you start getting into real big mountain touring, your ice axe will become an essential part of your kit.
At 23L, this North Face Backpack is bare-bones. If you want to move fast and light to rowdy objectives, this is the pack for you.
Perfect for: Speed peak-bagging and ascents
Price: $139
Related Articles: