Our snowshoe review roundup is a great way to learn about the different types of snowshoes available on the market. Whether you're looking for an entry-level pair of snowshoes for first-time users, or something more advanced for experienced adventurers, we have something here for everyone. So if you're ready to hit the trails, let's take a look at some of our top picks.
Best Snowshoes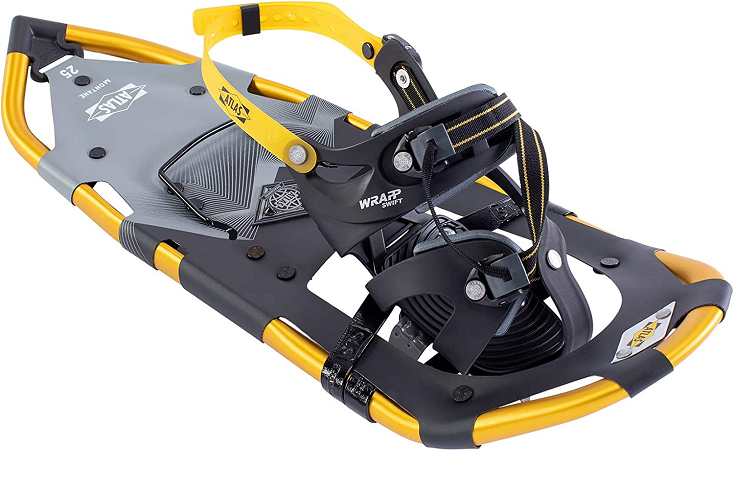 Atlas Access snowshoes are a great option for those wanting an entry-level pair of snowshoes that provide quality and affordability. They're designed with lightweight Twin-Trac crampons and comfortable soft straps, making them ideal for both shorter hikes and leisurely strolls in the snow.
What stands out the most, perhaps, is the Atlas Access's heel cleat system which makes ascending and descending hills an easy task. Uneven terrain is also no match for this snowshoe, as I found it exceedingly easy to maneuver them on and around all manner of obstacles thanks to the incredible grip provided by the cleats.
Who They're Best For
Given the versatility of the Atlas Access, they're a great choice for first-time users who want to experience different terrains. Yet they're also robust enough to be used by experienced adventurers who want something lightweight and easy to use.
Sizes Available
Atlas offers the Access snowshoe in sizes 25" and 30". Make no mistake, these are some attractive snowshoes. And the basic yet fitting color combination should work well with just about any outdoor gear you may already have.
Relevant Tech
The Access snowshoes aren't short on cool tech, boasting the following features:
Twin-Trac crampons for secure grip and traction
Heel cleats for easy climbing and descending
V-Frame rail rolls up for improved gait
Wrapp Trail Binding ensures greater comfort
Light-Ride Suspension delivers superior cushioning
Nytex Decking offers formidable trekking excellence
Advanced Aft Traction boasts awesome cleating action
Heel Lift Bar supports calf muscles for even more comfort
With so much slick technology backing them up, it's no wonder Atlas's Access snowshoes have been such a hit. They earned our top spot due to a combination of excellent construction, affordability, and outright superb performance.
Price: $179.95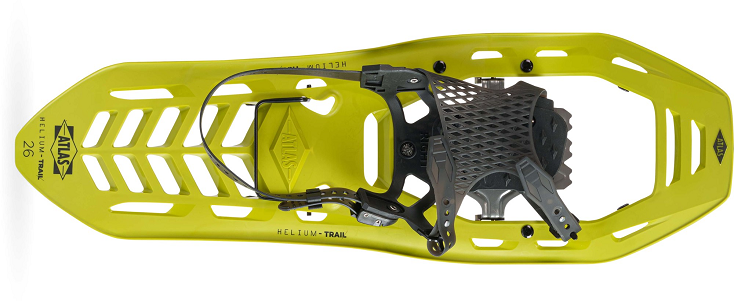 If you needed more evidence that Atlas is a brand that knows how to make a good snowshoe, then their Helium model should be all the proof you need. Aptly named, these lightweight snowshoes are designed for efficient performance and agility in the mountains.
In order to achieve their lightweight design, Atlas utilized a composite frame and decking material—the latter of which is made from a combination of polypropylene and snow-shedding additives. The result is an incredibly durable snowshoe that won't interfere with your movement in the backcountry.
Who They're Best For
The Helium snowshoes are ideal for those who have to hike the trails over long distances in the backcountry. They're lightweight and comfortable enough to be worn for extended periods of time, and the efficient design will most certainly help reduce fatigue.
They're especially suited to long-distance hikers who need a snowshoe with plenty of traction and a good amount of maneuverability.
Sizes Available
The Helium snowshoes come in three different sizes: 23", 26", and 30"—all of which are engineered with easy-to-use bindings and a comfortable crampon system.
Relevant Tech
As with their Access brethren, the Heliums are equipped with a few features that make them stand out:
Composite frame and Helium decking for lightweight performance
Traction rail rolls up for improved gait
Flexible rail moves with the foot
Heel Lift Bar supports calf muscles
Wrapp Trail Binding provides superior comfort
19° Heel Lift allows for effortless climbing and descending
Although Atlas's Access snowshoes might offer more bells and whistles, the Helium variants don't mess around. The tech used here is done in a way that makes the most out of the lightweight design, thus making them ideal for long-distance trail adventurers.
Price: $149.95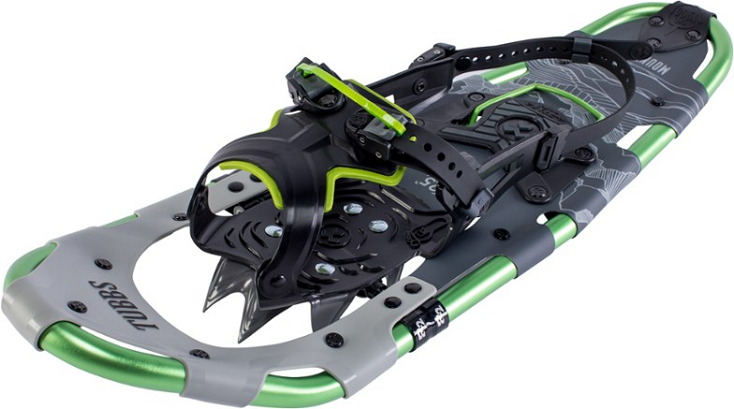 The Tubbs Mountaineer snowshoes are an excellent option for those who require a little more stability and control when out in the wild. The way the Mountaineers are designed deserves some accolades, as they're compact yet still manage to cover a large surface area for grippy walking.
It's really quite ingenious, allowing users to get a ton of traction without the bulk that usually comes with it.
Who They're Best For
The Mountaineer snowshoes are great for anyone who needs a bit of extra stability and balance. They're especially ideal for folks who require maximum traction on uneven terrain, such as the backcountry of the Rockies or other mountainous regions.
Their design also makes them suitable for anyone who wants excellent coverage without a lot of real estate on the foot.
Sizes Available
The Tubbs Mountaineer snowshoes come in 25", 30", and 36" sizes. The bindings are quick and easy to use, and the crampons provide a ton of stability.
Relevant Tech
The Mountaineers are equipped with some impressive tech that is sure to serve even the most hardcore of adventurers well, including:
Anaconda toe crampon for extra surface area
ActiveFit 2.0 binding provides a comfortable fit and ensures the user's foot is securely locked in
Soft-Tec Decking helps reduce fatigue by cushioning the foot
EZ Heel Buckle makes it easy to adjust the bindings on the go
Pro-Step Frame provides added stability in a light body
It's clear that Tubbs has taken a lot of time to perfect the design and tech on their Mountaineer snowshoes. The features listed above provide impressive stability and traction, making them ideal for those needing a bit of extra support when trekking the backcountry.
Price: $279.95

Armed with a modern design, the TSL's Highlander series is an excellent fit for those who want the perfect balance of lightweight materials and maximum performance. The Highlander snowshoes are built to handle all kinds of terrain, from a gentle stroll on a flat forest trail to scrambling up a steep rocky mountain.
Who They're Best For
The Highlanders are designed with long-distance trekkers in mind; adventurers who want their snowshoes to be lightweight yet still provide excellent traction. They're perfect for those in need of a super comfortable pair of snowshoes that can withstand whatever the wild throws at them.
Sizes Avaialble
If you generally have a hard time finding snowshoes that offer a perfect fit, you may want to consider the Highlanders. Bucking the traditional trend of whole-number sizes, you can find Highlander snowshoes in 20.5", 22.5", and 26.5" sizes.
The metallic color scheme works well here, too, and adds to the overall aesthetic of the Highlanders.
Relevant Tech
TSL's Highlander series is available in different variants, such as the Elite and the Adjust—both of which offer advanced features and technology. Some of the tech included with these snowshoes are:
Multi-tooth grips provide extra traction on any terrain
Stainless steel crampons ensure long-lasting durability
Memory Lock straps allow for a perfect fit
Easy Ascent lift system helps reduce fatigue
The Highlanders are definitely an intriguing option for those who want a dependable pair of snowshoes that perform well and look good, too. The construction is plastic, which might put off some buyers. But the high level of performance stifled any concerns I had at the outset.
Once I got the Highlanders on and took them to task, they performed admirably—delivering an impressive level of traction and stability.
Price: $229.95
If you're not worried about the expense, Komperdell's Carbon Airframe snowshoes are sure to impress. These high-end snowshoes make use of aluminum alloy crampons, a patented toe-lift, and a combination of carbon fiber and Kevlar-like aesthetic to provide the perfect balance of lightweight performance and durability.
Who They're Best For
The Carbon Airframes are designed for those who don't mind spending a bit more for top-notch performance. They're perfect for professional explorers, extreme adventurers, and the ultra-serious snowshoer who values the utmost in quality.
Sizes Available
It's important to pay close attention when ordering Komperdell's sizes, as they're not listed in the traditional number format. Instead, the company has 4XS, XS, S, M, and L. From what I was able to derive, Ms (Mediums) are 36 to 42, while Ls (Larges) are 42 to 47.
Relevant Tech
The Carbon Airframes feature several qualities that help make them stand out from the competition.
Ultralight construction, thanks to the hollow-frame carbon fiber construction
Ice-Rail Claws provide maximum traction on ice and snow
Quicklock Binding System for easy adjustments
If you're going to invest in snowshoes, logic dictates that you want them to perform at a high level and last for years. Komperdell's Airframes are definitely an investment, but a smart investment nonetheless.
The construction is top-notch, and the combination of lightweight materials and superior traction make them a great choice for those looking to get serious with their snowshoeing adventures.
Price: $499.99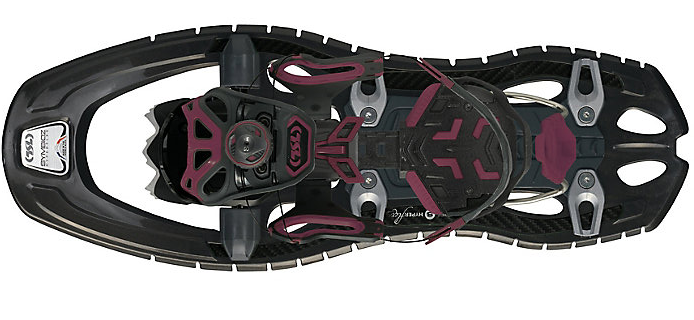 TSL's Symbioz Hyperflex Instinct snowshoes are another fine example of modern snowshoeing technology. These versatile snowshoes provide an excellent balance of traction, stability, and maneuverability—all while remaining lightweight and easy to handle.
Who They're Best For
The French-made Hyperflex Instincts are ideal for explorers and adventurers who want a pair of snowshoes that can handle any terrain with ease—they're perfect for people who don't want to be weighed down by bulky, difficult-to-use models.
Sizes Available
TSL offers the Hyperflex Instinct snowshoes in either Small, Medium, or Large sizes. There's quite a radical design difference in each size option, so be sure to pay attention to these changes when selecting your preferred size.
The changes don't do anything to hamper performance, but they do offer a more personalized fit and feel, which is much appreciated and needed for maximum efficiency.
Relevant Tech
The Hyperflex Instincts come packed with some impressive technology, including:
Front and lateral grips with stainless steel crampons for added stability
Contact grips for improved contact with the ground
Flexible binding system for easy adjustment and comfort
BOA Fit System for quick and precise fastening
The BOA Fit System is particularly noteworthy, as it allows for a unique level of precision in the fitting process—it's not something that you'll find in many other brands.
All in all, TSL has put together a great option with the Hyperflex Instincts—they're lightweight, quick to adjust, and perform admirably in most conditions. If you're looking for a pair of snowshoes with great versatility, these are definitely worth considering.
Price: $329.99
VERTS are some of the most highly-rated snowshoes on the market today. They provide excellent performance, comfort, and style that make them popular among many outdoor enthusiasts.
Who They're Best For
VERTS snowshoes are designed for those who want an affordable pair of snowshoes that don't sacrifice on quality. They're perfect for beginners who don't necessarily need a lot of features but still want something reliable and comfortable. But more importantly backcountry snowboarders love these if they want to bring there traditional snowboard into the backcountry vs being on a splitboard.
Sizes Available
These are single-size snowshoes that are designed for fast and efficient usage. Moreover, they don't cover a lot of ground like other makes and models—they're more like an upgrade for your snow boots. It might seem a bit unconventional, but it works well in execution.
Relevant Tech
VERTS snowshoes feature a unique fastening system that makes them exceptionally easy to put on and take off. Perhaps most noteworthy is the compact size and light weight. At only 1.85 pounds—per set—VERTS snowshoes are some of the lightest on the market.
Price: $125.00
The Wildhorn Outfitters Delano X2 Snowshoes are something of an enigma. They're stylish as can be and sport an advanced design—all while coming in at an incredibly low price.
Even better, the construction is better than a lot of leading snowshoes, ensuring enhanced durability and performance.
Who They're Best For
Anyone looking for a good deal, really. Wildhorn Outfitters impresses with their Delano X2s, offering a great snowshoe for an incredibly low price. They're perfect for those who don't want to invest in a more expensive pair of snowshoes but still want to get good performance and quality.
Sizes Available
You can order Delano X2 snowshoes in either 22" or 28". Each size comes with the same unique features for enhanced stability and more.
Relevant Tech
Wildhorn Outfitters uses modern technology in the Delano X2s, such as:
TPU binding with fast-release functionality
Electroplated steel crampons for added grip
Locking cleats for improved stability on slopes
Lightweight 7075 aluminum frame for enhanced performance
Steel heel riser for steeper terrain
There's a lot to like here, and the low price point is sure to attract a lot of attention. Wildhorn Outfitters offers a great snowshoe for those who don't want to shell out too much money but still want something that can perform.
Price: $159.99
The Crescent Moon EVA Foam Snowshoes are a great option for those who want something lightweight and easy to use. They're about as no-frills as you can get, with a simple design that's still functional and stylish.
Who They're Best For
These are perfect for those who don't need a lot of features and just want something lightweight and easy to use. The EVA foam construction makes them perfect for beginners who don't want to pay for expensive pair snowshoes.
Sizes Available
The EVA Foam Snowshoes are a one-size-fits-all kind of deal. They should fit most standard adult boots and shoes, making them great for those who don't want to fuss with size and sizing.
Relevant Tech
The Crescent Moon EVA Foam Snowshoes are just that—EVA foam. So while you won't see any fancy features or technology, you will get an extremely lightweight pair of snowshoes that are perfect for walking and light trekking.
Price: $179.99

A step up from the EVA foam snowshoes, the MSR Evo Trail Snowshoes are a nice buy for those who want something a bit more robust and reliable. They feature a lightweight martensitic steel frame with adjustable bindings and great traction.
Who They're Best For
MSR's Evos are aimed toward people who might be starting out in snowshoeing but want something that can handle more rugged conditions. So while they're not designed for more advanced terrain, they can handle quite a bit and provide good value for the money.
Sizes Available
These are another all-in-wonder that seems to accommodate shoe sizes 3 M to 13 M and 5 W to 15 W. As you can see, they're pretty universal despite having a more advanced design.
Relevant Tech
The MSR Evo Trail Snowshoes feature:
Ergonomically designed bindings for extra comfort
Heel lifters for added traction on steep terrain
Lightweight martensitic steel frame for enhanced durability
Durable thermoplastic elastomer decking for added grip and stability
The MSR Evo Trail Snowshoes are a great buy for those who want something a bit robust and reliable but still don't want to invest too much money.
Price: $149.95
You certainly have plenty to choose from when it comes to snowshoeing. I hope that this review roundup of the best snowshoes out there has helped you make your choice a little easier. Whether you're a beginner or an experienced snowshoe, I'm sure there's something out there that will help you get the most out of your snowshoeing adventure.