About two years ago, yoga was a whimsical idea that seemed to exclusively include patchouli and tie dye. In recovery from a skating injury I was looking for something both relaxing and healing. However, after poking my head into a few classes I couldn't bear to step inside. I developed my practice alone in the woods with influences from spiritual communities including, mystics and native Americans. Over time the word "yoga," has become the very thing I craved.
I just didn't know back then I was responsible for making it that. If you're interested in the numerous scientifically proven health benefits of yoga, like flexibility, joint restoration, and mental heath you're not alone. I think it comes with age that the word "yoga" means less of what people tell you it means and more what it develops in your own practice. But you have to take the first steps yourself. My suggestion is to dress the part. Here are the top ten picks for your yoga gear – at any stage of your practice.
Best Yoga Mats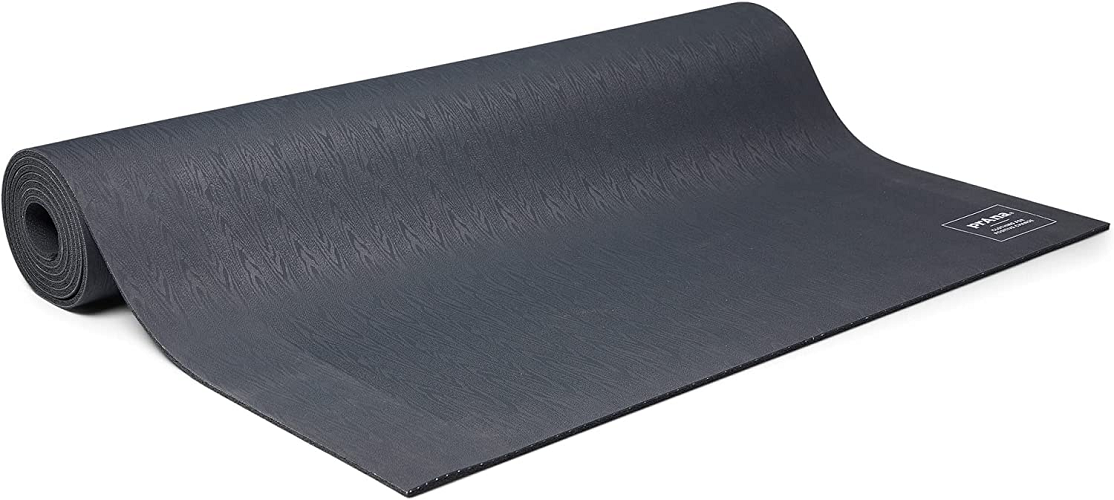 Take this one through tough terrain and take it back again. Unlike many yoga mats you can find, the prana verde yoga mat is made extra durable with rubber. Think of it this way .. tires are made for the road. It only makes sense that your yoga mat should be made for travel. Anywhere you want to go the PrAna Verde can take it. FCS mix-certified rubber from responsibly managed forests makes it easy going on your body and mind.
Earth friendly and layered with 100% Organic cotton the grippy anti-slip surface allows you to take your yoga practice in nature. Dig your toes deep into your favorite Asana anywhere your spirit inspires to go with a good conscience about the environment. The unique triple layer construction comforts you even if you are new to yoga. Count on the support of the PrAna verde yoga mat to keep your stance solid. Comfortable, cushiony, and careful with your body this yoga mat protects what you love most about your yoga practice – you.
Price: $99.99
Manduka delivers the PRO Series certified STANDARD 100 by OEKO-TEX®️ and the #1 workout mat recommended by yoga teachers worldwide. As a reliable support system for any workout, this yoga mat from Manduka's ProLite series soaks up sunlight, tears, rain and anything else you take into your practice. At home, this sturdy yoga mat protects you from any dangerous environment or surface. Reinforced with closed-cell materials to eliminate moisture and reduce the risk of bacteria on the surface.
Increased longevity and easy clean-up are just a few of the features from the ProLite Yoga Mat series. Additional features include high-density cushion, joint protection, all-surface grip, handmade, latex-free and slip resistant outer. Storage, and cleaning are easy-to-do for a lifetime of clean, fresh smelling yoga seessions. Break in the mat with practice and simply disinfect between sessions. Dense foam creates a comfortable platform you can sink your toes into for stability and balance anywhere.
Price: $108.00
Best Yoga Towels
Yoga studio floors are notorious for being slippery but sliding around on your mat is a no-go. Sweating during your favorite asana can turn ugly without the help of an absorbent yoga towel. Thanks to lululemon you don't need to worry how hot bikram gets. lululemon delivers the ideal grip with a hot yoga towel designed to anchor your feet without any distractions from your environment. Using sweat wicking, the quick drying fabric keeps you connected with your mat or without one.
Take anything with you big enough to stash in corner pockets. Everything is secure with elastic straps to keep your towel and your mat together through mid-pose and beyond. Made to fit standard sized yoga mats, the lululemon Yoga Towel is clean and ready for re-use in minutes with a spritz of yoga towel cleanser spray and a good shake. Always machine wash and place the towel with the top side facing up for long-wear and extra durability. Before every practice, reach for the additional grip of the LuLuLemon yoga towel. Made specifically for yoga on-the-go at any stage of your practice.
Price: $64.00
This 3.5mm mat is the best of both worlds offering a combination of an ultra-thick yoga mat and a sweat towel. Made to absorb your drip, the microfiber top layer is ideal for stability. Managing moisture with the capacity to get even gripper as you sweat, the Yoga Design Lab Combo Mat is the ideal 2-in-1 yoga mat made for every practice. Take this mat on the mountain, to Brikham and beyond as it naturally adjusts to any environment.
Earth conscious and made with recycled PET microfiber, the top layer is responsible for cleaning up about 19 plastic bottles. The base layer is equally impressive, offering 100% non-Amazonian tree rubber. Completely non-toxic, this is made with superior materials and contains no phthalates or silicone. Take good care of each beautifully designed yoga mat by handwashing or you can also machine wash your mat. Hang dry and roll it back up with the pattern facing outward to keep your yoga mat ultra-soft.
Price: $95.00
Best Yoga Clothes for Women
When you want to feel the air on your skin – crop it. A crop top is the ideal blend of a t-shirt and tank top made to show off your summer body. For those with to-die-for abs (and regular women, too) the PrAana a Momento Crop Top features a racerback design and deep v-neck with rounded edges to show off your strength and style. Ultra-soft and fitted to pair with yoga pants, jeans or even your favorite high-waisted skirt.
Constructed from recycled polyester the lightweight blend that wicks moisture with a yielding stretch. Take great care of your tan skin in UPF 50+ fabric to shield against harmful UV rays while the unique reversible design highlights your back with a centered PrAana mini diamond heat transfer woven label. Fair Trade Certified™ factory made to promote a safe working condition and sustainable livelihoods. Able to accompany any outfit, the PrAana Momento crop top can help you get into your own flow. Find your vibe and your tribe at the yoga studio or any afternoon outside in this lightweight crop top from PrAana Momento.
Price: $65.00
No mat? No problem! Just wear yoga socks to reduce your risk of injury and prevent foot fungus. Silicone at the bottom improves your grip, while open toes give you a better feel with these Gaiam yoga socks. Imagine for a moment the stability of your stance with silicone grippers under every toe. Reinforcing your footwork can come in handy especially if you perform yoga, plates, or crosstrain. Walkers, runners and even hikers and boxers require sure footing to keep going.
Utilize Gaiam's yoga toes socks to really stretch out every part of your foot creating even more balance. Let your posture dig in even deeper with every toe gently separated and supported to become more aware of your practice. Designed especially for Brikham yoga, dance or even around the house for better footing.
Price: $9.98
Best Yoga Clothes for Men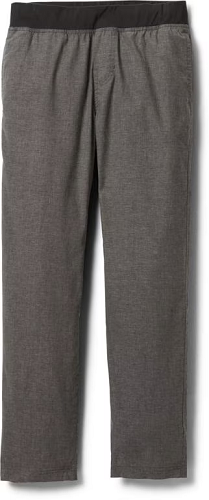 Made for a modern man with a straight fit these stylish pants from PrAna Vaha provide comfort anywhere. Proven performance during any activity you can wear these to yoga, the beach, or just to chill for a classy look. Blended from recycled polyester and ultra soft hemp these straight pants are enhanced to take on a full range of motion.
Stretchy fabric with a quick drying technology delivers a comfortable feel even if you're sweating. Stay odor-free and protected against UV rays with UPF50+ fabric. Includes a knit elastic waistband with a drawcord for a custom adjustable fit. Stash anything in the front pockets and patch back pockets so you don't forget anything.
Price: $95.00
Sustainability is sexy and if you're into that type of thing, try PrAna Vaha shorts. Made with hemp and woven recycled polyester they stretch easily giving into every movement. Any activity requires enough space for your skin to breathe and freedom to bend. Stretch out, kick back or climb in these shorts constructed with wide legs especially for you.
Additional features of the PrAna Vaha shorts include inseam gusset, relaxed fit, knit elastic waistband, drawcord, UPF 50+ sun protection, welt front pockets, back patch pocket and a sturdy 10 inch inseam (M). Durable shorts for strong, active men shorts made ultra-soft with plenty of room to move.
Price: $69.00
Best Yoga Props
Using a firm, rectangular bolster is the ideal way to create a comfortable environment during yoga. Place the Hugger Mugger Standard Bolster under target areas like your hips, bottom or legs to create a more intense asana during yoga. Finding soft stability in any place, this bolster is not intended to replace a yoga mat however, if you find yourself inspired to practice the Hugger Mugger bolster sets the standard for yoga accessories.
Ideal for poses that include twists, child pose, bends, pigeon pose or bridge, the extra cushion softens any seated pose. Add the bolster to your arsenal for better balance in any asana. Hugger Mugger standard bolster delivers a multi-purpose functionality with a firm, supportive foam core wrapped in cotton batting. Tightly woven mini upholstery-grade fabric all Hugger Mugger bolsters are handmade and survive the longest with gentle spot cleaning or dry cleaning. Easy-to-carry bolster made with a flat top ideal for restorative and yin yoga.
Price: $92.95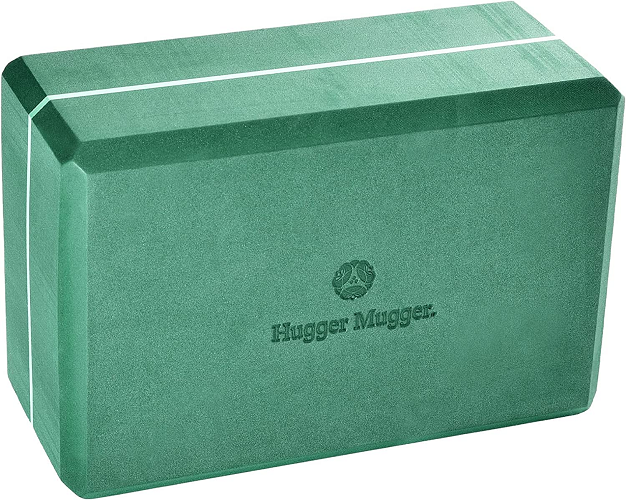 Yoga blocks, straps and bolsters are made to take your practice to the next level. If you have ever wanted to go deeper into any asana, try using the additional support of the Hugger Mugger Foam Yoga Blocks. Designed with dense strong foam for stable footing. Unique beveled edges deliver comfortable support for any pose with a foreign width for extra durability.
Environmentally friendly construction of EVA foam is long-lasting and sustainable. Balance with optimal alignment to increase strength and stamina with this durable yoga block.
Price: $18.95
Related Articles: