In today's technology landscape there is more of a need than ever for portable and convenient power stations that support more than one device on the go. These are important for home use as well as on the go.
Whether you're looking at generators for camping use, or want something at home, portable solar generators like the Bluetti AC180 are getting more and more popular.
However, with a lot of the older models being designed for smaller devices and offering only minimally effective features, it's important to make sure you're getting one of the generator models that actually works well. Specifically, you want to make sure it's designed to work well, and has the capacity and power you need on the go.
Here's what you need to know about Bluetti and the Bluetti AC180.
About Bluetti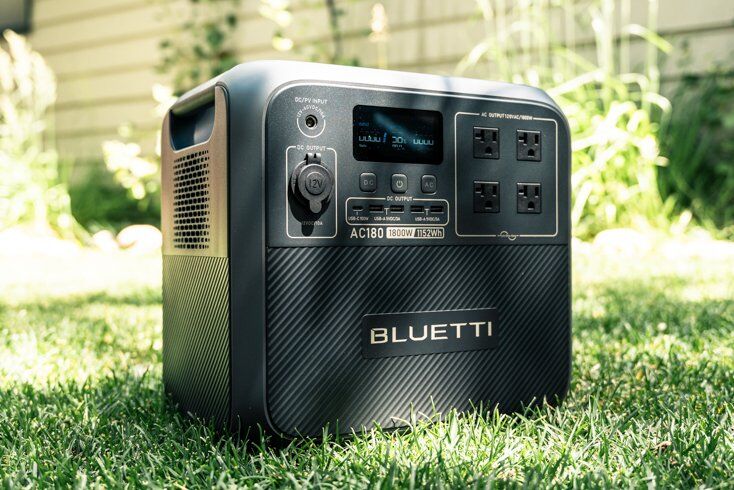 Bluetti is an innovator in the clean energy sector, specializing in both power systems for homes and portable power solutions that can be used on the go. Their combination of power generators and charging stations also make it possible for individuals and families to move some of their devices off of grid power and on to solar power produced at home.
They originally formed back in 2019, making them a relatively new company and a new power station producer.
They have come out with a wide range of portable solar power stations in the time since then, with a range of power levels, outputs, and storage capacities.
Some of the range exists because even in just the few years since Bluetti got started there have been improvements in the technology behind their products. But they have also always worked to produce a range of capacities for different uses.
The AC180 is meant to be a relatively powerful and high capacity model when it comes to solar charging stations. Suitable for even small appliances, which is a big departure from solar cell phone chargers, this design brings some additional capacity to the home power generation market – without requiring users to install solar panels on the roof.
Now that you know a little more about the company behind the AC180, let's talk more about what this power station can do.
What Is It?
The AC 180 is a larger solar panel powered charging station/backup battery system that can give you a lot more flexibility and freedom. Like a lot of more modern solar powered charging stations, the AC180 is designed to be compatible with a larger set of portable solar panels.
It's important to note that the solar panels are on the larger size here. Because of the higher power capacity and output of this system, it cannot be powered by a typical pocket or backpack portable solar panel or solar set. You do need a slightly larger solar panel setup to provide high enough power levels.
That said, those larger panels allow for a faster charge cycle. Fortunately, there are options for compatible solar panels that are still small enough to take with you when you go backpacking or other things.
Overall, the AC180 is more designed for home use and as a supplemental or backup power source for certain home vs true mobile use. But it can also be used for convenient outside power sources.
1,800W Output: This is a high overall output rating for a portable charging unit. For reference, this is equivalent to 20 amps. So you can run a lot of standard equipment off of this power station.
However, it's important to remember that while each of the 4 outlets has the same capacity, that 20amp rating is for the whole device. You cannot safely plug 4 20apm devices into the AC180.
Even with that limitation, though, this is a pretty impressive limit for power station output.
1152Wh Capacity: So this is the advertised watt hour capacity for the AC180. That said, in real use cases you're a lot more likely to get about 1,000-watt hours.
That's pretty impressive, especially given the relatively high output limits that go with it. For most people, if you're living in an area with consistent power, this is a good backup option. The amount of power you can get out of this charging station is a good backup for at least small appliances and keeping certain key equipment working.
You also have a fair amount of customization options on how you want the power station to behave, as an additional bonus.
2700W Powerlifting Mode: The powerlifting mode also allows this charging station to go into overdrive, releasing more power than normal without damaging the device. It does mean fewer watt hours, of course, and that you'll need to charge it more often.
However, for camping applications, dealing with home emergencies, and the occasional need for higher power outputs, this mode is ideal.
Charges In As Little As 45 Min: The input on this charging station is 1400W AC. That means that you can get to about 80% SOC in as little as 45 minutes.
This is huge since it means that you can really minimize the charging time before you have your power station back to full or near full capacity.
Especially if this power station is primary a home backup system, that makes it a great option. The less downtime you need to have, the less you need to worry about more extended blackouts.
Eco Mode: More and more people are thinking about economical and eco-friendly use of power in their daily lives. This power station makes that a lot easier by giving you a mobile app that allows you to control power consumption, including switching the whole station into eco mode.
You can also control things like the volume of the charging station. That's important since many charging stations are loud. But, the AC180 tops our around 40 dB, which is roughly equivalent to a normal-volume conversation.
Compared with a lot of charging stations, that's incredibly quiet and manageable!
Wireless Charger: In addition to the other features and functions of the AC180, this model also has a wireless charging station on the top of the device. That makes mobile phone charging a lot simpler for a lot people, and means you still have options on the go, even if your charging cords get forgotten or break when you need them.
Who Is It For?
This model of portable charging station is really designed for people who want minimal on the go use and are more interested in having a high-capacity backup power source in their home.
It's not a full-size generator and won't run larger or higher capacity appliances (at least not for long), but it is a suitable backup for smaller applications or to keep certain critical appliances running during a blackout.
This can also be a good charging station for things you have, but would rather didn't show up on your electric bill. For instance, the AC180 has the capacity needed to fully charge an e-bike off the grid.
When Can You Use It?
You can use this power station for mobile power while camping, or even during hikes if you're comfortable with the weight and have a bulk solution for the required solar panels.
It's also suitable for powering appliances that only need occasional power, as a mobile power source for power tools, or as a backup power source during blackouts.
Where Do You Need It?
The AC180 is probably best used at home thanks to its larger size and the larger solar panel requirements to meet its power capacity and input.
However, it can also be used in mobile situations when you don't need as much space saving. Better for camping than hiking or backpacking, this power station really shines in home use. Electric bikes and similar appliances, occasional use of a supplemental mini-fridge, and those kinds of one-off situations are where it does best.
That said, as a temporary back up for other more critical systems, this power station also works well.
It's a good option for casual use in rural areas as well, especially areas that are prone to storm outages or other problems.
Why Do You Need It?
If you need consistent power for one or more small appliances, to keep in touch via mobile phones and other personal devices, or to charge electric bikes and scooters, this is a good option.
It can also be a good mobile charging station for battery powered power tools, or as a power source for plug-in tools as well.
It's also a good option for off-grid power uses. Since you don't need to pay for the solar power colored by this charging station, it can actually help reduce your use of electricity and be used to lower power bills.
Glampers, especially anyone who wants to make sure they still have full use of their devices on the go, can also benefit from this setup.
Overall Impression
The Bluetti AC180 ($999.99) power rating is good, and its got significantly higher capacity than we would expect from a power station in this price range. Sound is minimal from this station, and it's eco and overcharge modes also help give you the flexibility and control you really want from a power station.
That said, higher demand users generally mean only having one device plugged in at a time.
But fast charging, high capacity, and other benefits all make this charging station well worth the money if you have a use for it.
Related Articles: