There are plenty of tools to get your kid out there with you. But few are guaranteed to ensure you're still squeezing in that life-affirming exertion as well as Burley's We! Ski Kit does. And of all the products I got for when my son was still a semi-lump, it's the only one I can still use as he pushes his way into Elementary school and that will come in handy far beyond.
First Impression
It should be noted that I first got this Burley D'Lite Trailer a couple years ago, dragging it behind my bike on well-beaten dirt trails and round-town cruising. This summer our son learned to ride his two-wheeler and we celebrated with a family bike a couple miles down the bike path to town. We brought the trailer, though, to carry him and his bike when he finally pooped out on the last small hill to our home. And I spent plenty Thursday evenings biking to Music on Main pulling him, occasionally in rain, often through mud, once or twice through bushes; in the shoulder seasons, I've pushed him for 5-mile runs down mud season frozen slop. You'd hardly know it from the near-immaculate shape of my Burley D'Lite.
Burley on Groomed Trails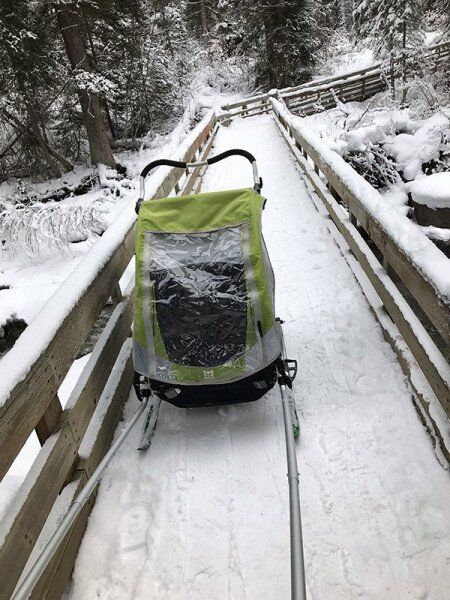 The We! Ski Kit from Burley feels just as indestructible. It's not enough that you can't lap your local skate-skiing mecca canyon without seeing a half-dozen mountain-freaks pulling their kids down the trail at high speed with skis on their trailers and haltered like the workhorses mountain parents are. I've taken it out on longer, groomed tours and into softer snow. The only issue I ever had was pulling my son across a bridge that had a slight bend, an issue I probably could've easily remedied by shortening the poles holding trailer to me. I've slammed it into trees, into the aforementioned bridge (where I was also exerting some nasty torsion on the bars), and of course the general stress of just pulling my 5-year-old with the system. The kit and the trailer still feel untouched.
Also, since I had my touring split and there are usually nice little sloping hills alongside trails, I might have tried a little "downhill." It bumped, it spat, it was clumsy but man if the kid didn't have a good ride.
Setting Up the Burley We! Ski Kit
One of the best things about Burley's ski adaptor is how easy it is to set up. Put the poles together like fat tent poles. Push a button on the tire hub, wheel comes off, then just push the skis into the pegs until they click (though you have to be careful about the rotating skis flipping over if you get some air, not that I've done so…)(as an aside, it's much tougher to convert my son's little wagon to ski mode than this big beefy trailer). Then take off the bike connection (which is, in my opinion, the only week part of the Burley-bike interface) and hook the poles at the side front two mounts. The waist belt at the end fits snugly and both my wife and I were able to use it without too much adjustment. At first, it feels awkward if you're not used to a harness and it feels heavy on that first pull, but once cruising, you hardly notice it. At least not as much as you do during that first tug.
Yeah, dragging the little kid everywhere is fun but Burley's We! Ski kit has more to it. For long tours, say down the park cross country trail to some more northerly peaks, you've got a perfect pulk setup — throw your pack in and start skating. It wouldn't cruise easily in super steep, tight terrain or deep pow but anything hard, groomed, tamped down — it'll slide forever. So yeah, when the kids have grown enough to move themselves, your baby tugger is your super nice pulk trailer with high-end shocks and everything.
Overall Impression
You love the outdoors. And you love the kids. So once you're a parent, your gear race doubles to include stuff for them as well as stuff for you. But it's sublime when you can pick up one piece of gear for both. And you're definitely serious about yours but for the little one — you don't wanna get cheap and risk jr. falling out or getting hurt or getting too cold. Burley's built up a reputation as being the brand that you can rely on when you want to make sure the kid's squared away on your joint adventures.
It's top of the line, the best, for a situation when you really can't cut corners. The We! Ski kit has been so well thought out and built, you can feel damn proud of your job as a parent, good for you. And it just gives you another way to play parent of the year, say you're going to take your little angel out for some fun and get that sweat on you've been missing so much.
For durability, ease, a reputation built over four decades, and a desire to bring all your loves together, there's nothing as essential for your life as the Burley We! Ski kit ($199.99) (and if you don't already have it, pick up a Burley D'Lite, too). If you're a snow-loving parent, this is a no-brainer.
Related Articles: