Way back in 1759 the French satirist Voltaire published his magnum opus, the tale of a young man named Candide who believes he lives in "the best of all possible worlds" despite experiencing overwhelming evidence otherwise. Two hundred and twenty two years later the undisputed best of all French skiers was born: Candide Thovex.
Today – now in his early 40s – Candide is still sending it with an impeccable, groundbreaking style that has inspired and expanded the big mountain, backcountry, and free ride community worldwide for the last two decades. If you think I'm exaggerating you obviously haven't seen the 2012 documentary FEW WORDS chronicling Candide's evolution into one of the greatest and most influential snow sport athletes of all time.
Soft spoken and mysteriously camera shy, Candide also has a genius for designing ski and snowboard products. For the last 12 years his signature line of FACTION skis has sold out – sometimes in less than 24 hours – and now he is making timeless, understated, durable, high performance outerwear (and goggles) via his Candide Collection venture.
The Test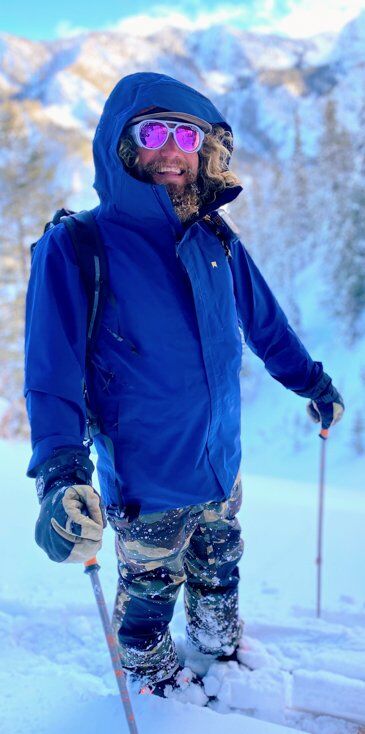 Obviously I was super stoked to get my hands on his top of the line C1 3L Shell this fall, so – full disclosure – my status as an unrepentant Candide fanboy might not make me the most unbiased reviewer. That said, I've already logged 22 days backcountry skiing, snowmobiling, and powsurfing with the navy blue C1 jacket as an integral part of my arsenal taking on the snowiest and most avalanche prone early season I can recall here in Wydaho.
Most importantly, the C1 3L Shell strikes me as durable, breathable, waterproof, well designed, and it rolls up small enough to easily fit in my backpack alongside all my other equipment. While working hard heading uphill on warm dumper days I haven't even felt the need to open the armpit vents, and while paired with another shell or a light puffy it has helped keep me warm and dry while trenching through blower on skis, sled, and noboard.
The attention to detail and features incorporated into the C1 jacket have really impressed me. It has five ample, waterproof, zippered pockets in all the right places and two large interior mesh pouches below the chest perfect for drying out skins, goggles, and gloves on the fly. The Primaloft insulated chest pocket with a headphone cord hole has replaced my bib chest pocket as the preferred place to keep my phone warm and accessible for bumping tunes, checking maps, and snapping pics.
Ventilation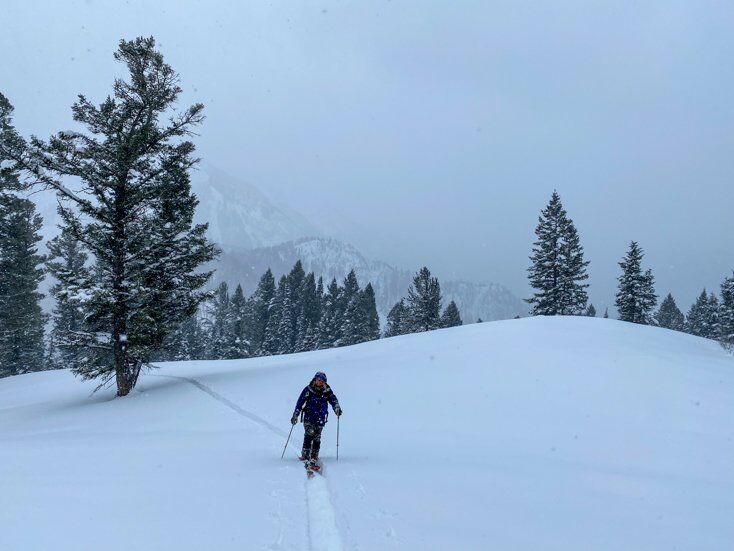 All of the vent, front, and pocket zippers are well protected, and all of the seams strike me as beefy and bomber. The vents have a thoughtful short length of cord bridging them designed to keep them from gaping too wide or tearing apart if I happen to smash through some trees on a warm spring day. The C1 also has a zipper removable powder skirt which has saved me the trouble of cutting it out of the coat: since I always wear tall bibs I personally prefer the enhanced packability of a shell without a powder skirt.
The C1 jacket's stretchy, thumb loop powder cuffs integrated into the sleeves are a game changer: they really help keep my hands warm and dry no matter how deep the snow is or how bad I biff it. Frankly, I'm impressed by how well this jacket performs even on windy, warm, wet snow days. With the hood overhead and its ample neck protection zipped all the way up I feel almost invincible.
I also appreciate the understated style and branding of not just the C1 3L jacket but of the entire Candide Collection lineup: classic colors, fine craftsmanship, and a comfortable, complimentary fit. Few words? More like no words: just a small, tasteful logo to let those who already know know and to leave the rest of the world wondering: who was that guy, and where can I get that gear?
Sugar Cane Fibers
Ohhh yeah, and Candide's waterproof, breathable C1 shell is made out sugar cane fibers (?!) and other recycled materials, so we can say sayonara to apparel built with outdated fluorine based Teflon tech. After all if fluoros are toxic to wax our skis with we probably shouldn't envelope our bodies in them either.
Outer – 57% organic polyester made from 100% vegan Cane Sugar extracts transformed from raw materials
Insulation – 43% recycled polyester made from recycled PES plastic
Liming – 60g PRIMALOFT eco-insultation
The C1 jacket has a classic fit and it runs rather long – great for keeping our jumbly bits from freezing on a bitter cold day – or the shell can be folded over and snugged up around our waists with its well designed, inconspicuous cinching system.
Sizing
Word to the wise, the Candide Collection runs a bit on the big side. I am 5'10", 210 lbs and typically wear large (or even XL) clothes but the medium C1 jacket fits me perfectly. On the Candide Collection website they have a very handy sizing system where we can answer a few quick questions about our height, weight, and build to order online with the assurance we are getting the right size.
Overall Impression
With a MSRP of $549 the Candide C1 Jacket is higher end jacket, but you get what you pay for: a top of the line, lightweight, durable, high perormance, breathable, waterproof, understated, stylish, timeless shell designed, tested, and backed by one of the greatest ski geniuses of all time.
Is it worth it? Absolutely.
Related Articles: