There's a lot to love about the Dabbsson DBS2300 Portable Power Station, but because no power station is perfect we wanted to put this one to the test.
Here's what we found, what we think, and who we think this power station is for.
First, lets talk about the company that makes it, Dabbsson:
About Dabbsson
Founded in 2012, Dabbson is dedicated to making a greener cleaner world by addressing the problem of affordable green energy. They are also invested in putting electricity directly into consumer control by making it easier than ever for people to create their own independent sources of power, and offering storage solutions for power.
They offer both portable power stations and solar panels to help charge them. Additionally, they offer expandable battery solutions designed to make it easier to meet your power needs over time, rather than needing more than one individual power station.
The dual goal of providing comprehensive power solutions, easy access to power, and making them all in a sustainable and affordable way means better power access for everyone.
What Is It?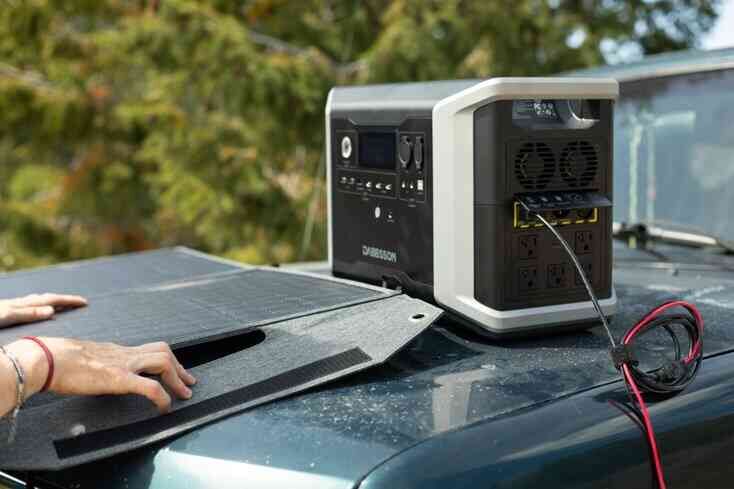 The DBS2300 portable power station is exactly what it sounds like, a power station or long-running battery designed to store and transport power wherever you need it.
We've been testing ours with a 210W portable solar panel, and it's been working well for us so far. The fact that the solar panel is also light and portable, designed for travel, and foldable are all big pros for this design.
After all, solar panels used to be the biggest problem in making solar portable. They were heavy, delicate, and hard to calibrate, not to mention sensitive to even slight variations in solar input and temperature.
We're always happy to see new power stations coming with new solar solutions, since that technology improvement is impressive, but still has a long way to come.
The DBS2300 is available in several different packages, including coming with a secondary battery system, a compatible solar panel, or both.
This battery solution is relatively compact compared with the impressive amount of power it holds. Especially when you consider that this is an expandable design, and attaching additional battery banks will allow it to hold even more power and last even longer, you've got a lot of solid design flexibility here.
Of course, we need to look at the details to see if this power station is worth the hype.
Semi-Solid State Battery
Since the introduction of solid-state computer technology it's become pretty well known that solid-state technology tends to last longer and be more reliable, and more durable, than other versions of the same technology.
While a true solid-state battery is a long way off, this design comes close, with the only moving parts of the battery being absolutely necessary for the flow of power and proper conductivity.
That said, this is a huge advantage in a power station meant to be portable, because you don't have to worry as much about your investment getting damaged or jostled when you're taking it from place to place.
This design also means that your battery has a longer lifespan because it reduces cycling stress, keeping more of the battery active after every single charge and drain cycle so that it can last as long as possible.
That combination is also important for the eco-friendliness of this design, since batteries use rare and valuable metals in their construction. Helping batteries last longer also make solutions like this even more sustainable.
8 Layer Battery Protection
The 8 layer smart battery protection is also critical for this design, regulating things like temperature, voltage, and current to ensure optimal operation whenever possible, and protecting the battery from damage even in worst-case scenarios.
If you've ever had a battery overheat in a way that wasn't safe, or a battery that got a memory far too quickly, you'll understand how important this internal regulatory system really is.
We live in a world where batteries are everywhere, so we don't often think about what can happen when batteries malfunction and something goes wrong.
Fortunately, with protection systems like this, you don't have to.
Fast Charging
Charging speed is always a significant factor when it comes to power stations like this. Fortunately, the design allows for a higher input of electricity (when more electricity is available from the provided sources of course), which means that you can greatly increase charging speed when you need to.
With a maximum input of 3000W from solar panels or similar sources, you can trust that this battery pack will charge quickly, with the base model ready in as little as 2 hours. Even with additional expansion on the battery for more storage, it's ready to go in as little as 3-4 hours depending on conditions and power source.
Lots Of Output Options
One of the limitations on a lot of power stations is what they are able to charge with the included slots. That's not really an issue here, since they have 2 USB ports (C), a car charger, and an Anderson output as well.
Plus, even while in operation charging more than one device, this power station is still quiet. So quiet that they advertise it as being library quiet! They're not wrong, either.
When Can You Use It?
Of course one of the most important features of any power station is where and when you can use it. Here are some of the most common and most important use-cases for this station.
Camping Trip
The DBS2300 was very much designed with camping in mind. It's easy to pick up and go, compatible with most portable devices, and easy to set up. If you love camping, but want your electronics to come soon, this is a great solution.
Home Backup Power System
This power system is also a reasonable backup for some of your home power systems as well. You don't want to count on this like you would a traditional generator, but it has enough juice to keep some basic electronics running.
In Emergencies
Communication is one of the most important things you can maintain during emergencies. This power station can help keep you in touch by running portable devices, including smartphones, during power outages, weather events, and other emergencies.
In Your RV
With enough power to run a small portable fridge and other devices, especially while also receiving power, this is a great supplement to your RV's existing power system.
Overall Impression
There are a lot of things we love about the Dabbsson DBS2300 Power Station ($1,399), starting with its capacity, and especially around the safety features and long life of the internal batteries.
It's got the right combination of inputs and outputs for its target audience, but we have seen power stations with more output ports, and a greater variety.
That said, overall, if you're in the market for a portable power station, this is a powerful option!
Related Articles: