Have you been looking for a way to sleep comfortably in the outdoors, if so the Exped SynMat 7, was made with you in mind. This sleeping mat offers a comfortable and quiet way to enjoy sleeping in your tent year-round.
Temperature Rating
With a temperature rating of 1.4 °F and an R-Value of 4.90, the Exped SynMat can be used to sleep in just about any condition. Not everyone needs a sleeping pad for winter camping, that being said if you ever have considered trying it out the Exped SynMat will work for those needs, but truly excels as a year-round sleeping pad.
What makes this year's model especially sweet is the easy to use Schnozzel Pumpbag that makes filling the pad incredibly easy. With around 2-3 full bags of air, the Exped SynMat is filled up.
Exped Schnozzel Pump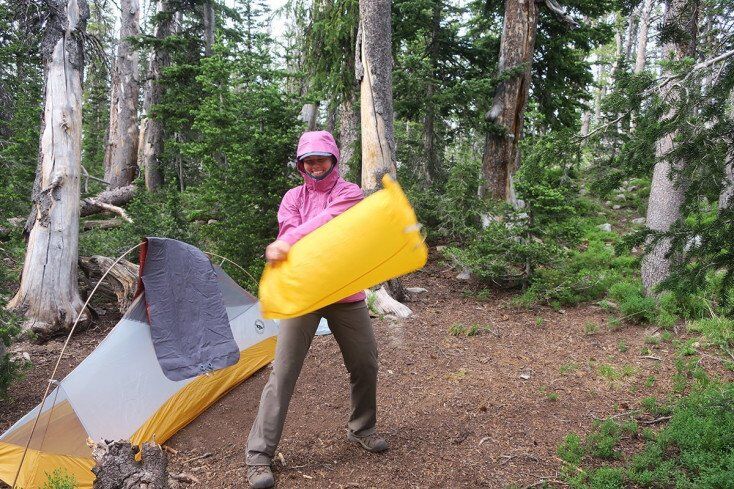 One of the great features of filling your sleeping pad via the Schnozzel Pumpbag is you won't become winded from blowing all your air into a small tube, and best of all you avoid any sort of condensation inside the bag which would mostly be an issue for winter camping.
The Schnozzel Pumpbag takes up little to no room and can be used by everyone in your family, kids will especially love this system. It's a ton of fun getting air into the bag and then squeezing it into the pad.
And for anyone looking to save space on gear, the Schnozzel Pumpbag can double as a dry bag, or even a make-shift pillow if you fill it with your clothes.
Exped Comfort
The Exped SynMat 7 has a weight of 28 oz for the mat plus another 2.1 oz for the pump which doesn't make this the lightest sleeping pad on the market, but with that added weight and material it's one of the most comfortable pads out there.
I also tested the Megamat from Exped full review on that to follow. What makes the Megamat different is its massive size, the sort of pad you take car camping vs the Exped SynMat that's designed to be rolled up for camping and backpacking.
The first time you lay on an Exped mat is sort of a game-changer. With a honeycomb embossed 75 D Polyester top the SynMat Sleeping Pad not only feels comfortable while sucking your body in the way your bed at home does, best of all it has zero slip properties. Let's say that again, you won't slip off this mat or any from Exped for that matter.
What can be Improved?
With comfort comes a little bit of bulk. The Exped SynMat 7 can be used for backpacking even though it rolls up a bit bigger than the competition at 9.1 in tall and 6.7 in diameter. Mot likely this pad is going to take up a little more space than you're used to inside your backpack. If rain and snow are not in the forecast, you may want to consider attaching the pad to the outside of your pack instead.
Once you're sleeping on the pad, adjusting the amount of air takes a little bit of getting used to. Instead of a valve to twist or pull open Exped uses flat valves that are flush to the ground. To release air you insert a finger into the close valve.
Overall Impression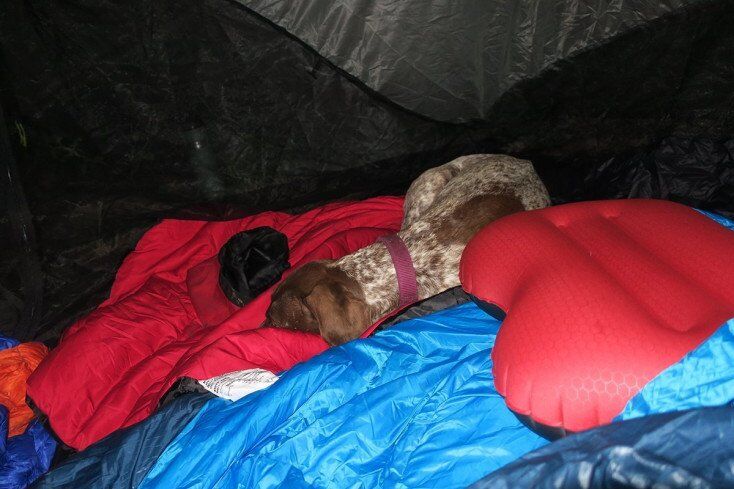 The sleep difference Exped offers is night and day compared to anything you have used in the past. If you don't own an Exped mat you're missing out on getting a good nights sleep in the backcountry. These mats are not only amazing for camping but can double as an air mattress at home.
The Exped SynMat 7 ($199.00) is a great value, comes with a 5-year warranty and will surely be with you for many many years. These mats are durable, comfortable, comfy and best of all quite. What more can you ask for in a sleeping pad?
Forget about the ultralight movement for a second and focus on what matters, getting a great night of sleep while camping in the outdoors.
Exped even makes a great pillow for camping that is adjustable to accommodate side sleepers.
Related Articles: