April storms continue to deposit feet of fresh snow across the Rockies and Pacific Northwest. Noting a brief weather window in the forecast, we took advantage of a bluebird day up in the Spearhead range to test out the Flylow's Domino Jacket. With a strong dose of spring sun and light gusts up in the alpine, the Domino Jacket proved the perfect combination of both breathable and protective. Here are our takeaways:
Fit and Feel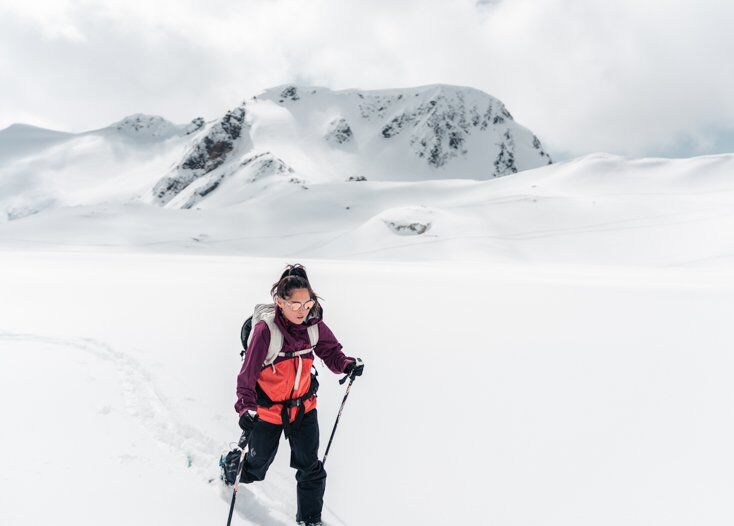 Finding that perfect jacket to bring along in the backcountry can be downright impossible. Moving quickly is a priority, but staying warm and dry is important in the long run. There is a delicate balance between temperature extremes, and making the right clothing decision makes all the difference. With that being said, the Domino Jacket checks the boxes in terms of its lightweight yet protective feel.
It was a toasty day up in the Spearhead, and we were impressed with how breathable this shell proved to be. Flylow Gear's proprietary Intuitive Perm fabric lived up to the hype – we were able to keep the jacket on through transitions.
We tested the Flylow Domino Jacket in the color combination, "Ruby-Mars"; from a design/fashion standpoint it was stunning. The color combination was visually appealing and the fit was flattering.
As far as sizing goes, the jacket ran true to size. It was not bulky and did not leave much extra room for additional layers. The jacket being reviewed here is a women's extra-small and our model here typically wears an extra-small (she measures in just shy of 5 feet for reference).
If you are looking to add layers underneath this shell may want to consider sizing up.
Technology and Design
The Women's Flylow Domino Jacket was designed for both uphill and downhill performance; with 20k waterproofing the jacket would hold its own inclement weather – not that we encountered any during our test run.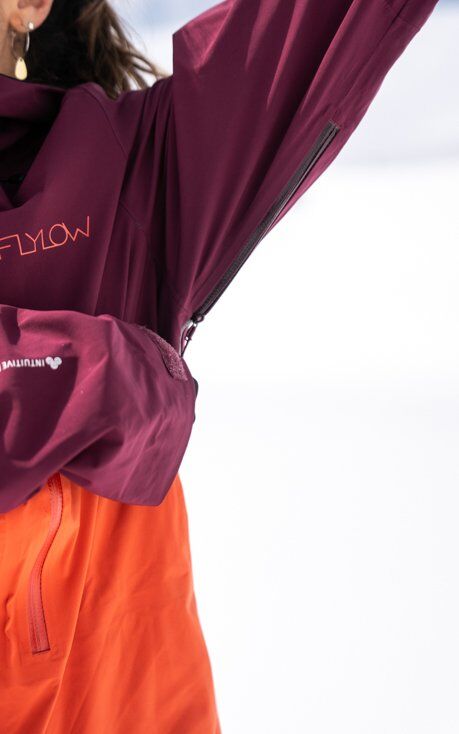 The air permeable design paired with the underarm vents helped to minimize overheating on the climbs. This was a huge plus in our books … If you spend most of your days touring then you know firsthand how quickly a steamy climb can turn into a frigid descent.
The high performance Domino Jacket weighs in at an average of 498 grams; compared to the other jackets we have toured in, this one was the lightest by a landslide. While there are lighter options on the market, the Domino Jacket delivers a bang for its buck and proved to be an all around reliable shell for most backcountry adventures.
Who's This Jacket For?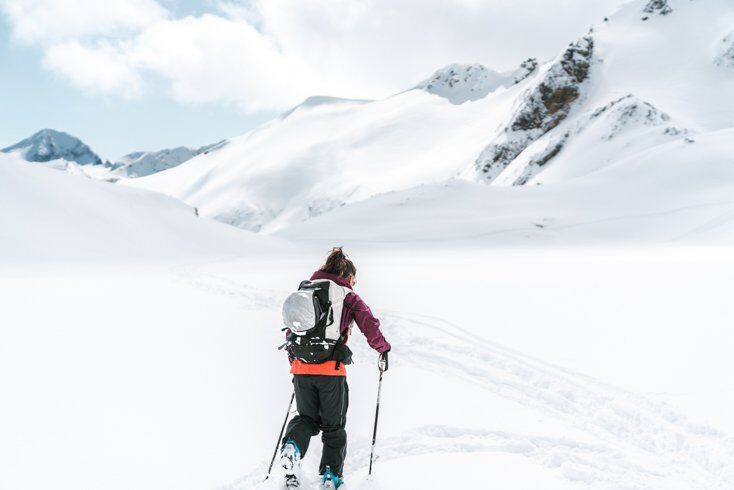 This shell is for the backcountry enthusiast looking to purchase a jacket truly made for uphill and downhill travel. Waterproofness and breathability are musts in the backcountry, and the knowledge that a jacket will perform in a variety of forecasts provides peace of mind.
Any woman looking for a jacket that truly fits will be impressed with Flylow's color options and flattering design.
Overall Impression
Ringing in at $475.00, Flylow's Domino Jacket – Women's, is a worthwhile purchase. Backcountry enthusiasts will not be disappointed with the shell's lightweight feel and performance in alpine conditions. With three color options to choose from and a wide range of sizes, Flylow is offering a fantastic choice for users looking to get their hands on an all around winner of a shell.
Related Articles: