If your favorite soft shell and your favorite puffy had a baby, it would be Rab's Khroma Transpose Jacket. The company combined micropuff style synthetic insulation with this super stretchy yet super waterproof outer material to create an all-in-one ski mountaineering jacket.
And, although the website states that the jacket is best used for backcountry adventures, I'd argue and say that this is also the type of jacket you want for lift riding during storm days.
Rab Proflex Fabric
The first thing I noticed was how the jacket's material was soft yet durable (Rab calls it a soft-feel Proflex fabric…a fitting name). After testing it during some recent windy and wintery conditions, I can confirm it held up to its promise of having superior weather protection. What's most notable, though, is that the fabric also allows for a breathability that typical soft and hard shells don't have. So even with the built-in layer of strategic quilting over the shoulders insulation, I never felt like I was in a sauna.
That being said, there is one single gripe I have about this jacket: no pit zips! I was surprised to see that Rab left out one of the most crucial parts of temperature management for uphill travel. Without them, it made it difficult to really regulate my temperature while protecting against the elements when making a big huff uphill. So, I'd note that you want to be thoughtful about what types of conditions you might be wearing the Khroma Transpose in. If you think you're going to be both warm and exposed, this might not be where it performs the best. But cold and exposed? Put her in, coach.
How's the Fit?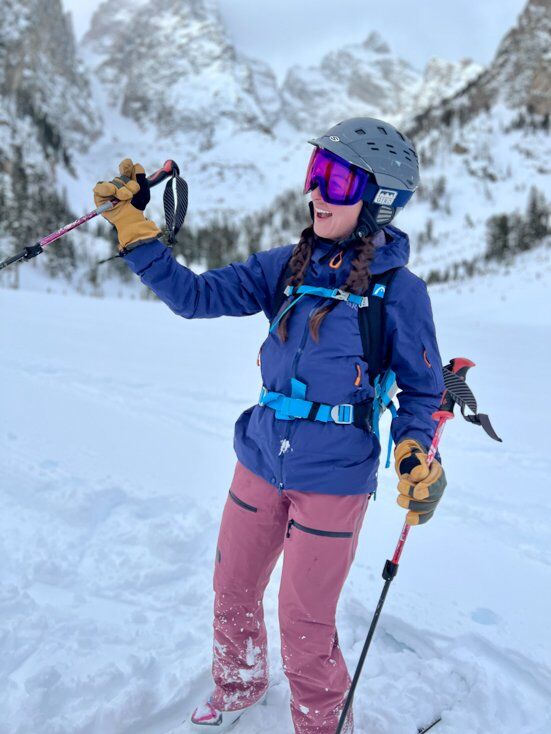 I think the jacket is pretty true to size. I typically wear a small and the Khroma Transpose fits just how I want it to: with just a little bit of extra room for additional layers underneath.
I'm all about the pockets and placements (find me a girl who isn't), and the Khroma Transpose has 5: two typical hand pockets; one inner zip pocket, one inner mesh pocket, and one zip arm pocket. I like how the hand pockets have larger-than-normal zip length and are situated a bit higher on the jacket, making them accessible even with a backpack's waist belt on. The inner zip pocket can comfortably fit a bigger smart phone, and the large mesh pocket is good for a hat or buff (just don't put anything too heavy or valuable in there because it has an open top). The arm pocket is just big enough for a resort pass or chapstick, but not much else.
The front jacket zipper is a 2-way YKK Vislon (waterproof and reinforced) zip with a zip guard, lower snap to fasten the bottom closed, and a fleece lined chin guard (my sensitive skin says thank you). The zipper pull is actually quite large making it easy to grab with gloves on, but the thickness of the zipper makes it a bit difficult to get started. But hey, that might just be user error.
Added Durability
Knowing they were making the jacket for ski mountaineering, Rab reinforced the panels over the shoulders and back: exactly where you want some additional durability. But really, I think Rab product tested this jacket with someone with gloves on – big points there. They created a ski helmet compatible hood that's surprisingly easy to slide on and adjust even with mittens.
The front of the hood has a brim with a little stiff insert to keep it up out of your eyesight and the side panels are pretty stretchy so I never felt like my head was stuck in one place once the hood went up. Also adjustable is the hem and the wrist cuffs – again, all very easily done with mittens.
Overall Impression
Overall, I'm loving the Rab Khroma Transpose Jacket ($375.00) and it'll be my main layer, especially on storm days. It combines two layers in one, its soft fabric makes it packable thanks to a lightweight stuff sack, and I have no doubt Rab will stay true to its reputation of making a durable and long lasting product.
Related Articles: