The world is quickly moving forward into the future, and Black Diamond is breaking trail. A great demonstration on this can be seen in the Black Diamond Dawn Patrol Hybrid Shell Jacket. This technical and eloquently designed jacket is superior among the rest for its hard-shell like font, and breathable soft-shell back panel. Destined to transform your touring experience, Black Diamond incorporates a mesh panel that acts as a second zipper to increase ventilation, pockets generous enough to carry your skins, and a waterproof 4-way stretch fabric that keeps you mobile without the bulk.
Ventilation
With winter weather patterns rapidly changing, being prepared for a swift change in the elements is a cinch in this dynamic-duo of jacket that prevents snow from perpetrating the entire front body, shoulders, and head. Yet, it allows you to soar uphill while having proper ventilation where your pack sits. Not having to fret about sweat compiling under your hard-shell is a relief, especially when reaching the top when a ridge wind hits. Other body heat regulating details are the armpit vents and the front mesh panel, making you in control of how much airflow you need, even when it's nuking snow.
Features
The innovative design of this jacket is highlighted in other features such as sleeve cuffs with thumb holes that keep snow out, and the placement and size of the front pockets. The cuffs are attached far enough into the jacket to comfortably wear the thumb-liners with your gloves.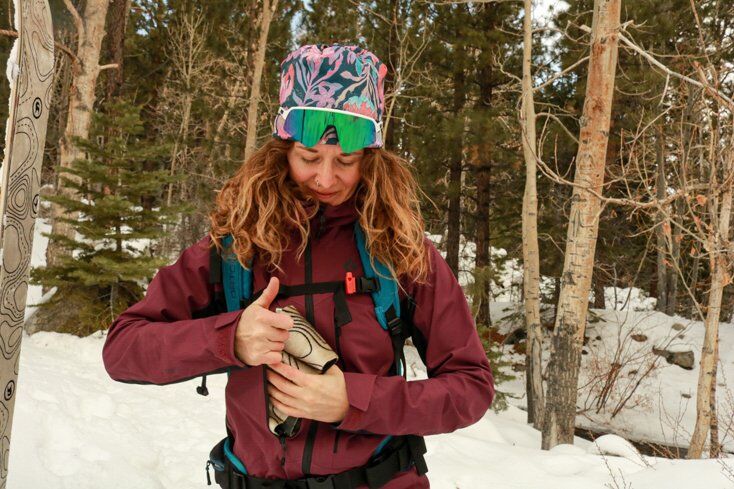 In addition, there are three pockets, two are large enough to fit your skins on the outside, and one secure, inner-pocket suitable for a phone or other small device. These pockets sit readily accessible to you with your pack or harness on, eliminating the need to remove your pack if the weather turns south.
Size & Fit
For reference, I'm 5'2", roughly 115lb, have an athletic build, and I wear an extra small in Dawn Patrol Hybrid Shell. I'm extremely happy with how this jacket fits my small frame without restricting my mobility. This jacket has a micro-adjustment in size due to the option of zipping up like a regular hard-shell, or zipping up so you're ventilating the front of the jacket though the  front mesh panel.
Although it is a slim fitting jacket, wearing a light puffy jacket underneath is comfortable and doesn't restrict movement. I usually wear a larger insulated jacket and suffer through multiple layer changes on the skin up, due to regular hard-shell jackets being too rigid for my liking. Now, I can leave the days of sweating buckets in the past.
Overall Impression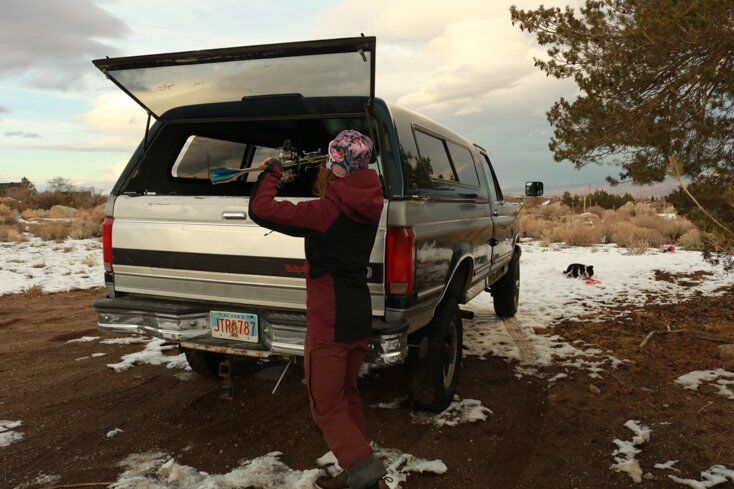 Gear up with the Black Diamond Dawn Patrol Hybrid Shell ($350.00) for extreme breathability without sacrificing the integrity of a hard-sell jacket. Available in sizes XS – XL.
Related Articles: