The Ortovox Free Rider 22 is one well-designed pack. Not only does it excel at its intended use at the ski resort, but I've also enjoyed taking it out for short to moderate-length ski tours.
We'll start with the resort. I love to leave my pack on my back when riding lifts. I find it to be less hassle and less danger with loose straps and chairlifts. Fortunately, leaving it on works great with the Free Rider.
Great Resort Size Backpack
The Ortovox Freerider 22 Backpack is definitely the perfect size. It holds everything you need for a day of shredding the slopes without having to over stuff gear inside it. I have experienced this stuffing issue before when trying to use a pack small enough to remain on my back on chair lifts but large enough for my water bottle, lunch, extra mittens, an extra layer, etc.
Pockets
Let's talk about pack organization. The access to the main compartment is at the top or with the back zip. This is super handy, especially because the back zip is so slick. One hand pushing the pack down and one hand on the zipper is all it takes. Then, there is a separate safety compartment for avalanche gear (with a sneaky small zip pocket to not waste any space in the handle area). Next is a small pocket for the quick access of compact things like a transceiver, lip balm, sunscreen, ski straps, and a multi-tool.
Ortovox Diagonal Ski Carry System
The diagonal ski carry system is dreamy. I hardly even knew I had skis attached! On a recent bootpack, it took me ~30 seconds to attach my skis. First I put the tails in the bottom loop and then I pulled the strong elastic strap around and hooked it. So slick! I then waited around in the comfort of my warmer jacket for my partner to get ready because I could easily stow the jacket in the main compartment (via back-access) at the last minute.
Often I find it difficult to access pack compartments when skis are attached. *I just realized I use the ice ax strap to attach my skis instead of the strap with a plastic buckle that is neatly tucked away in the shoulder strap. I'll try that next time!
While hiking, my skis did not tangle with any tree limbs. There was no calf hitting or pulling back in an unbalanced way. I did not have to be mindful when loading the pack, as the padded back smooths out sharp objects like water bottle lids. Since the pack is so close to the back, one can sweat if not careful. While skiing, the pack really does feel like a second skin. I did not get to test the spine protector that inserts into the pack and is sold separately.
22L Freeriding Backpack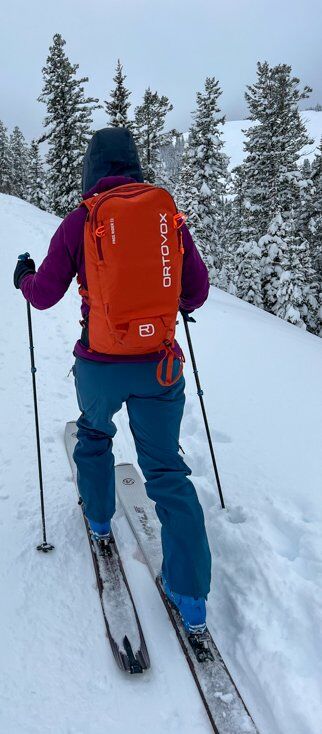 On backcountry tours, I've been pleasantly surprised at how much of my normal gear the pack eats up. It really does not look like a large pack, but the design is so smart. There is no excuse to not bring your helmet backcountry skiing in the winter with this helmet net carry system.
Overall Impression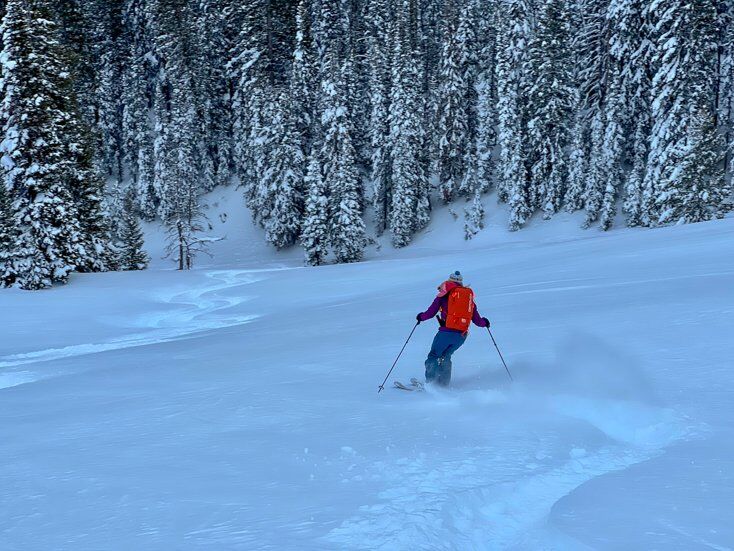 I'm pleased that Ortovox has sustainability in mind. They call this a climate neutral product. It is PFC free and made with 100% recycled polyamide main fabric makes the Ortovox Free Rider 22 ($180.00) a great backpack for backcountry skiing or even splitboarding.
I was disappointed to see the California P65 warning tag: This product can expose you to chemicals, including N, N-Dimethylformamide, which is known to the State of California to cause cancer. From what I can tell, Ortovox is far from the only pack company using DMF. However, there is a movement to clean up textiles, so I will look forward to that. Most articles I saw when researching discuss occupational exposure issues in the manufacturing of products with DMF. I didn't find much about exposure in finished products but will contact Ortovox.
Related Articles: