I needed a new midsize pack for day trip mountaineering adventures, and am stoked to be testing the Gregory Alpinisto 35.  It is a comfortable pack, and the size L fits my 5'11", 210lb frame well.
Gregory Alpinisto Test
I have used the 35L Alpinisto Backpack while cragging, backcountry skiing, and mountaineering.  It is not quite big enough to lug triple racks around the trad crag, but it is the perfect size for sport climbing, day trips through the alpine, and ultralight overnights.
I like the clean ice tool carry system, and the external crampon pocket works well.  The crampon pocket is also good for keeping water handy on the approach and for keeping that steaming base layer and socks casserole out of the main compartment during the stomp back to the trailhead.
The hip belt gear loop seems reliable, and the hip belt pocket is big enough to stash a typical smartphone.  Nice!
Can it Be Used for Skiing?
Though the Alpinisto 35 is not a dedicated backcountry ski pack — no avlanche gear compartment —  I have taken it backcountry skiing, and it does fine.  At 35L it is suitable for big days in the backcountry, and the side zipper makes shovel/probe access quick and easy.
The side zipper is well designed and seems sturdy.  It also makes stashing a rack at the bottom of the pack in just the right orientation a lot easier than it would be without.
Ski Carry System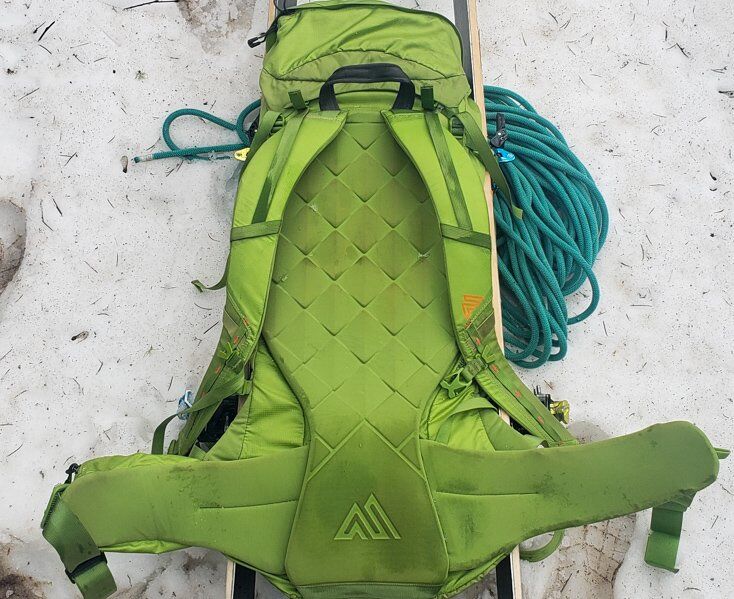 The other day I was getting my gear together for a ski attempt of the Grand Teton, so I loaded up the Alpinisto 35 with that load and took it for a stomp up some steeps.  It carried the load comfortably, but I have a few concerns about the Alpinisto's ski carry system.
The ski carry system is easy to set up and comfortable, but when A frame carrying my skis tend to ride a bit higher than I would like due to the shape of the pack.  Also, the upper straps and buckles strike me as a bit too light duty to stand up to the test of time as a daily driver up backcountry bootpacks.  Those upper straps are perfect for strapping a rope to the pack and adequate for occasional ski bootpacking, but I probably wouldn't want to bet the farm on them while on belay and wriggling up a chimney with skis on my back.
Overall Impression
I probably won't use the Alpinisto for big skimo missions, but I am looking forward summertime adventures like climbing in the Tetons sans skis. The color scheme is a bright but technically natural green.  The Gregory Alpinisto 35 Backpack ($199.99) matches a lot of the moss on the trees and lichen on the boulders around here.  If I had the choice my personal preference is a less flashy color scheme, so I am going to have to get that pack dirty to tone it down a bit.  Looking forward to!
Related Articles: