The first thing you notice about the G3 Splitboard + Glide Climbing Skins is how awesome the asymmetrical tip/nose clip is, it perfectly attaches to the tip of your splitboard therefore lining up the rest of the climbing skin without that pesky wrinkle so common in the older splitboard skins.
G3 Splitboard + Glide Climbing Skins
Next thing is the tail clip, the camming action on the tail clip means your skins stay tight and secure, minimizing the likelihood of getting the dreaded "snow creep". The tail clips are elongated cutting down on weight and unnecessary material and allowing for the skins to fit a wider range of sizes, and unlike older tail clips are super fast and easy to adjust.
Last week at guides training I had the dubious pleasure of being the team leader for an avalanche rescue scenario. Upon arrival to the scene I was informed that my nearest snowcat transportation was 20 minutes away, effectively rendering myself, my tail guide, and my guests stuck at the bottom of the run on which the "avalanche" had occurred.
With no immediate transportation, I sent my tail guide up with her skins on, told my unhappy guests they'd have to swamp donkey their way up to confirmed probe strikes and start digging, and I put my own skins on.
Previously putting my skins on meant an epic struggle, man against a very, very sticky machine, a precision battle royale to line up tip and tail, and a grabby awkward descent culminating in a glorious ostrich head plunge.
Armed with my brand new G3 Glide Splitboard skins this was not the case.
G3 Skin History
G3 had a rocky transition when they changed up their skin glue a few years back. Their formula was notoriously not sticking to skis, and so tacky on themselves that you'd have to brace yourself to pull them apart and hope to not punch your touring buddies in the face when they suddenly popped apart. The new and improved formula has addressed the issues and seems (so far) to be pretty damn great! The skins stick to your board very well even in quite cold temperatures and leave no gooey residue behind when you pull them off. The change in the glue also means now they don't become nigh impossible to pull apart when stuck to themselves without skin savers on. Additionally G3 has introduced a removable "rip strip", further helping your skins not stick to themselves, and giving you the option to have more adhesion if your glue gets contaminated by pulling the strip off.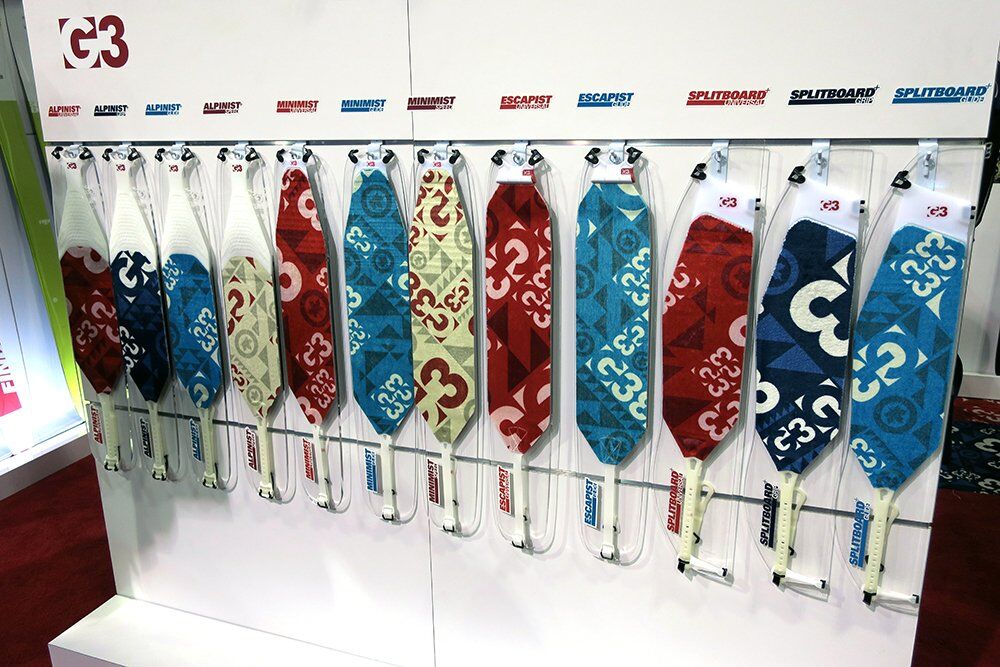 There are 3 different options in the G3 splitboard skin family, a universal nylon skin, their nylon grip skins and the mohair/nylon glide skins. In the past I've always used the "grip" skins because I liked being able to make it up icy, horribly set skintracks. But there is a price to pay for the added grip, those undulating approaches always saw me farther back than my buddies due to my grippy skins having pretty atrocious glide capabilities.
Standing at the toe of the "avalanche" and eyeballing the steep slope above me I was dubious about my glide skin's ability to get me up to the top. I was thrilled to discover that they grip and climb just fine. Granted, I was in soft powder snow and I do think they may struggle on an icy uptrack. But if you're looking for excellent grip on crappy skintracks buy the grip skins, not the glide ones. The highlight for me was, unsurprisingly, how good the glide was on my glide skins. On flats they were amazing at how far you could coast with one push, and split skiing with them on didn't have that catchy glide and stop feeling. They made for a consistent feeling, controlled speed descent.
Overall Impression
In summation, I really, really like these skins. Good glue, good grip, great glide. I didn't think I needed new skins, and upon receiving these ones, it turned out, I really did. The combination of the tip and tail connectors, the new and improved glue, and the excellent combo of climbing and descending capability make the G3 Splitboard + Glide Climbimbing Skins ($189.95) the best skins I've owned so far.
Related Articles: