The inReach Explorer+ gives you enough functionality that it can be your go-to satellite communicator whether you're an occasional through-hiker or a frequent backcountry adventurer.
That's what the Garmin inReach Explorer+ promises. But it also offers a lot more.
Garmin inReach Explorer Subscriptions
Depending on the satellite subscription plan you choose, you'll get 10 minutes with the Safety Plan, 40 minutes with the Recreation Plan or unlimited text messages each month with the Expedition Plan which we reccomend.
Not only can you send text messages to your friends' and family's phones with it, but they can respond, too. This is one of the best features of this device.  So if you need to chat, you're available — even if you're on the top of a mountain somewhere. You can also send SMS to email.
You can also use the inReach to trigger an interactive SOS, which alerts the GEOS monitoring team. They'll notify emergency contacts and first responders, track your locations, and keep you updated via text.
One thing to note is if you're not on the Expedition unlimited texting plan and you go over your minutes, you'll pay $0.50 per message, which could add up quickly.
Garmin Explorer Topo Maps
By downloading GPS maps to your device, you can not only make sure you stay on track with your planned adventure, but also let friends and family know where you are. This is a great feature for backcountry adventurers. Even if you don't send texts, your contacts can keep an eye on how things are going.
The topo maps included with the Explorer+ include on-screen GPS routing, as well as a digital compass, and barometric altimeter.
If you pair the device with your phone or tablet, you can also download maps from other sources, get NOAA charts, and download aerial imagery to improve your pre-adventure recon.
Multiple satellite subscription options
Do you go on tons of backcountry adventures where you'll need a satellite communicator? Garmin has you covered.
Only go on one or two a year and don't want to pay for all the extra features and constant up-time? No problem.
Garmin offers three levels of satellite plans (Safety, Recreation, and Expedition), and you can pay for all of them on a monthly or annual basis. If you don't spend much time out of cell range, a monthly plan is the way to go. If you go all the time, you might be able to save some money with an annual plan.
Here are the details on each level:
Garmin inReach Durability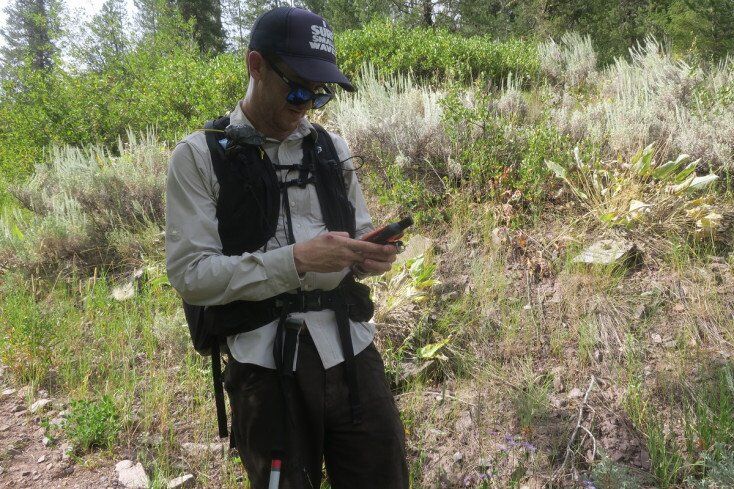 If all of these features sound like they might come in a fragile, high-tech package, you'll be pleasantly surprised to find out that the entire thing is actually very solidly built.
It's impact-resistant, water-resistant (up to one meter for 30 minutes), and packs a battery that will keep it running for a long time:
Up to 100 hours at 10-minute tracking mode (the default)
Up to 75 hours at 10-minute tracking with 1-second logging
Up to 30 days at the 30-minute interval power save mode
Up to 3 years when powered off
Even with all that, it's only 2.7″ x 6.5″ x 1.5″, including a 1.4″ x 1.9″ screen. And at 7.5 ounces, it's easy to make room for.
And it even comes with a carabiner for clipping it to your pack.
Weather Forecast
When you're in the backcountry, you need to know what the weather is going to be like. Will it rain a bit? Or be a raging thunderstorm? Should you wear your warmest gear today, or pack it away for later?
There is even a variety of methods of sharing weather forecast info. You can get it on your phone, get text alerts, and sign up for basic or premium weather packages. (Check the cost table above for some of the details.)
Overall Impression
The Garmin inReach Explorer+ ($450.00) isn't the most affordable satellite safety device. $450 is still a lot of money. You can pay less and get fewer features — but you could also pay several hundred dollars more.
The solid feature set and the ability to choose from a variety of plans on this inreach device and payment frequencies should suit anyone looking for a backcountry safety device.
Whether you really need a satellite communicator and SOS sender is up to you (though we certainly recommend it).
If you want to spend a bit less and you're willing to forego some features, check out the Garmin inReach Mini, which was featured in our list of the top five satellite messengers and personal locator beacons along with the inReach Explorer
Related Articles: