There is a good reason that the GNU Riders Choice Snowboard sports the name it does. Riders of all preferences and skill levels, including GNU team riders Mathieu Crepel, Blake Paul, and Max and Gus Warbington, favor the board.
C2 BTX Banana Camber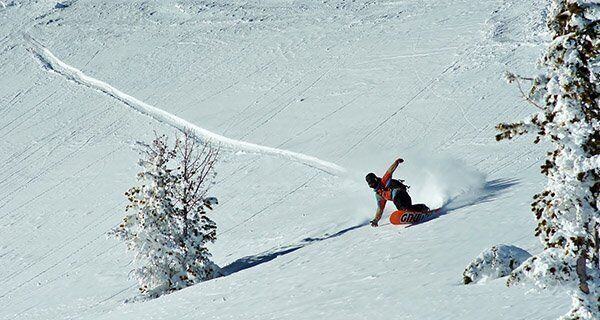 The GNU Riders Choice Snowboard has an asymmetrical design that utilizes different sidecuts to harmonize with our naturally asymmetrical body mechanics. This makes for an extremely playful, yet balanced and stable ride that lets you hold your edge in pow and throw down jibs all day long. The C2 BTX Banana Camber is best suited for somewhat aggressive riders that demand the best tip and tail control possible.
Shredding deep pow is a blast on the GNU Riders Choice. Its free-spirited board that makes way for plenty of float when it's needed. The asymmetrical shape ensures you'll stay on top of snow, even if you're blasting switch.
As we mentioned above, the GNU Riders Choice edge hold is spot on. Magne-Traction gives the board seven strategically-placed bumps on each side of the sidecut to cut into the snow and give you all the control you need. At the same time, the serrated edges are a bit mellower than in the past, giving you a bit more play, and eliminating the "catchy" feeling plaguing some Magne-Traction boards.
GNU Snowboard Flex Rating
The GNU Riders Choice that we tested – a 158 Wide – had a flex that was slightly stiffer than medium. It was stiff enough to give you the utmost in control, even at high speeds, while also conquering jibs and jumps like a champ. The asymmetrical construction makes for a slightly softer heel side flex. On a scale of 1 to 10 (1 being soft and 10 being stiff), GNU rate the board between 5 and 7, depending on size.
Few things suck more than a great snowboard that doesn't hold up to the abuse the mountain can throw at it. Fortunately, the Riders Choice isn't this board. It's an amazing all-around snowboard that, like all of GNU's other offerings, holds up for the long haul. Better yet, the Riders Choice is constructed in the good ol' US of A and comes with a one-year warranty.
GNU Riders Choice Specs
Size (cm)
Contact
Length (cm)
Side
Cut (m)
Nose / Tail
Width (cm)
Waist
Width (cm)
Stance
Min-Max / Set Back
Flex
10 = Firm
Weight
Range (lbs)
151.5
113
7.9 / 8.2
29.2 / 29.2
25.1
20″-26″/ 0″
5.5
90-180
154.5
116
7.7 / 8.1
29.3 / 29.3
25.2
20.25″-25″/ 0″
5.5
120-200
155W
116
7.7 / 8.1
30.7 / 30.7
26.5
20.25″-25″ / 0″
7
130-210
157.5
119
7.8 / 8.2
29.9 / 29.9
25.5
20.25″-25″ / 0″
6
130-210
158W
119
7.8 / 8.2
31.2 / 31.2
26.8
20.25″-25″ / 0″
6
130-220
161.5
122
8 / 8.4
30.2 / 30.2
25.8
20.25″-25″ / 0″
7
140-240
162W
122
8 / 8.4
31.3 / 31.3
26.8
20.25″-25″ / 0″
6.5
140-250
166W
124
8.1 / 8.5
31.3 / 31.3
26.8
20.25″-25″ / 0″
7
150-280
Overall Impression
Our final verdict on the GNU Riders Choice snowboard? We loved it. It truly is a "do it all" snowboard that excels on any type of terrain or obstacle you can throw at it.
It's easy to initiate turns but still holds steady at high speeds on hard snow with minimal chatter. The pop is ultra-responsive and a lot of fun to play around with. And when it comes to jibbing, you really can't get any better than this.
If you are looking for one hell of a freestyle stick, the GNU Riders Choice Snowboard ($579.99) is perfect for someone wanting to take over the entire mountain.
Related Articles: