The Gossamer Gear Gorilla 40 Backpack is a do-everything ultralight backpack. What's most surprising about this backpack is just how much stuff the 40L capacity can actually hold.
Gossamer Gear Gorilla 40 Weight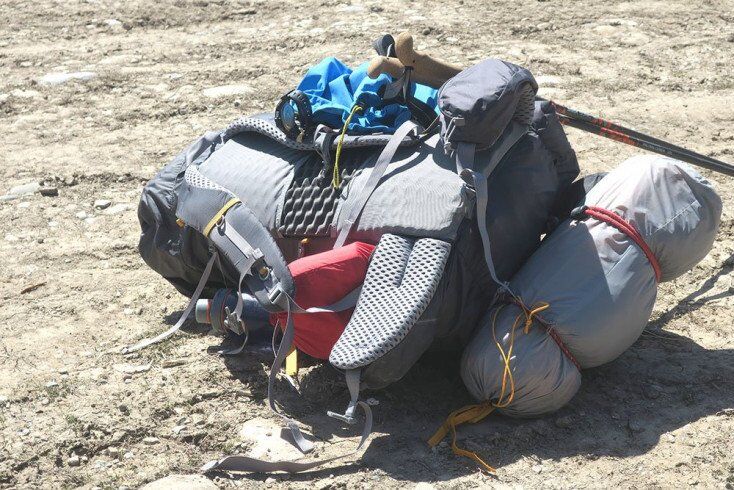 I tested the Gossamer Gear Gorilla 40 Backpack while ski touring and backpacking over the past few months in the Tetons. Weighing in at 30.59 oz / 867 g (1.91 lb) the weight or lack thereof is very minimal when compared to other ski-specific backpacks. And the same can be said for similar-sized backpacking packs.
This is the sort of backpack you can easily lift with your pinky finger. Even with gear inside.
Starting from the bottom up Gossamer Gear Gorilla 40 offers hip belts in 3 sizes with deep pockets for added storage. The removable hip belts are sold separately from the backpack for $45.00.
Side Belt Pockets
One on side of the belt I was able to put a few emergency supplies together including a ResQLink personal locator beacon, cell phone (flip) and car keys. While the other side of the hip belt stored stuff I might need more frequently like a knife, fire starters and a point and shoot camera.
Moving up the Gorilla 40, mesh water bottle pockets line each side of the backpack which is accessible to access while hiking and touring. These sleeves were the perfect size for holding a Nalgene bottle and also work great for storing a sleeping pad or a set of trekking poles thanks to the two added compression straps on each side of the pack.
Gorilla 40L Capacity
On the front of the Gossamer Gear Gorilla 40 backpack is a large external mesh pocket that can easily store avalanche snow safety equipment in the winter months including a shovel, probe, and even a saw. One thing to keep in mind if using this pack for ski touring is the mesh pocket has the ability to hold all your gear unless you happen to go tomahawking down the mountain. Perhaps there's a way to customize this pocket to hold all your snow safety gear in place, even after a big crash.
For backpacking, the mesh pocket can be used for drying out gear. However one of the coolest features on this pack is how the Gossamer Gear's SitLight pad slides right into the mesh sleeve without taking up much space. With the SitLight pad, you can make just about any space comfortable, and even better save your knees while getting things in and out of the tent.
There is also a second mesh pocket on the backside of the pack.
The inside of the Gorilla 40's main storage compartment is accessed via an over the top closure system. If you have used a roll-top backpack before this will feel familiar. For a 2 -day backpacking trip I was able to fit the following inside the main storage area:
Backpacking Gear List
At the very top of the backpack is a zippered pocket that can also hold a ton of gear. I found putting a headlamp, sunscreen, bug spray, and toilet paper worked well in that pocket.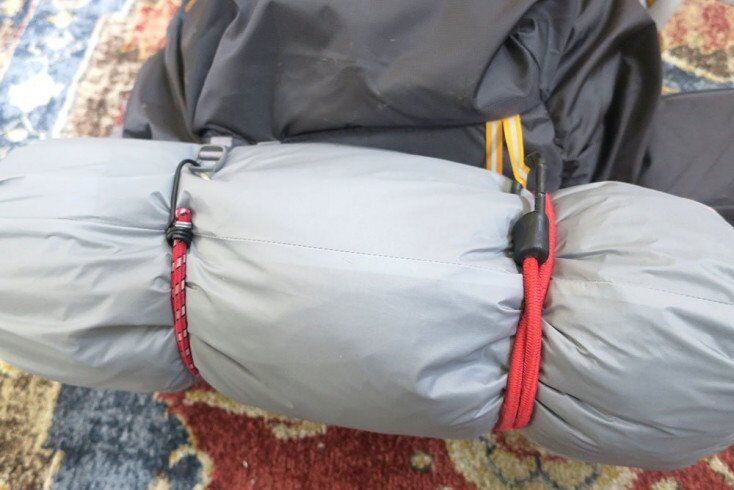 Overall Impression
Go buy this backpack. If you're planning to carry loads under 30 lbs you won't find a better well thought out ultralight backpack than the Gossamer Gear Gorilla 40 ($215.00). It's the sort of backpack you can travel long distances, without feeling much weight or strain against your back and body.
This backpack is perfect for day tours, overnight camping and 2-3 day backpacking trips or possibly even longer. There are two convenient ways to store a tent against this backpack. The first is to put the tent sideways under the roll top closure. This puts more weight up toward your core allowing for an easy carry. Another option is to use the ice loop straps at the bottom of the backpack with some bungees, ropes or Gossamer Gear fasteners to secure the tent to the bottom of your pack.
This was my first time testing or trying out products from Gossamer Gear, and surely it' won't be the last. This stuff is designed for people like you and I.
Related Articles: