Heybike started out of a small garage with the simple mission to help improve the way people commute, as they grew into an international brand they soon set a higher goal of seamlessly integrating cycling into everyone's lives. The brand continues to innovate and grow their products to bring you the best riding experience including the release of the new Heybike Ranger S E-Bike.
They now have over 40 models of e-bikes, including mountain electric bikes, folding electric bikes, city electric bikes, cruiser e-bikes, fat tire e-bikes, and many more for you to choose from.
Who's The Ranger S For?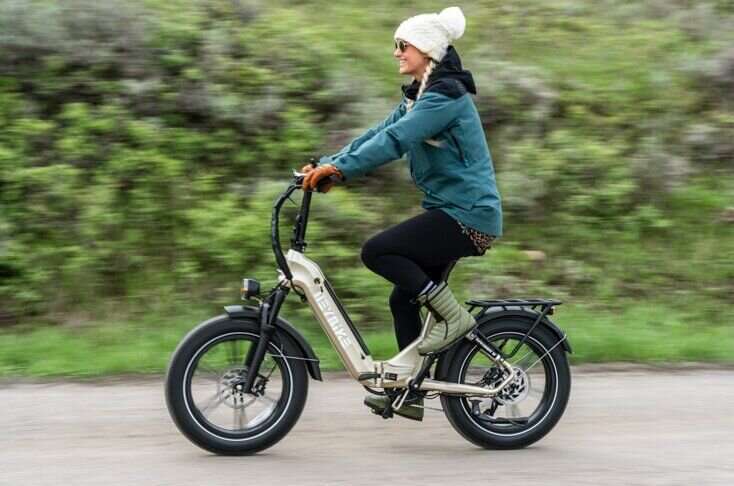 The all new Heybike Ranger S is the ideal e-bike for people with an active lifestyle. The 70x24x50 inch frame folds down to approximately 40×20×31 inches and weighs only 72 lbs, making it easy to take your e-bike with you anywhere you want to go.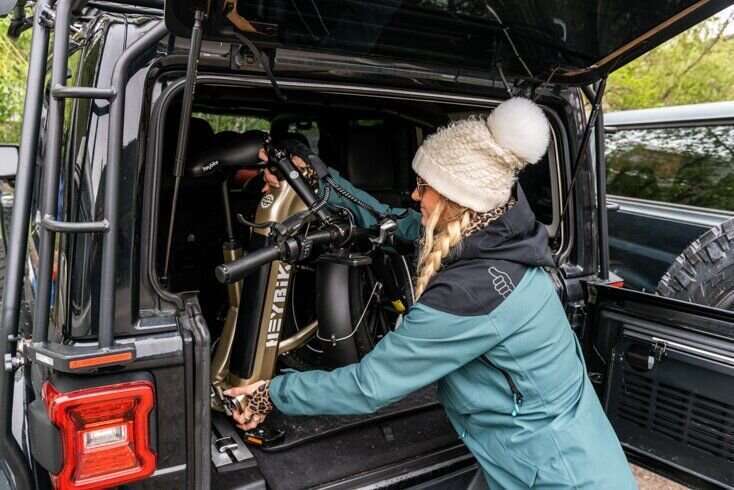 Although the Heybike Ranger S Electric Folding Bike is lightweight, it comes with burly 21.7" wide, knobby fat tires that are designed for off-road use on rugged, unpaved surfaces. This includes dirt trails, gravel roads, grass, sand, and light snow. They can handle rougher terrain than narrow road tires but may still struggle on very technical mountain biking trails.
This bike is rated for all-season use.
Suspension
Along with its wide, stable tires the Heybike Ranger S E-bike features a spring fork with oil damping. You can adjust the spring rebound speed for optimal shock absorption which gives this bike a smoother and more responsive ride.
750 Watt Motor
The Ranger S motor packs a ton of power with a 750W brushless gear motor that offers the perfect combination of power, efficiency, and reliability, making it effortless to conquer steep hills and challenging terrain. You'll easily reach a top speed of 28 mph and get a whopping 55 mile max range.
But if 55 miles isn't enough for you the bike features a "swap batteries on-the-go" option to get you back on the road quickly and seamlessly. Also you can recharge your 48V 14.4Ah battery quickly with Heybikes fast-charging technology.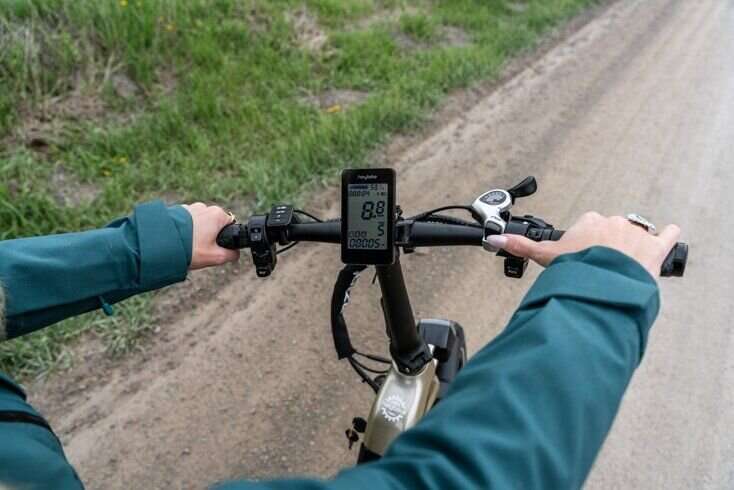 Whether you're commuting to work or exploring new places, the Ranger S offers a convenient and eco-friendly alternative to cars and public transport. The hands free LCD screen shows battery levels, current bike speed, & trip distance. You an also connect to Heybike App for personalization and convenience.
Weight Capacity
Heybike e-bikes are generally suitable for a wide range of ages and fitness levels, as the electric motor provides adjustable assistance to accommodate different riding abilities. However, the max load for Ranger S is 400 lbs.
Safety Features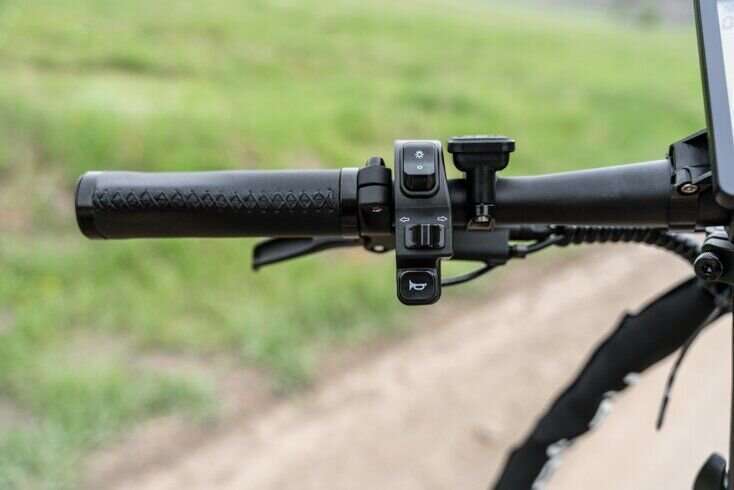 Something we really loved about this e-bike was all the safety features. The advanced braking system generates an impressive amount of stopping power, typically more than required to stop an electric bike, and it made us feel confident in busy traffic areas. Another thing we are obsessed with is the fact that this bike has a turn single feature which we felt kept us extra safe around town allowing us to alert pedestrians and cars of which way we were going. This feature is something EVERY e-bike should have, it just gave us that extra peace of mind while on the road.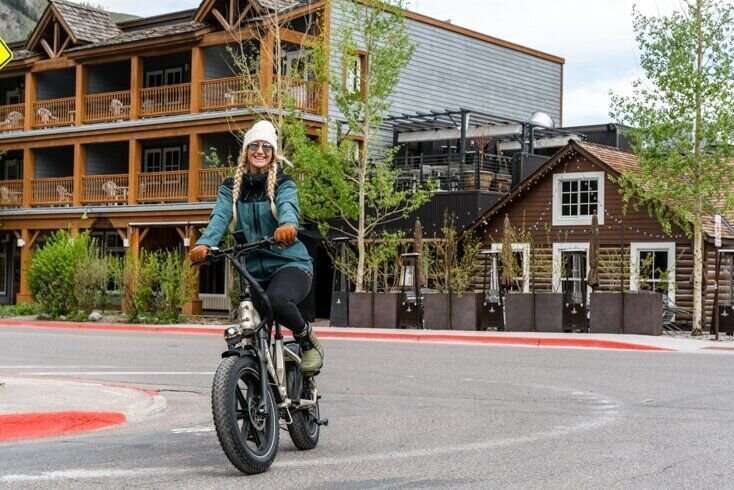 I'm hoping that future Heybike models add a sound feature for the turn signal like they have in motor vehicles, this would really help riders not accidentally leave the turn signal on after they have successfully completed their turn. Lastly, we were able to ride safely in low-light conditions with the auto-on headlight. It provided increased visibility without even having to think to turn it on.
Overall Impression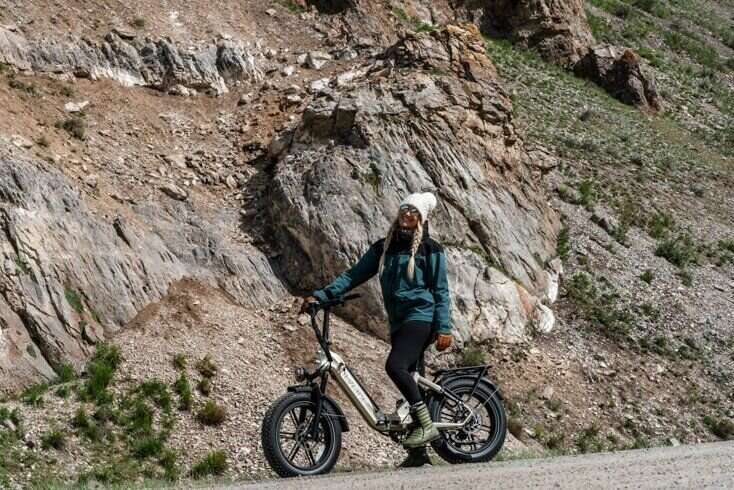 The Heybike Ranger S ($1,499) overall a great bike for all ages and abilities. The simplicity and ease of operation makes it ideal for any cyclist to operate and the smooth stable ride will make you feel extra safe and confident. Simply put, this e-bike is built for absolutely everyone!
Related Articles: