The all-new Himiway Cobra Pro is an outdoor enthusiast's best friend, equipped with full-suspension and upgraded 1000W motor. At a time when so many fat tire ebikes look the same, the Cobra Pro stands out with its four-bar linkage suspension system and extra wattage. The Pro shares many similarities with the standard Cobra model, but comes with a much higher price tag. Keep scrolling to find out what we learned from our tests and if the Cobra Pro is worth the extra cash.
The Himiway fat tire ebike brand has gained a lot of traction over the past couple of years and they continue to add to their extensive line up. As proof that the manufacturer isn't resting on its laurels, they updated the classic Cobra model and came out with the higher-powered Cobra Pro. Himiway competes with rival brands Aventon and Ride1Up, but is the only brand of the three to offer full-suspension eMTBs.
Cobra Pro vs. Cobra?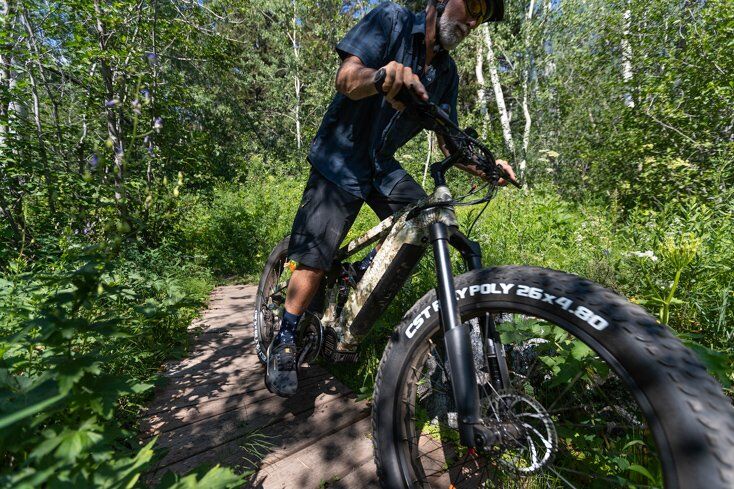 The Cobra Pro increases the motor's power to a whopping 1000W and comes with a Shimano Deore 10-speed drivetrain compared to the Cobra's 7-speed system. The standard 750W Cobra is much more affordable with its competitive $2,399 price tag. Both ebikes have the same 20Ah integrated battery and advanced four-bar linkage suspension design, so the choice really comes down to how much power you want.
The Pro and it's mega-motor performs excellently in throttle mode and maintains high speeds for longer. There are 5 pedal-assist levels, a left-side thumb throttle, and a walk mode— we reached a blistering top speed of 48.3 mph during our tests!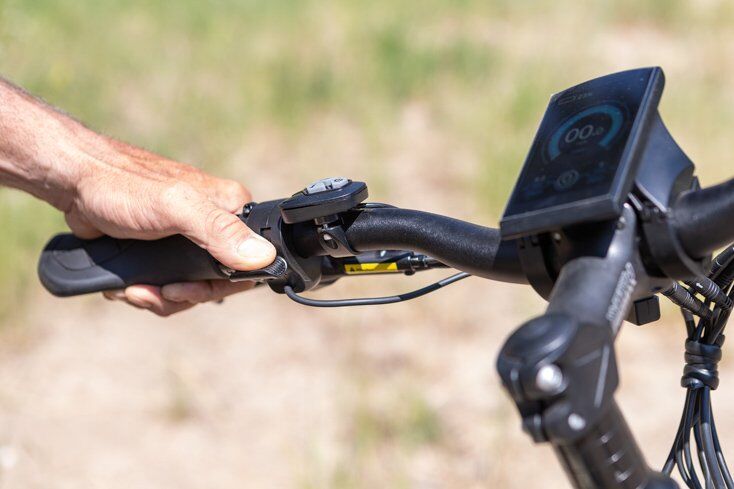 Available only on the Cobra Pro's webpage, Himiway has included interactive 3D and augmented reality (AR) viewing so potential buyers can get a great look at the bike virtually.
Four Bar Linkage Suspension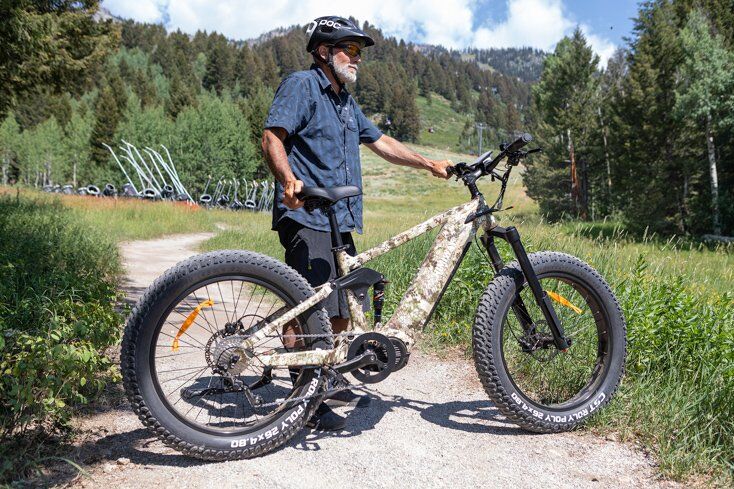 The Cobra Pro and its 6061 aluminum frame boasts a rugged aesthetic and good-looking carbon fiber wrap, but the real magic is the four-bar linkage suspension system at the rear. The advanced design improves anti-squat and reduces the effect of braking on the suspension— it's cool tech that typically only comes on higher-end MTBs.
The rear shock is a DNM AO-38 and the fork provides 150mm of travel.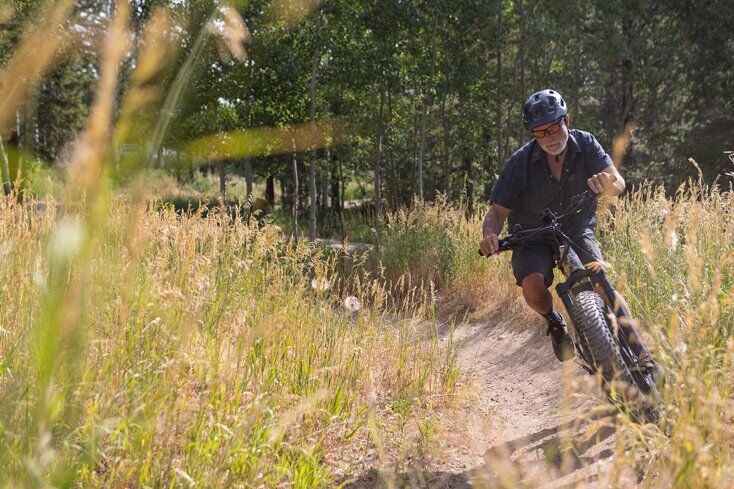 Be prepared to add some air to the suspension or adjust the settings to match your preferences. Overall, though, the full-suspension setup felt great and had plenty of trail-smoothing capabilities.
Mid-Drive Motor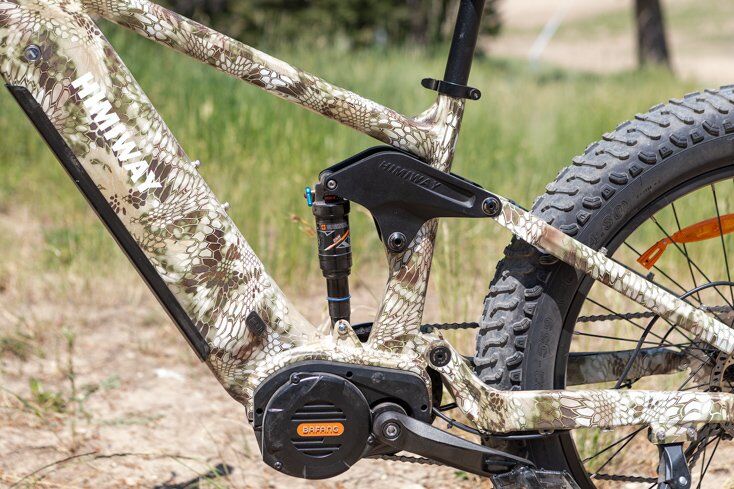 The Cobra Pro's workhorse build seems like cross between a full-sus MTB and e-cargo bike. The Bafang M629 mid-drive motor and its 1300W maximum output is specifically designed for two-wheelers that do the heavy-lifting, including tandems, cargo bikes, and high-end MTBs.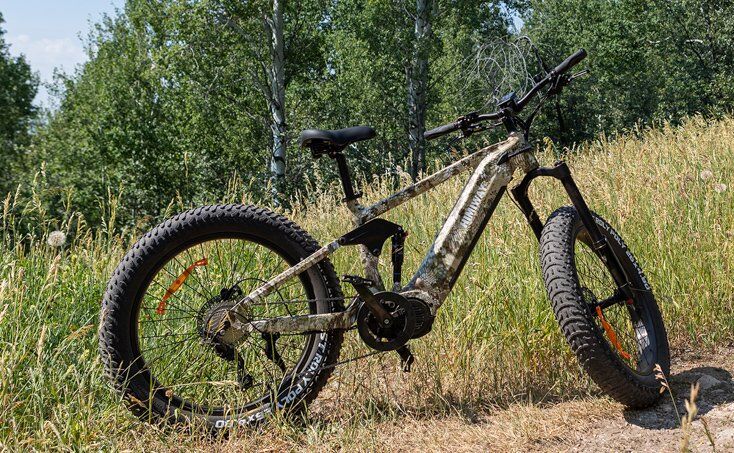 Himiway suggests that the Pro is ideal for practical use in rugged terrain and can even be helpful in situations like hunting or fishing. I'm sure the Cobra Pro would be up to outdoorsy errands like transporting camping and hunting gear or surveying the forest. The Pro has a maximum weight limit of 400 lbs. and the monstrous 160 Nm of torque prevents motor strain under load. There's the ability to add a rear rack, too.
20 Ah Battery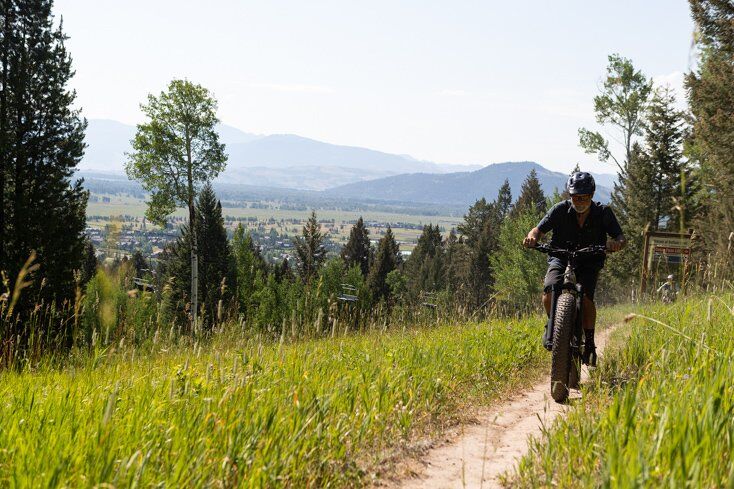 The high-capacity 20 Ah battery neatly tucks into the beefy-but-not-oversized downtube and has a range of up to 60 miles on the Himiway Cobra Electric Bike. You'll only achieve that range using the lower pedal-assist levels, but with the amount of power the Cobra Pro puts out, those lower levels are plenty.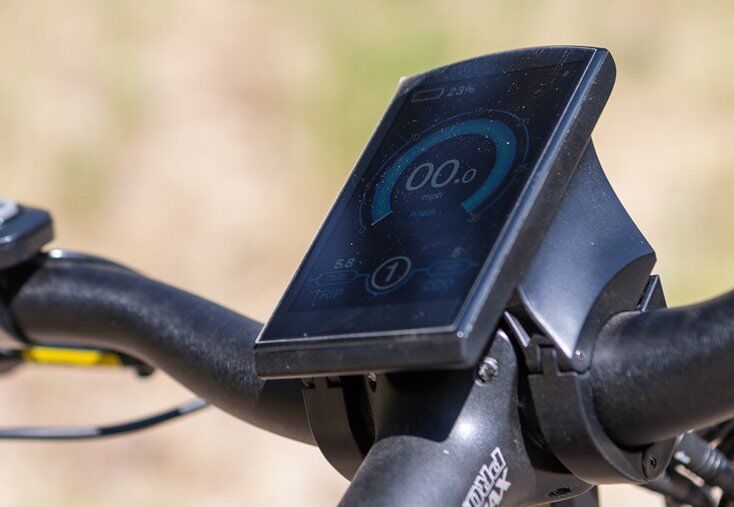 Additional electronics include the upgraded LCD color screen that's large and very high-tech feeling, yet still extremely user-friendly. There you'll see classic ride stats like time ridden, speed, distance, battery health, and there's a USB port to keep your other devices topped up.
Fat Tires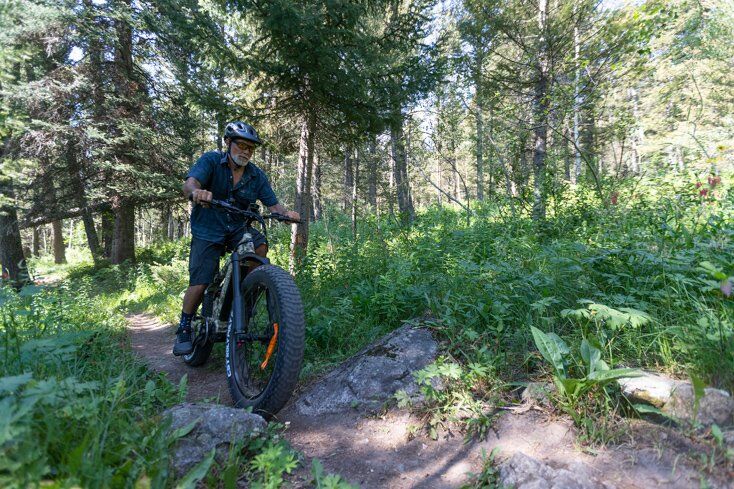 The Cobra Pro's monster truck feel comes from the oversized 4.8" CST fat tires with huge knobs that dominate any terrain. They can be run at super low pressures (5-30 PSI) for extra shock absorption and grip in tricky terrain like snow, sand, or mud. The Tektro 180mm hydraulic disc brakes are a common choice within the industry and provide secure stopping power for this relatively heavy 88 lbs. ebike.
When it comes to the finishing touches, the Cobra Pro leaves a bit to be desired considering the high price tag. I expect a dropper seat post on a full-suspension MTB so you can descend confidently without risking a whack on the saddle. The seat tube diameter is 30.9mm, so there are plenty of after-market dropper posts if you want to upgrade it yourself. The Selle Royal saddle is plenty comfortable, but I would probably switch it our with something more sporty if you expect to do more intense rides.
The included horn feels cheap and it's a smart idea to swap out the grips for something higher quality, too. That said, Himiway does sweeten the deal with an Apple Airtag ($29 value) included with any ebike purchase so you can keep track of your bike's location.
Overall Impression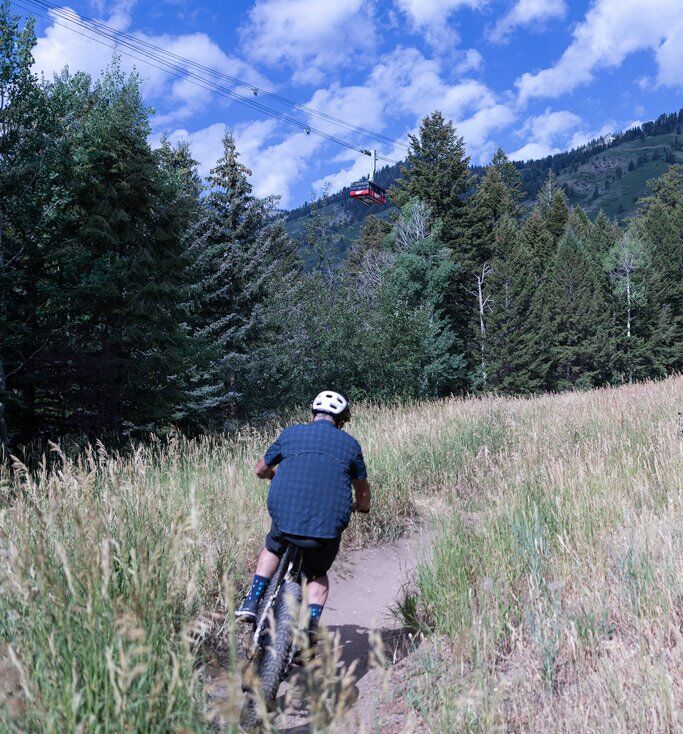 The Himiway Cobra Pro is an exciting option from Himiway and pushes the envelope of ebike design, but it isn't for everyone. There's a significant price jump from the standard Cobra, but for riders who want those additional 250W watts, the Pro is still much more affordable than other full-suspension eMTBs.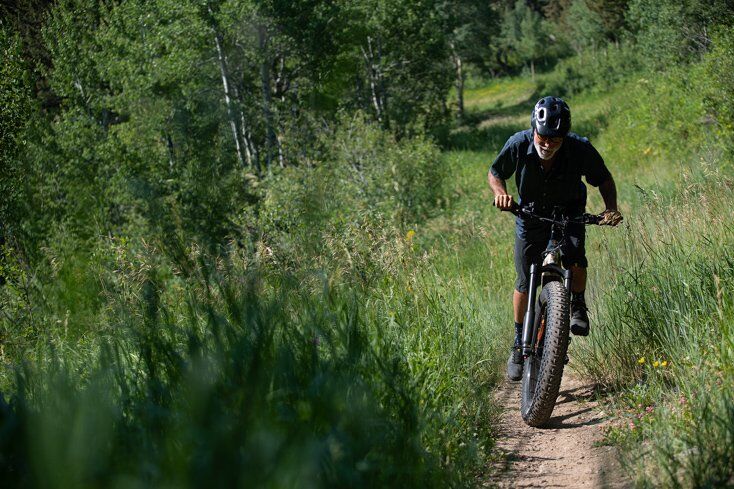 The Himiway Cobra Pro's price tag of $3,999 means it's in the ballpark of high-end hardtails from industry giants like Trek and Specialized, but still much cheaper than their $6,000+ full-suspension ebikes. If you ride terrain that requires a rear shock and want a throttle mode too, the Cobra Pro will save you dollars compared to professional-spec eMTBs.
In short, the Pro's extra wattage comes at a premium that can be well worth it for adrenaline junkies who desire the ultimate experience.
Himiway Coupon Code for $50 Off: MTNWeekly50
Related Articles: