The Cyrusher XF900 seamlessly blends modern e-bike technology with a classic moto style design. Upon first look you might wonder if this is a trail bike a downhill bike, maybe even a dirt bike.
Turns out the Cyrusher XF900 E-Bike can do just about everything from riding to work and back, going to the grocery store or in our case ripping around on downhill mountain bike trails.
Front Fork 110mm Travel
What stands out most about this fat tire electric bike is it's huge motorcycle inspired front fork. With 110mm of travel, Cyrusher's XF900 E-Bike offers lots of shock without messing with the bikes geometry. The Cyrusher XF900 turns quickly and can easily roll over anything you throw in it's way thanks to the combination of large front fork and HLT-100 rear shock.
One thing to note is this Cyrusher E-bike come with headlight, taillight, rear rack and fenders so it's not truly a downhill bike. In our case we opted to remove all the accessories from the bikes as our primary test took place on xc and downhill mountain bike trails.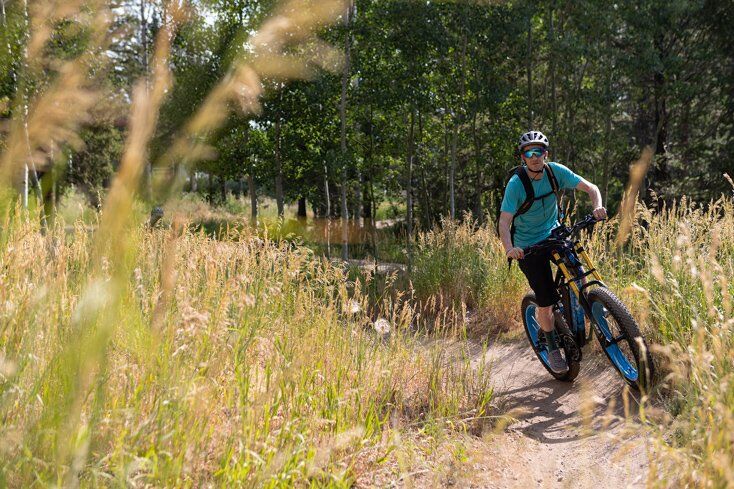 We knew this bike would ride well on the street but with a look like this, we felt it was only fair to get some serious riding in too.
Large LCD Display
This bike features a large LCD screen that is identical to many of the Rad E-Bikes we have tested. The display shows your speed, odometer, power assist mode and wattage.
5 Power Assist Modes
You can get this bike moving by using any of the 5 levels of pedal assist modes or by using the right hand twist throttle. The pedal assist modes are controlled via controller on the handlebar and are easy to scroll back and forth.
When downhill mountain biking I found it was safest to not use the throttle and instead use the pedal assist modes. As the bike has plenty of power without having to gun in around trees and stumps.
On open rides the right hand twist throttle was a blast and will surely be appreciate by anyone riding the Cyrusher XF900 in a city commuting to work or the gym.
750 Watt Motor
Thanks to a Bafang 750W Rear Hub Drive Motor this bike has plenty of power, with a max output of 1200W. The XF900 is fast too with a top speed of 30mph.
7 Speed Shimano
The Cyrusher XF900 comes shipped with the 7 speed Shimano cassette. The gearing worked fine for the most part however if on a steep trail starting from a dead stop it takes a little more effort to get the bike moving with only 7 speeds to drop cycle through vs 21 speeds with more lower gears to choose from.
That being said for someone riding this bike in the city, 21 gears would be a bit overkill, so Cyrusher opted for the 7 speed gearing leaning this bike more in the direction of the urban commuter that might want to enjoy a bit of off road riding on the weekends.
Sizes
The Cyrusher XF900 is a big fat tire bike available in one size. Riders 5'9-6'4 in height will enjoy this bike the most. At 5'11 I was in the sweet spot and able to handle maneuvers easily on and off trail on this Cyrusher Electric Bike.
Where the size of this bike becomes noticeable is transporting and storing. Fully loaded the Cyrusher XF900 weighs 92lbs. For someone familiar with dirt bikes the weight and size won't be an issue. For everyone else you will need to upgrade your existing bike rack to an e-bike rack as the weight combined with 4″ Fat Tires will in many cases be too much for a traditional bike rack to handle.
Tires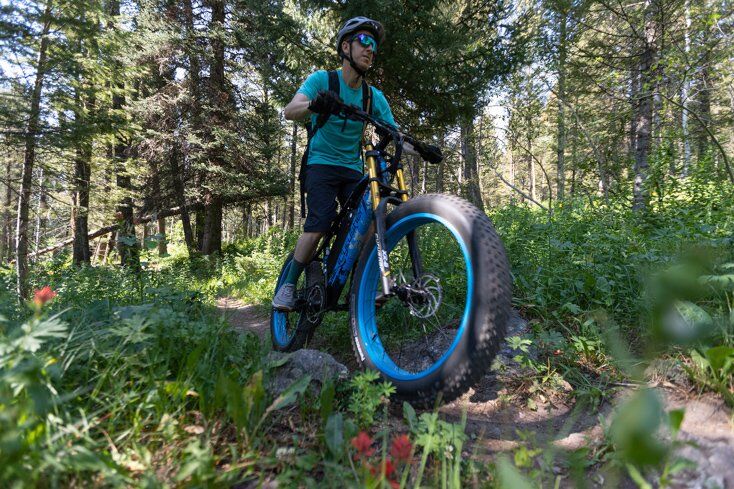 Cyrusher runs 26 x 4.0 Panaracer Fat B Nimble Tires. These tires are puncture resistant have added Kevlar and offer great grip on the up and down. Especially noticeable is how this bike handles going in and out of turns thanks to the beefy tire tread and it's well designed geometry.
Overall Impression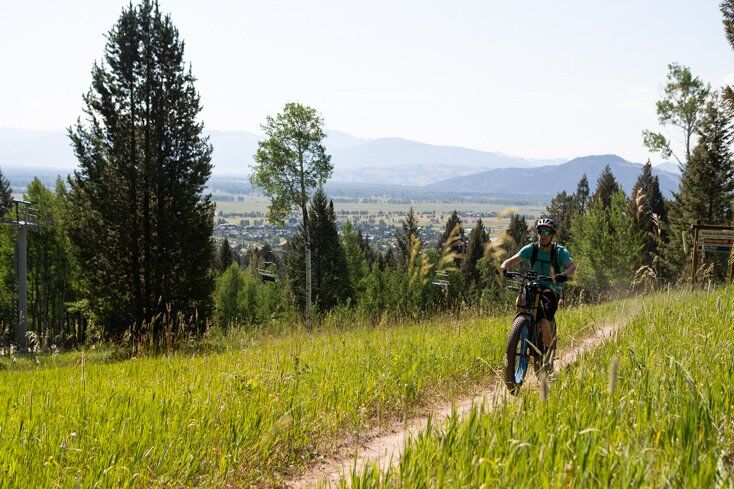 Who is the Cyrusher XF900 bike for? For someone wanting to ride to work, maybe have a little fun in the dirt, mud or snow the Cyrusher XF900 is a great bike to pick. It's not the bike you will want to buy as your only downhill mountain bike, or if you have really never spend time mountain biking as a throttle plus 92lbs of bike can get you into interesting places quickly.
For someone that has sold their dirt bike, maybe recently had a kid and still wants rip around trails or experienced mountain bikers ready to ride a throttle bike, be sure to check out the Cyrusher XF900 Fat Tire E-Bike ($2,399). The XF900 Electric Bicycle from Cyrusher makes a serious statement on and off the trail with its loud colorways, spec paint job, unique design and ability to reach top speeds.
The only thing I would upgrade would be the grips on the handlebar as they were rock solid which is great for street riding, not so much for bumpy trail rides.
Related Articles: