The Magnum Peak T5 is an Electric Mountain Bike that's a step up from many models in its class, designed for all-around trail shredding that can hit the streets, too. It's a versatile hardtail with wide tires and a 1x drivetrain that is rearing to tackle your favorite off-road routes. But can the Magnum Peak T5 E-Bike climb to the top of our list of recommended e-bikes?
We put this electric mountain bike's capabilities to the test to see how it performs out in the wild.
About Magnum Bikes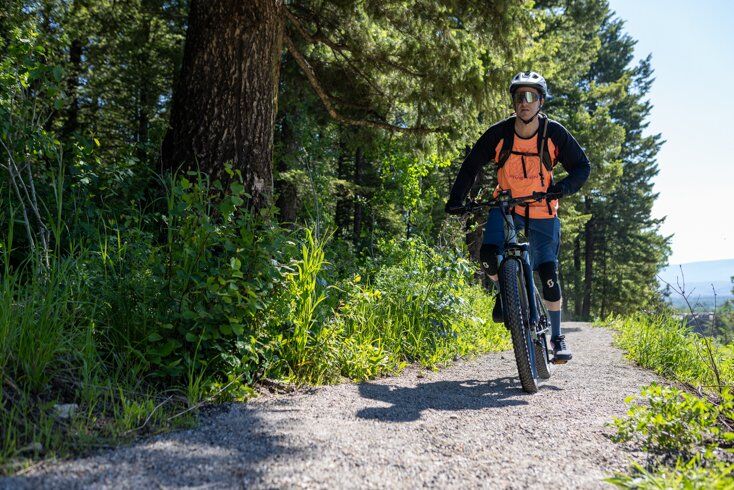 The Magnum ebike brand has become a relatively hard-hitter in the industry and offers an impressively wide range of boosted bikes. Founded in 2010, the Salt Lake City-based brand has an extensive dealer network across North America and dozens more in other countries.
Most of their models cost between $1,500 and $3,000 and the Peak T5 slots in toward the high end of that range at $2,699. The Peak T5 is one of Magnum's XC-style mountain bike options among other commuter, cargo, fat bike, and cruiser models.
Hardtail Design
The updated Peak T5 is built as an all-rounder mountain bike that's great on local trails, gravel paths, and off-road routes. The hardtail aluminum frame encourages a comfortable riding position that offers plenty of control and stability. The tall frame shape is a bit upright for an XC bike but remember this model isn't designed for racing.
One downside, however, is that the bike only comes in one frame size— Magnum lists the recommended minimum rider height at 5'6". That said, I appreciate the four cool frame colors— forest green, tan, gray, and blue— that give riders more paint job options than most other models.
500W Rear Hub Motor
The Bafang 500W rear hub motor provides a powerful boost and helps flatten out steep climbs. The maximum output is rated at 750W and can be set up as Class 1, 2, or 3 depending on your riding style. The bike can reach a top speed of 25 mph with pedal assist and 20 mph on the left-thumb throttle— there's also a walk mode for guiding the hefty 60 lbs. bike alongside you or getting up ramps.
An important point is the inclusion of a torque sensor that determines power output based on the amount of force put on the pedals, rather than simply how fast you're pedaling. This is the main reason behind the Peak T5's smooth acceleration and excellent pedaling feel.
Battery
The 15Ah battery sits on top of the downtube and has enough juice to last up to 50 miles when using the low levels of pedal assist (there are five). The removable battery is more streamlined than other bulky down tube-mounted external batteries but definitely isn't as sleek as the integrated packs. Whether this aesthetic point is important will depend on your own preferences, though.
The battery and motor link up to the large LCD screen at the center of the handlebars. The illuminated unit shows more ride metrics than your basic display but isn't full-color.
Components
The Peak T5 comes equipped with rugged mountain bike components to navigate chunky, fast-paced trails. There's an SR Suntour XCM34 front suspension fork with 120mm of travel. The fork has been upgraded since the previous generation for better performance and handling out on the trails.
When we were testing the bike, we couldn't help but imagine a full-suspension version of the Peak T5. Magnum currently doesn't offer a bike with rear suspension, but we hope that there could be an exciting new project in the works.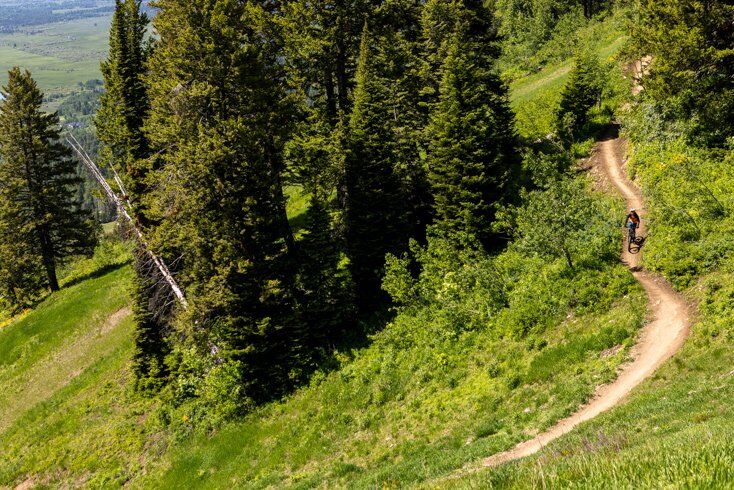 The e-MTB runs 27.5" wheels that are a bit more agile than large 29ers. Other highlights include the wide CST Patrol 2.8" tires with a solidly knobby tread pattern that isn't overkill for recreational riding.
As a mountain bike, you've got to go 1x and the Peak T5 is outfitted with a Microshift AX 1×11-speed drivetrain. It's not the highest-end package but the SRAM Trigger Shifter is precise and the 11/50t wide-range rear cassette provides the entire spectrum of gear ratios you'll need. The drivetrain is an area that bikes often skimp on (you're getting a boost after all) and I'm glad to see the Magnum took it seriously.
There are also powerful Logan 4-piston hydraulic brakes for reliable, controlled stopping performance, even in tricky conditions. During testing, the Peak T5 handled great and provided an ultra-fun ride that can be taken deep into your local trails or around town as a rugged commuter if that's your thing.
In terms of the finishing kit, the Peak T5 comes with fenders at the front and rear. They're not full coverage mudguards though, since dirt and debris would get stuck in between the tires and fenders. The Sella Royal Essenza+ seat is a standard choice that's comfortable enough. There's a compact headlight mounted high on the handlebars instead of lower on the fork but there's no included rear light. If you frequently ride at night, you may want to purchase a set of more powerful lights anyway. I like that there are additional bosses on the headset, seat stays, and top tube in case you want to mount accessories later on.
Overall Impression
Is the Peak T5 the brand's magnum opus? I probably wouldn't go that far but it's a solid electric hardtail that's priced competitively between entry-level models and fancier $3,000+ e-bikes. It's worth mentioning that the Magnum Vertex shares many of the same specs and comes with a mid-drive motor for only $300 more, a smart tradeoff for riders wanting a more balanced mountain bike.
In the end, the Magnum Peak T5 E-MTB ($2,699) is a super enjoyable ride that handles much like an XC bike with the added fun of a 500W motor, perfect for exploring new spots and long-time favorite trails.
Related Articles: