The first thing to know about the Lankeleisi RV700 Explorer E-bike is that it rips way harder than it should! With full suspension, a powerful 1000 watt motor, and 4 inch wide fat tires, the RV700 Explorer looks a bit like Clark Kent on steroids. When the rubber hits the trail, however, it feels more like a svelte, lightweight Superman, floating above the ruts, roots and rocks on the trail with the greatest of ease. You'd be forgiven to think that a bike this big and bulky shouldn't feel so maneuverable and light.
The RV700 Explorer is a perfect example of why e-bikes are set to dominate the MTB marketplace here in North America. It's a fun, versatile and durable bike that reacquaints its rider with the joys of cycling. Europe has already gone full electric in the MTB and recreational bike markets, and with a growing number of manufacturers and models on the scene here in the U.S. and Canada, our continent looks set to echo that trend.
There are many choices for an all-around e-MTB, but the RV700 Explorer is one to remember, and here's why:
Speed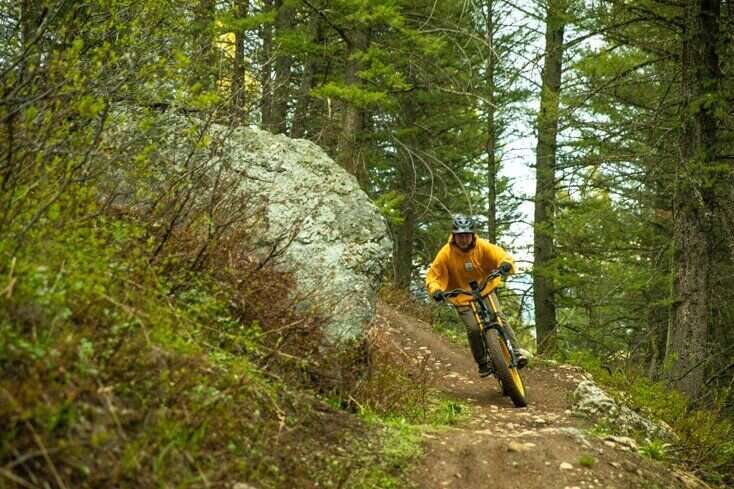 The RV700 Explorer is a Class 3 electric bike, with power assist up to 28 mph (the rider must also be pedaling in this mode), and a throttle-only mode top speed of 20 mph. The slower top speed in throttle-only mode means that in most U.S. states, the RV700 Explorer can be ridden on shared-use recreational trails. When you use neighborhood streets or bike lanes, the higher speeds of the pedal assist modes help you blend in more easily with car traffic (while still staying near the speed limits of most city streets).
How's it Ride?
The RV700 Explorer is a blast to ride! It rips wayyy harder than it should, and its fat tires and wide saddle do nothing to dampen the bike's maneuverability, responsiveness and speed, even if they do mitigate rough trail conditions. It's a veritable wolf in sheep's clothing.
The RV700 Explorer offers a supremely comfortable ride, but the comfort it offers doesn't take away from the bike's maneuverability and speed. Its comfort is delivered by the front and rear suspension – including a large front fork with ample travel that can be locked out, a shock absorbing and wide leather saddle, and Chaoyang 26" x 4.0 tires that can roll over just about anything without transmitting shock waves to the rider.
LCD Screen
The HD LED display is large and easy to read, like those found on motorcycles, and it offers all the salient information a rider needs – speed, distance traveled, pedal assist level and remaining battery charge – right at her fingertips. It's as much a rugged smartphone as it is an ebike display.
Motor
The RV700 Explorer comes with a 1000W brushless rear-drive high-speed motor that provides high power in both throttle-only and pedal assist modes. For the rider, the 7-speed Shimano Altus drivetrain accommodates a wide range of ride profiles and surface conditions.
Battery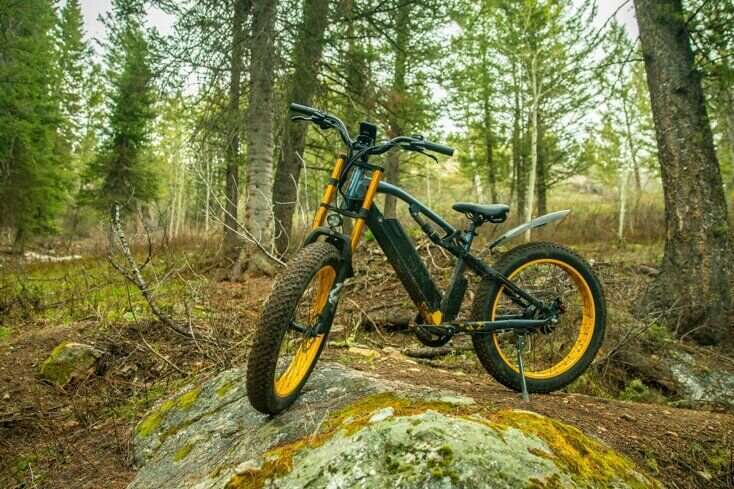 The 48V 16ah removable and replaceable lithium battery powers a wide range of up to 60 miles in pedal assist mode, or up to 40 miles in throttle-only mode, depending on the weight of the rider, the course terrain and incline, and the level of pedal assist applied (there are five levels of pedal assist available to the rider). While the battery is a bit bulky and cumbersome, the power and range it offers the rider are worth the slight aesthetic and weight penalties.
Standout Features
The RV700 Explorer's frame is made from the same 6061 aluminum alloy that most ebikes use, but the designers have found the sweet spot among comfort, strength, weight and responsiveness in its frame design. It will neither break on you, nor slow you down any.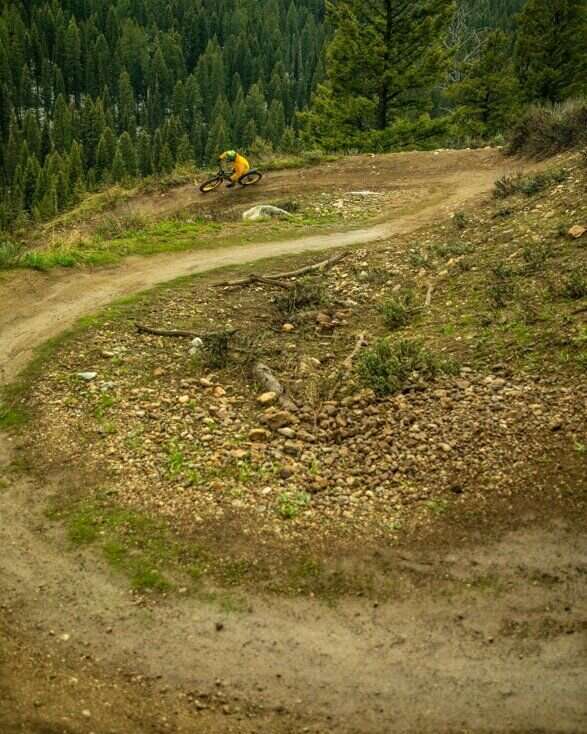 The RV700 Explorer is more of a dedicated trail bike, so you won't see some of the more utilitarian features found on a lot of ebikes, such as a rear rack, brake-activated tail lights or fenders. This isn't a knock on the RV700 Explorer's versatility, but rather a horses-for-courses understanding of the bike's true purpose, which is to deliver fun and exhilaration to its rider.
Overall Impression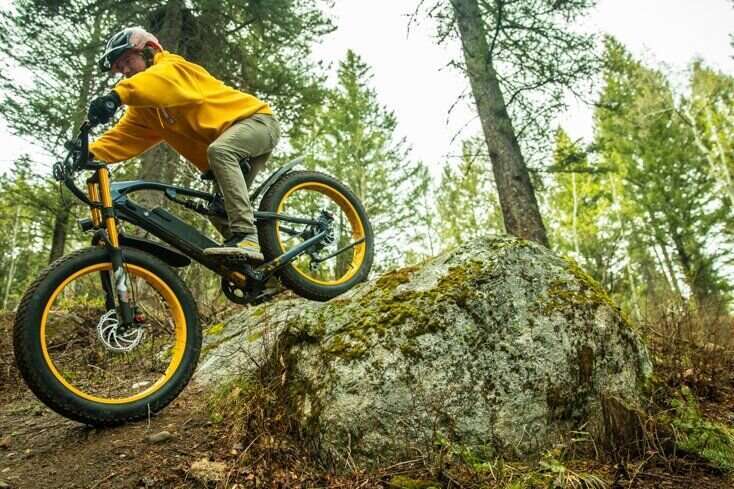 The Lankeleisi RV700 punches way above its weight in terms of value, and it offers numerous features of more expensive e-MTBs at a very reasonable price point of $2,099.99 MSRP. There are many practical reasons to buy an ebike: commuter uses, environmental stewardship or overuse injury prevention are among them. But the RV700 Explorer offers another reason to invest in an ebike: it gives the rider pure, unadulterated high quality fun.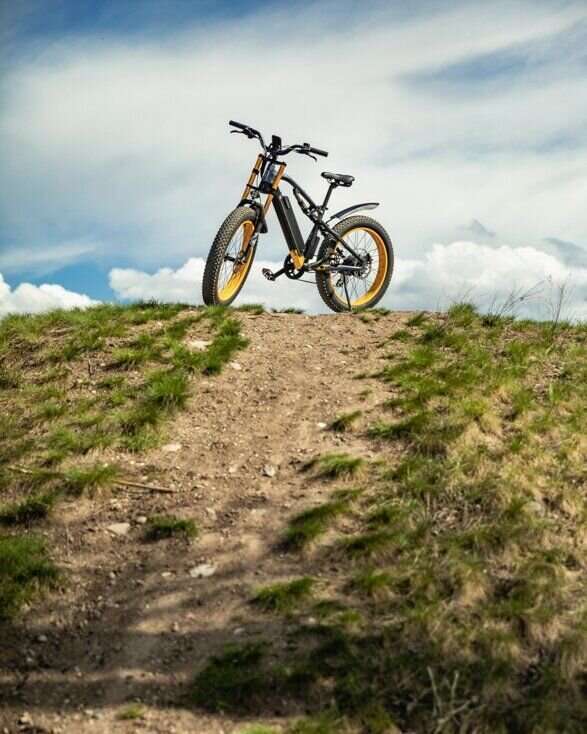 All the practical reasons for owning an ebike are forgotten when you are reacquainted with the joy of cycling. The RV700 Explorer delivers this joy from the moment the rider climbs aboard, and it offers miles and miles of smiles.
For more information check out https://lankeleisi-bikes.com/products/lankeleisi-rv700-explorer-electric-mountain-bike
Related Articles: