Perhaps the best solution for transporting e-bikes on your car or truck goes to Hollywood Racks for their Destination E-Bike Rack. The Hollywood Racks Destination E-Bike Rack was designed specifically to carry 2 electric bikes with a combined weight of up to 140lbs in total.
Bike Ramp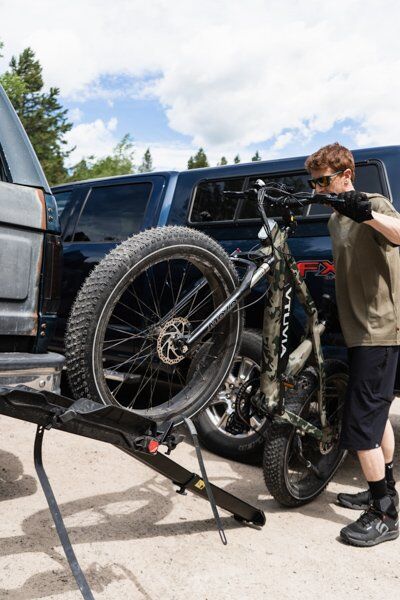 Thanks to a clever removable ramp, you can easily push any fat tired e-bike or standard e-bikes up and onto the Hollywood Destination E-Bike Rack to load and unload your bikes. E-Bikes on average weigh between 40-60lbs, while some of the fat tire hunting bikes or moped bikes are pushing closer to 80lbs.
Being able to roll your bike on and off the ramp really cuts down on injuries that result in lifting an e-bike off the ground. And when not in use the ramp folds up nicely and can be stored in your vehicle or in the bed of your truk.
Capacity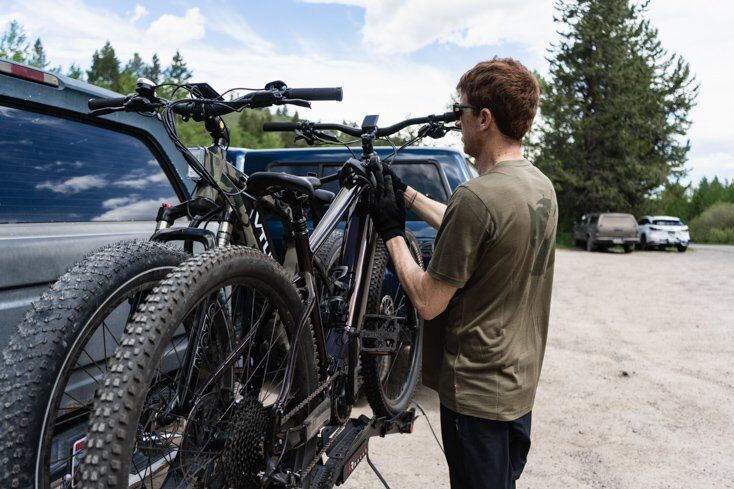 Hollywood Racks Destination E-Bike Rack was built to transport 2 e-bikes or standard bicycles at a time. The heaviest bike is loaded nearest to the vehicle with the front of the bike pointed toward the drivers side. For the second bike it goes in the opposite direction. This allows the handle bars to be on both sides of your car or truck, taking up less space than if they were side by side.
Weight
The Destination E-Bike Racks comes with a standard weight of 46 lbs. without any bikes attached. If you plan to move the rack on and off your vehicle be mindful of this weight as it can be a little tricky to carry the rack around in your hands.
Once the rack is inserted into the trailer hitch the Hollywood Racks Destination Rack has the agility to carry two bikes with up to 70 lbs. per bike. In our test we had one bike that weighted 87 lbs. which did fine. And numerous days of transporting two heavier fat tire e-bikes at a time.
Setup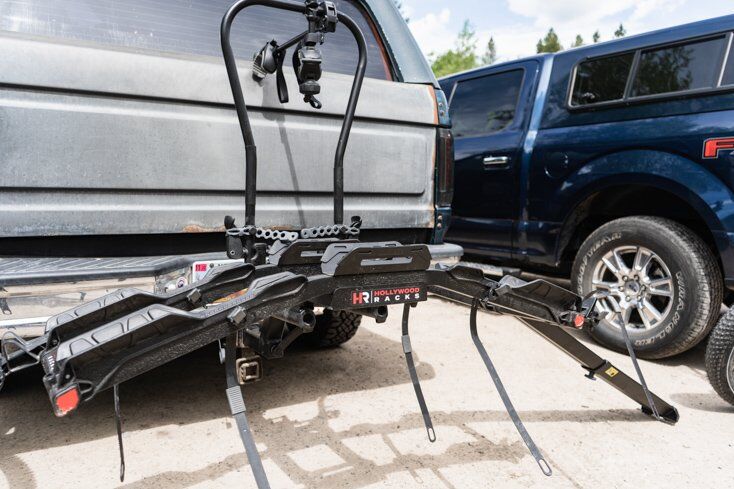 Setting up the rack was fairly straight forward and took about an hour. I was able to do this by myself and really liked the fact that it's essentially tool free to put the rack together and secure it to a vehicle.
There were only 4 screws and 4 corresponding nuts to install on the rack. Otherwise it was ready to rock out of the box.
It does take some time to figure out the attachment arms, and how to get the tilt working but once locked in place, wow is this rack reliable and easy to use. And even easier to take on and off.
No Wobble
Hollywood Racks uses a "No Wobble" System that secures your bike rack to a hitch with ease and without having to use a wrench. This cuts down on the slack between the receiver as there are no bolts to tighten to the hitch.
Instead of a wrench there is a knob that you turn, or it's actually more like a handle. After a few turns of the handle you take the hitch pin, slide it though the hitch hole and attach a lock and walla. You have a rack that's locked into place.
If you're not a fan of a rack bouncing around this No Wobble System from Hollywood Racks works wonders at elminating slack. Do keep in mind these racks are rated for "light off-road use" what's that mean? Your guess is as good as mine. But if your on a dirt road, or a road with pot holes it's best to slow down. Think of it the same way you would if towing a trailer as your essentially doing the same thing, towing something minus the wheels.
Clamps
For securing your bikes to the rack there are 4 points of contact. The first and most important is the frame grabber / seat post clamp. When you twist the knob the teeth on the clamp secure around whatever object your mounting too. It could be the top frame, seat post or down tube.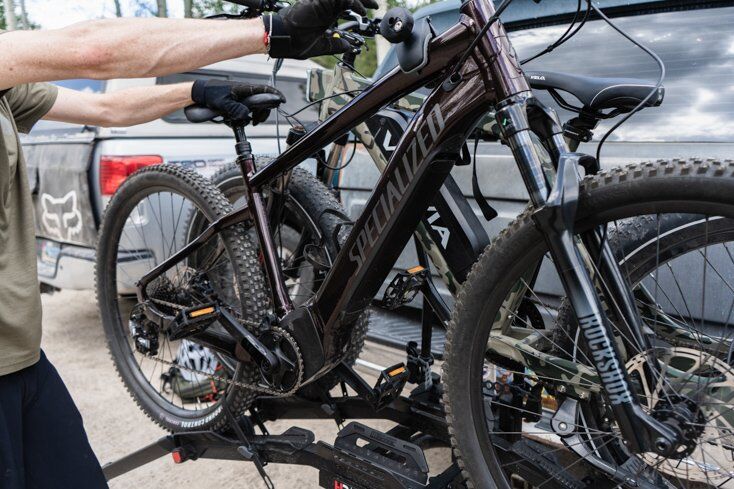 Then you have 3 sets of ratchets complete with teeth and buckles. Sort of like those found on snowboard bindings and other bike racks in the industry. The ratchets are easy to use and the click sound is noticeable letting you know the buckles are locking into place. With the largest fat tire bikes we found that only 2 ratchets could be used. However this was plenty to hold the bike as the real securing power comes from the frame grabber/seat grabber.
Overall Impression
Your normal bike rack was not designed for the weight or size of modern day ebikes. If you care about your toys then you should have a way to transport them safely, securely and reliably each time you go for a ride. With the Hollywood Racks Destination E-Bike Rack ($699.99) the solution for moving e-bikes with your vehicle has never been easier.
Related Articles: