One of our favorite ways to transport e-bikes and fat tire ebikes is the Hollywood Racks Sport Rider E-Bike Hitch Rack. Designed specifically to accommodate fat tire e-bikes with maximum tire width of 5″.
Hollywood Racks was one of the only bike racks in this years test to be able to accommodate every single bike we tested thanks to the use of their adapters. Find out what we liked about the rack and what can be improved in our review below.
80lbs. Per Bike
Why do we like transporting expensive e-bikes with the Hollywood Racks Sport Rider E-bike Rack? Well the rack can hold 80lbs. per bike for a whopping 160 lbs. total. I even pushed this at times with bikes weighting closer to 80lbs.+ and felt safe driving around thanks in part to the racks design.
No Wobble System
Attaching the Hollywood Racks Rack to the frame of your vehicle was a breeze thanks to the No Wobble System. This tool less system eliminates and slack in the connection between the rack and receiver.
Since there are no tools involved you can easily tighten or double check the tightness of the rack at any time which is great if driving long distances.
Locking Frame Hooks
The Hollywood Racks Sport Rider Rack will look familiar to people that have used traditional bike racks in the past. Especially those with a frame hook style.
The frame hooks easily adjust up and down depending on the size of your bike and when locked against the frame really offers great peace of mind as the hooks are pointed down essentially wrapping around the bikes frame. Honestly you could probably drive around with just the frame hooks locked into place and the bike would stay in place.
Hollywood Racks also offers wheel holders. These wheel holders allow huge tires to easily fit inside the rack and can be ratchetted down over each tire for an additional point of contact.
Step Through Compatibility
One thing to note. The Hollywood Racks Sport Rider E-Bike Hitch rack will not be able to transport step through style e-bikes without purchasing an additional adapter. It's sort of silly you would have to buy this in addition to the rack, even though the cost is minimal. So be mindful of this as many bikes are going to a step through style.
Rear Hitch Access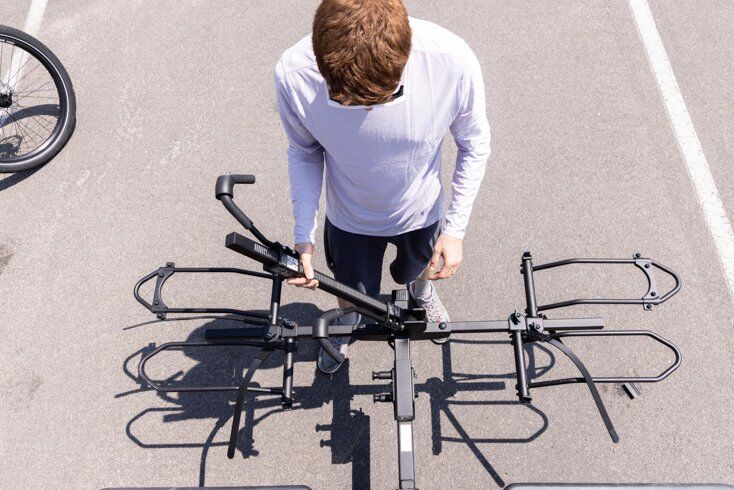 The Hollywood Racks Sport Rider Hitch Rack tilts down for easy access to the rear hitch cargo area. At first we thought this would also help with loading e-bikes being able to tilt toward you but found the bike nearest the vehicle did better when it was put on the rack in standard up and down style.
Overall Impression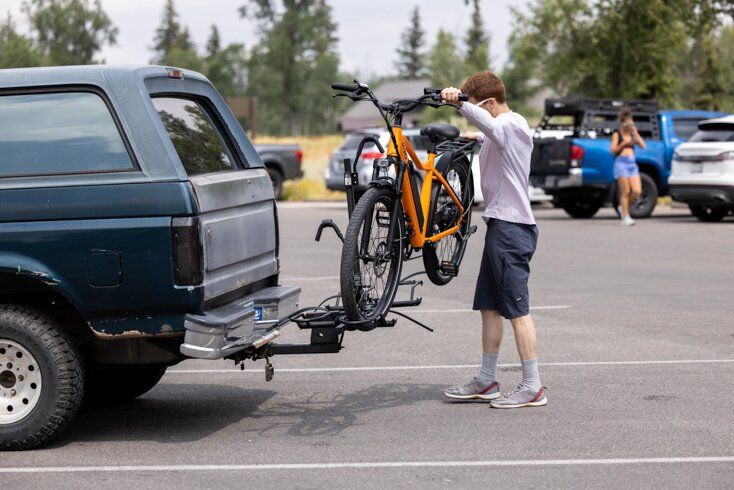 Easy to use, easy to transport and easy to trust are 3 great reasons to buy the Hollywood Racks Sport Rider E-Bike Rack ($499.99). When not in use the rack can be folded flat against your vehicle with a sleek look or taken off and moved around even with it's 58 lbs. weight.
If you're looking for a hitch mounted bike rack to carry fat tire bikes and e-bikes, Hollywood Racks Sport Rider Racks is one of the better if not best options to do is safely.
Related Articles: