I can't say I've ever really been a cooler person. Often I just don't bother. While a cold beverage, chilled fruit, or cheese look delicious at the end of a day outside, I generally don't make that happen. That being said, I am having a blast trying out this Igloo IMX 70 Quart Cooler.
Igloo IMX Test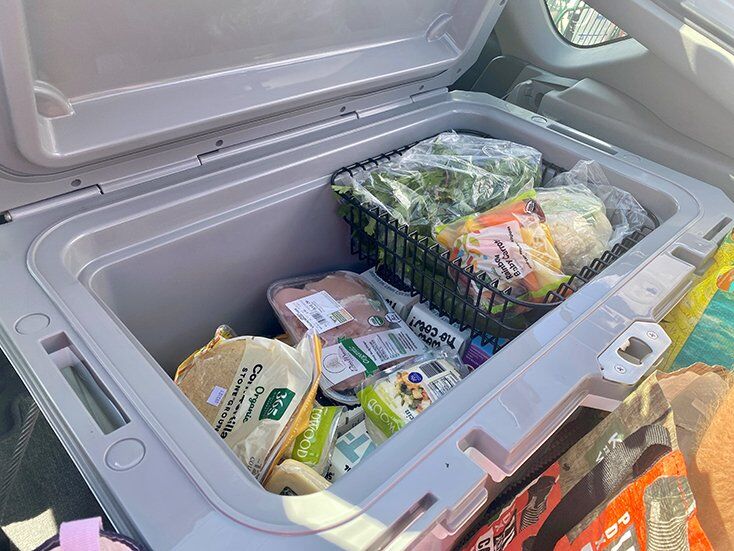 This isn't your parents' Igloo! When you put something cold inside it, the sides and top actually get cold and stay cold for quite a long time. An ice pack isn't even a requirement (depending on the length of cold temperatures desired). This is super convenient for me as I don't always have ice at the ready. How do those ice packs always disappear, anyway?
Of course, camping or a road trip are key times for a nice, super-insulated cooler. However, I am finding many uses around town. For example, my favorite grocery store is 1/2 hour from my house. Bringing the cooler along offers all sorts of flexibility. I can go shop, then go hike and make my way home whenever. That is a big change! Not everything is planned around the grocery store trip anymore.
Igloo IMX 70 Dimensions
The size of this cooler is large but not too large. Exterior Dimensions ( L x W x H ): 31.10″ x 20.32″ x 17.72″ I have yet to run out of space! Interior Dimensions: ( L x W x H ): 26.68″ x 14.43″ x 12″ Have a friend grab the handle on the opposite side. Two people carry it easily. The empty weight is 26 lbs. The IMX 70 fits in the back end of my Toyota Prius. The lid opens up fully and stays open inside the car for easy loading and unloading. 
There is an ingenious removable basket that holds smaller items or and keeps items out of the melt water. It fits snugly inside the cooler and measures approximately 11"x 12"x 5" deep. It is a very usable size but doesn't negatively impact the remaining cooler space.
I've been very pleased with the insulative properties of the Igloo IMX 70 Qt Cooler in my use. While I have not tested Igloo's claim of up to seven days of ice retention, I ran a couple of little tests out of curiosity. I compared the melt rate of a bowl of ice in the Igloo IMX 70 versus an older, typical cooler that also happens to be the Igloo brand. I put the bowls of ice (6"x 6"x 3"deep), a small ice pack, and six beers in each cooler and left them for 5.5 hours in the ~75 degree sun. I do have a science degree so recognize this is not the most exact experiment that the world has seen. 
When I returned, I found about 1/4 cup of water in the Igloo IMX 70 Quart Cooler and about 2/3 cup of water in the older cooler. Again, I was impressed by the temperature on the inside walls of the IMX 70. The beers were, of course, colder. How much colder? It was too early in the afternoon for that measurement.
Overall Impression
I'm enjoying entering the brave new world of super-insulated coolers. I think the Igloo IMX 70 Cooler ($299.99) is a solid representative of this new generation. It will be a staple in my car on a daily basis when the weather warms again.
Related Articles: