At first glance the Keen Howser III Slide is something of an extravagance. It's extra. No one actually NEEDS an outdoor-specific slipper, since any slipper is outdoor-specific if you're brave. But that's not exactly what this slipper-shoe hybrid is built for. Sure, it's great to have near the door of the tent when you need do take care of business in the middle of the night. But that's not all they're good for.
Think of the Keen Men's Howser III Slide as the footwear you wear on your way to do stuff that require special footwear. Imagine slipping out of your ski boots after a long day on the mountain and into the cozy comfort of this fleece-lined slide. Or prying off your climbing shoes after a sweaty gym session and enjoying the signature Keen fit while you cross the cold parking lot on your way home. How nice would it be to not have to fuss with laces while you're struggling to grab your cycling kit and head out the door? That's where the Keen Howser III Slide really shines, it's an in-between piece of footwear, in more ways than one.
Who Makes the Best Outdoor Slippers?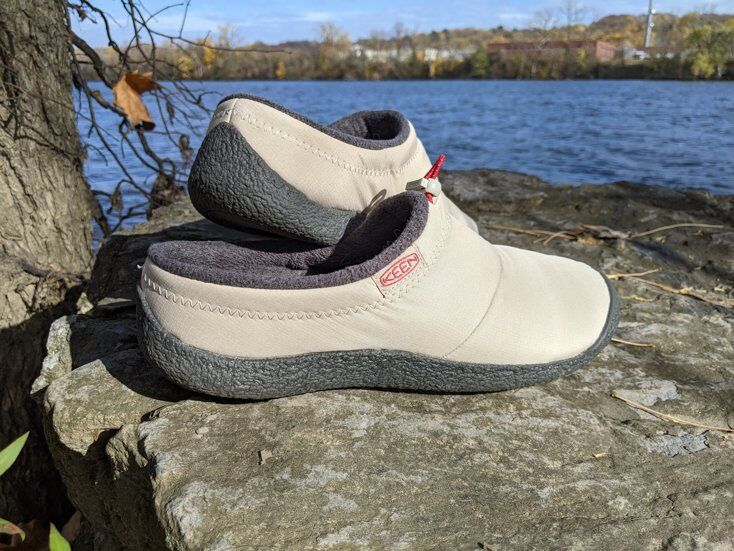 Of course Keen aren't the only ones to have this ground-breaking idea. Other "big" footwear brands have their own offerings of the same idea, like the Teva ReEmber line, Sorel Manawan, or the Chaco Ramble slipper-shoes. And the full-line outdoor brands are in on the action too, with The North Face ThermoBall Traction Mules, REI Camp Dreamers, and Outdoor Research Tundra. Even Full Tilt, the cult ski boot company since acquired and assimilated by K2, had a version called the Full Tilt Claim Apres Bootie that looked an awful lot like an outsole stuck on an insulated ski boot liner.
Whoever's making them, most of them fall into two distinct camps.
On one hand you have the more slipper-ish offerings. Defined by an indoor-friendly soft and flexible sole, these offerings provide slipper-style comfort and enough durability for quick trips to take out the trash or just keeping your feet warm in camp or in your car. Examples include the OR Tundra and TNF Traction Mules, and they're at their best they allow you to extend the territory you would normally wear slippers, but don't really provide much beyond that.
On the other hand, selections like the Teva ReEmber or Chaco Ramble are more shoe-ish. They feature full midsoles, with the support and protection that comes with that, making them more suitable for walking the dog, running errands, or depending on your job- being at work. Under your feet they're indistinguishable from more traditional "shoe" offerings from these brands, it's just the cozy slipper-style upper that makes them feel like something different.
And that's another way the Keen Howser III Slide is in-between. It provides more protection and support than the slipper-ish offerings, but is more cozy and comfort-oriented than the shoe-ish options.
Comfort
Inside the quilted synthetic exterior, the Keen Howser III Slide is lined with a soft but low-pile fleece. Together with the unnamed synthetic insulation inside the quilting, it makes these slides noticeably warm. Which is great news after a long day on the ski slopes, or if your toes need some relaxation after a cold ride on the bike. The cozy fleece lining enough for sock-free wear, though the insole is just a standard textile-lined Keen offering but more on that later.
But lots of slipper-shoes offer cozy warmth. What makes these different is the fact that they're Keens, and they fit like it. They're rather snug around the opening, not to the point of making them difficult to put on rather in a way that inspires confidence that they're keeping your heat in, along with your foot. But once you're in the shoe opens up towards the toes, allowing you plenty of room to spread out. Not only does that feel good, but it also makes these slides great for moving around in. The added space makes balance and footing simple, great for when you're packing up the car to head home or if you're ducking into the trees for some late-night relief.
Performance
Maybe "performance" is the wrong word for leisure-oriented footwear. But as these are slipper-shoes, and not merely slippers, there is a certain expectation that they'll be able to do stuff. But exactly how much stuff?
Underfoot support shouldn't be a limiting factor. As mentioned earlier the insole is a standard textile-lined offering, the same found on many of Keen's "regular" shoes and boots. Which means two things- a decent amount of arch support and cushion for a "stock" insole, and it's removable. Being removable means you can replace it, either with a more-comfort oriented alternative if you're looking for sock-free wear, or with something a bit more supportive if you're looking for more shoe-ish performance. And the natural rubber outsole balances flexibility and traction with a decent amount fo support, helped along by the medium-stiff lasting board that serves as a stable platform for both you and the Howser III.
If there's a performance shortcoming, it's the "slide" styling. Obviously that's a compromise, a slide being easier to get in or out of being a priority over the added support (and warmth) of a full upper. The quick cinch bungee closure at the top of the shoe doesn't really address that issue, as it's too weak to really effect the fit of the shoe. But there is the Keen Howser II Slipper, using similar construction and material but in a full-upper slip-on style, so depending on your priorities the options are available.
Overall Impression
Ultimately, the Keen Howser III Slide ($99.95) is a luxury, which is exactly what you want them to be. They're a comfortable place for your feet to return to after a hard day on the trail, giving you enough support and protection to feel confident moving through the outdoors while maintaining the cozy feel and comfort you want while curled up by the fire. You just get to choose whether that's a fireplace, or the fire ring at your favorite campsite.
Related Articles: