The MSR Elixer 3 Tent is about the best cocoon to help you explore a helluva lot more camping in the outdoors without breaking the bank or the back; just what you need, nothing extra.
3-Person Tent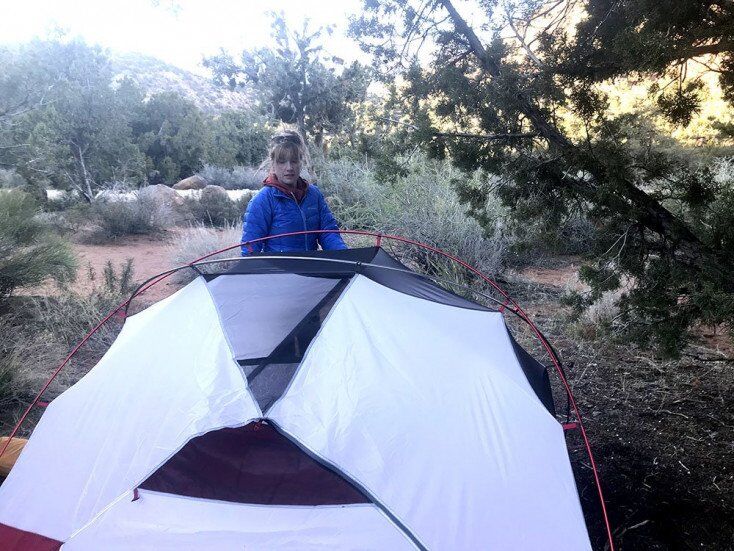 MSR Elixir is a 3 person tent and like everything else in the outdoors world, 3-man tents are shrinking, in a good way. Their footprints are smaller but you still have space, especially when you add the vestibules. My favorite camping partners are my wife and son so for the three of us, it's perfect. The smaller footprint kept us close enough to keep warm (considerably thinner than my Alps Extreme 3, for example) but the shrunk footprint would also come in handy camping on some thin desolate spots (like the sites on the NE ridge of Mt. Moran). If you're putting in 3 grown-ass campers, though, just know that you'll be touching so if you need to keep away from Barney's funk or don't trust Hank to sleep next to you without rolling over and trying to spoon, I'd suggest capping it at 2 occupants.
That said, its roof is like a cathedral ceiling, warding off claustrophobia for even such a small footprint. At almost 64 feet of volume it's bigger than some Manhattan hotel rooms, with walls that expand instead of slope and two vestibules to put in your gear and your boots, especially when they're covered in, say, wet red clay.
MSR Elixir 3 Backpacking Tent Weight
Weight, that's always the big thing with backcountry tents. At 7 pounds it's one of the lightest 3-person tents you can rely on for a price you can swing. At 5 pounds 14 ounces minimum weight, when you divide it over a couple people it becomes next to nothing. And it packs down better than comparable 3-persons, even in the bag. That said, setup is quick and easy, ultra-important after a long hike – the two main poles are attached to each other and even setting it up for the first time (which I didn't do until we got to our site), took only about 5 minutes.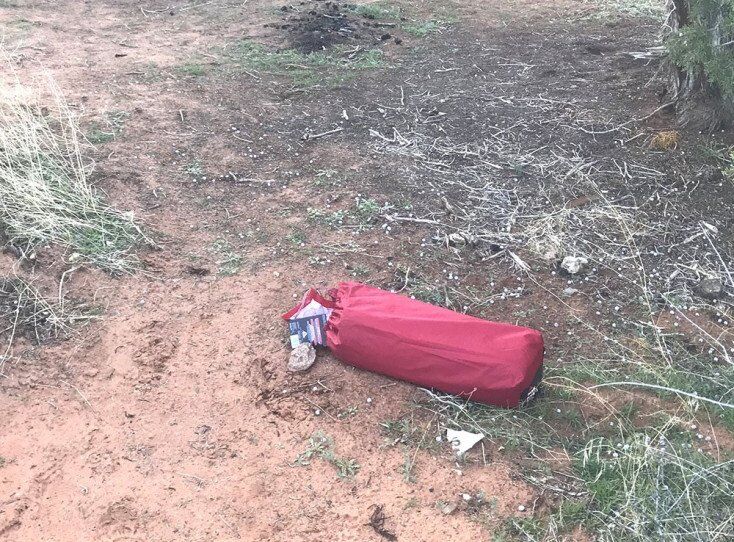 MSR Tent Durability
Aluminum poles (because weight-saving plastic ones leave you feeling pretty sketched out on a windy col) and a 68D ripstop polyester 1500mm rainfly over a 40D canopy and 70D taffeta nylon 3000mm floor so that even when it was cold and wet outside the dew didn't make its way in. This tent (unlike other supposed "3-seasons") doesn't skimp on the weatherproofing; it could probably handle the 4th season except it would need to be a bit warmer (which would, of course, make it miserable on hot summer camps).
You can order an attic (that little roof cargo net thing) to hang from the roof but it doesn't come with that and that's kind of annoying. It has fewer pockets than my other tents and when the temps dropped far down, its breathability shone through in its inability to keep out the cold. Also, there are certainly lighter (though more expensive) 3-person tents and, again, if you've got 3 big dudes it'll be tight. But when your main driver is saving on all aspects — price times weight times footprint — that's where the Elixir 3 shines.
Overall Impression
In the end, this is truly a 3-season tent — the lightweight and airy roof are definitely not made for a winter snow camp. But is that what you want for your summer backpacking trips? There's nothing worse than sweating so hard in your tent you can't fall asleep.
Mostly you just need a tent that'll keep you dry and make short order of wind without turning into a vision quest sweat lodge. And for your long missions into nowhere you need just enough weight to make a home — split over 2 people, 7 pounds or less is all but unnoticeable.
A summer backcountry tent should be the perfect blend of comfort and weight and quality and price because at about $299.95 MSR Elixir 3, you'll have plenty to spend on the rest of your kit. Situated in the ideal locus for your backcountry shelter; what else would expect from the company that has engineered almost half a decade of fueling backcountry adventure?
Which brings me to the final point: Buying MSR supports a good cause. Their founder's original drive to make gear that lasted a long time came from a desire to reduce waste. And that was like 50 years ago before conservation even became a word most people knew, much less before it became the cool thing that also drove sales.
You're putting your money in the hands of a company that has been dedicated to saving the environment from day 1 (and the geeks who dedicated their lives to making products that did just that instead of more lucrative industries like banking or making airplanes or bombs or something).
Blend all the elements that make a great backcountry pack and you get one amazing Elixir. 3. Exactly…
Related Articles: