The Never Summer Proto Type Two is the most lively, fun, surfy, poppy hippie loving snowboard I have ever ridden and it makes me uber proud that this snowboard was handmade in Denver, Colorado and even pressed by Sasso (a snowboarder).
When you buy a board from NS you're supporting snowboarding and more importantly snowboarders as the company is still owned by brothers Tracy and Tim, and from the top down the entire crew shreds.
Twin Tip Snowboard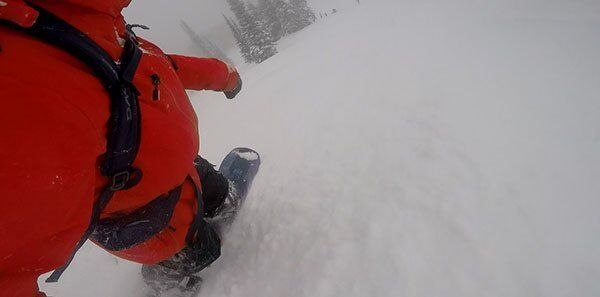 You might be wondering why I'm riding a twin tip freestyle board in pow? Well because it's about as rad as it gets, and don't be fooled it works!
Anyone that straps into a Never Summer Proto Type Two will become a better snowboarder. Do you really need to even keep reading?
If you like to and I hate to borrow the term from another brand "surf the earth" this is the snowboard you will want to buy. Top to bottom Never Summer's Type Two can handle any terrain the mountain throws your way from the steeps to the deep and everything in between.
After a week of testing in the Tetons, I have yet to find any terrain or conditions that this board did not allow me to have 100% confidence and some in my riding. I found myself picking of technical exposed lines sending cliffs and searching out every single piece of powder that mountain had to offer. This is a snowboard that was designed to simply have fun.
I don't ride park anymore so I can't tell you how it works there but I would assume if It can land solid off big cliffs in the backcountry and hold an edge on steeps groomed park kickers and pipe sessions should be a breeze. This board makes me want to spend more time riding resorts. And I never thought that would happen again.
Poppy Poplar
There is something about the Proto's over the years that has remained the same, insane pop thanks to the hybrid poplar/birch core material. I set this board up in the back seat (as I am always riding pow) and it takes little to zero effort to load the tail. I felt like my dog leaping from patch of snow to patch of snow. It was like I had reunited with my favorite board, favorite terrain and favorite mountain. However, all this was new to me yet I just felt like the board and I was always in tune.
Even spinning on this board felt easy, my 3's became 5's and so on. Once the board gets loaded up it's going to release some serious energy.
Never Summer Ripsaw Profile
Clearly as seen above in the video above it's obvious that Never Summer's Type Two performs well in deep snow. Wondering why? You can thank the tried and true Never Summer Ripsaw profile found on this board.
Last year I heard feedback that the Never Summer Funslinger was too soft? You might want to lose some weight, but all kidding aside I actually felt the Ripsaw was a bit too stiff for my everyday style of riding. So when Never Summer decided to take the best of both of these boards and plop them together, I can say without a doubt the Type Two will be the only snowboard you will ever want to ride again.
Type Two is actually an asymmetrical twin shape, so yeah it can go anywhere you want to take it. Another new piece of tech on the 2017 Never Summer Type Two is a sweet looking nylon top sheet, hopefully. I did notice snow still sticking to the sparkly pentagram at the top of the board, but whatever I'm calling this a powder board and it should be covered in snow anyways.
Last but not least for anyone that likes to carve you will want to take this board out on some groomers. It's nearly impossible to make the Type Two washout, put it on an edge and it will stay there until your ready to shift your weight to the opposite side. This is effortless snowboarding 101.
Overall Impression
For a solid board, the Never Summer Proto Type Two is the perfect blend of tried and true camber for stability and the effortless float found in rockered boards. I never had to force this snowboard to go where I wanted it to. After a week of resorts laps and backcountry runs I have found my new daily driver (move over Funslinger) as this board really held its own in big technical terrain. And for that Never Summer will surely sell a ton of these.
This is what Vince Sanders of Never Summers Product Development team had to say "Rocker between the feet and camber extending out to the ends of the board is the most versatile design for snowboarding overall". And I could not agree more.
The Never Summer Proto Type Two ($654.99) will sell out if you snowboard you really ought to consider adding this board to your quiver. Or better yet get rid of most of your other boards as this tech combines everything I love about snowboarding into a nice neat looking package.
Related Articles: