Sure to be one of the most popular puffys on the market is the brand new Patagonia Macro Puff Hoody.  With a bit of added length, extra warmth and some killer features to boot Patagonia's Macro Puff continues in the legacy of the brand's famous Micro Puff Family.
Patagonia Macro Puff Breathability
The Patagonia Macro Puff Hoody is a great new addition to the Patagonia outerwear line.  In the past for high output activities likes ski touring and splitboarding wearing a puffy wasn't the preferred go-to piece of gear for going uphill.  Puffy's are after all made for trapping heat and keeping your core warm especially when weather conditions are gnarly.
So when I put the Patagonia Macro Puff Hoody on, the brands lightest most packable hoody to date for an early morning tour, I caught a few strange looks at the trailhead.  We planned to climb over 2,000 vertical feet to ski a line back down to the car, with temperatures hovering in the single digits.
Pluma Fill Insulation
I figure this would be a good way to test out the Pluma Fill Insulation. About 3/4 the way the mountain I started to get warm and unzipped the Macro Puff, heck I had just toured 1,500+ feet wearing a puffy with 135grams of synthetic insulation.
A few minutes later as we neared the top the wind started howling so I zipped the Macro Puff back up and forgot there was a storm whipping around me.  With the hood on, Patagonia's Macro Puff makes it easy to forget about whatever mother nature has in store, allowing you to focus on the task at hand, be it touring, digging a pit or even starting a fire.  The Macro Puff is made even cozier thanks to Patagonia's new quilting technique that seems to put the insulation just where it's needed.
Nylon & Polyester
As for durability, the Macro Puff is made with 100% recycled nylon outer and 100% recycled polyester lining.  Puffy's and tree branches typically don't play nicely together though.  So to find little wear and tear after days bushwacking, sledding and splitboarding it says something about the long term durability this piece of clothing.
The grey dark grey colorway worked is especially nice as it doesn't seem to show any dirt.  I managed to cut myself and bleed all over the Macro Puff and you could barely notice any blood on the sleeves.  This is a piece of gear designed to last, a Puffy you will wear for years to come.
Plus if you do get a hole in the Macro Puff Patagonia has a great warranty/repair program.
When it came to going downhill, on the inside of the Patagonia Macro Puff Hoody are 2 full-length internal pockets that are built to store a set of climbing skins.  This leads us to believe Patagonia knew the end-user would probably be spending time in the backcountry.  Even if you don't store skins, these pockets are great for keeping an extra set of gloves, goggles, and just about anything you would want to store against your body.  Especially nice for keeping the new GoPro's cameras warm.
If you find yourself standing around from time to time in the mountains, the Patagonia Macro Puff is a piece of gear you won't want to leave your house without.  The Macro Puff does work best in colder, drier temperatures.  If it's 32 degrees and snowing buckets, you may find this Puffy can get wet, as will just about every other puffy on the market.
Where the Patagonia Macro Puff will likely get the most use however will be for wearing around town, walking your dog and doing outside chores like shoveling snow.  Soon to be one of the most popular and recognized pieces of Patagonia outerwear that everyone you know will own.  The reason being is the fit is a little longer than past Patagonia Puffy's, which works well when the weather is really nasty as you have a little added protection and length at the waist.  The look is clean and can easily be worn to any mountain town function and would look especially nice being rocked on Times Square in New York City.
Overall Impression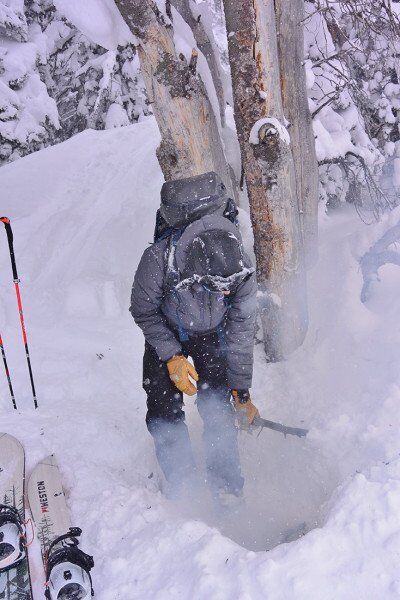 Patagonia actually held off on showing this piece of outerwear at the Outdoor Retailer tradeshow as they wanted to make sure the new addition to the Micro Puff Family was fully dialed and available in the entire size run for 2019/20.  This says something about the brand. With a reasonable price only $399, Patagonia's Macro Puff Hoody is a piece of gear anyone that spends time outdoors will surely be able to appreciate.  Knowing I will have this amazing Puff for years to come gives me an even warmer feeling on the inside.
Related Articles: