Triolet may be a place in the Alps or something (I don't know, I didn't look it up) but the toilet-y sound of the Patagonia Triolet Jacket is a real discredit to the performance it provides onhill.
Patagonia Triolet Jacket 2L GORE-TEX
Far from being a flushable, run of the mill hardshell, the Patagonia Triolet Jacket is a two-ply, 2L GORE-TEX shell that provides a clean, functional, budget-friendly jacket for those of us that like to get after it.
Straight from toilet bowls to back-bowls (I'm a custodian/tail-guide that appreciates utility and double entendres), the Triolet features commodious chest and hip zip pockets, easy pull pit zips/vents, the RECCO body recovery system, an elasticized inner chest pocket, and no-nonsense styling. It's simple, packable design and true to size fit are great at a medium for the long-armed skinny set, and the hood is large enough to accommodate your giant head even when you have a helmet on.
I like to pretend to be a ski patroller, so the crimson guard colorway is my go-to. It's fun to blow minds threatening to pull passes when in the backcountry, and on the rare occasion I'm riding the lifts I can usually sneak through the singles o/a patrol line at least twice before getting called out.
The oft vetted Patagonia design principles and sourcing ethics ain't so bad either. I appreciate the effort on their part, and the Triolet Jacket's backstory fits in nicely with their mission and vision.
Jacket Features
Some folks moan about the lack of a powder skirt in the Triolet, but I haven't had a problem with this as I never fall down. Be a better skier or snowboarder = problem solved.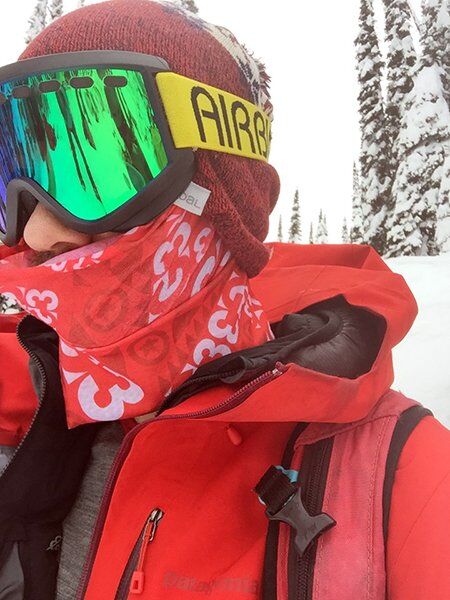 One item I would alter is the size of the chest pockets- If these were another inch in length I could probably fit my skins folded inside of them.
There's another feature, too, that has been a bit of a bother when touring- There's a snap near the tailbone that I assume is meant to interface with Patagonia brand pants(?) that can become a real Princess and the Pea type pain, rubs when your backpack is sitting low on your spine. I should probably just tear it out and be done with it, but what about the resale value?!
At almost half the price of the 3L Patagonia Powslayer Jacket, the Triolet is a screaming deal and packs tighter than the Powslayer, too.
Overall Impression
Stop falling down so much, pretend to be a ski patroller more often, and save your cash for beefed-up lunches and beers instead of adding a 3rd layer of Gore to your bloody crimson setup. The Patagonia Triolet Jacket ($399.99) is an able uphill and downhill companion and comes highly recommended by this skeezy tail guide slash custodian.
Related Articles: