Snow's driftin', track's filling in right after you put it in, and you still got a ways to go. Patagonia knows the feeling, obviously. The Patagonia Snowdrifter Bibs are made for those days that are good for the soul and tough on your gear.
Patagonia Snowdrifter Bibs Material
Comfortable, dry, warm, breatheable, flexible and practical. And you gotta look good. Yeah, that about sums it up. The first thing I noticed about Patagonia's Snowdrifter Bibs was the polyester/nylon/spandex stomach that stretches to hug the core like an old, comfortable friend. Every other bib I've ever tried is the same material from boots to chest, and most of them reach up almost uncomfortably high.
Waterproofness
Patagonia gets it just right, combining their H2No 3-layer Performance shell everywhere you'll get plastered by snow (though they're stretchier than some hard iron shield gore shells) with that soft, snug upper where your jacket should give most of the protection (though that still has a DWR finish). The thigh-zippered pockets are great for stashing a snack or two, and the chest pocket can easily hold wallet, keys, smartphone and more. There are side zips for ventilation. It also incorporates the RECCO system, and at 1.2 pounds they're practically weightless.
Backflap
But the biggest issue everybody has with bibs? When you gotta go old alpine number 2 (or for ladies, old alpine anything). Which is what I've discovered in Patagonia's Snowdrifter bibs that makes them better than every other I've tried — they have a modernized solution to the age-old drop seat. The backflap attaches to the suspenders with a button, and then coming down from that connection is the top zipper of the side vents. So yes, you can open the back to get some air for the old tuchus.
Flexibility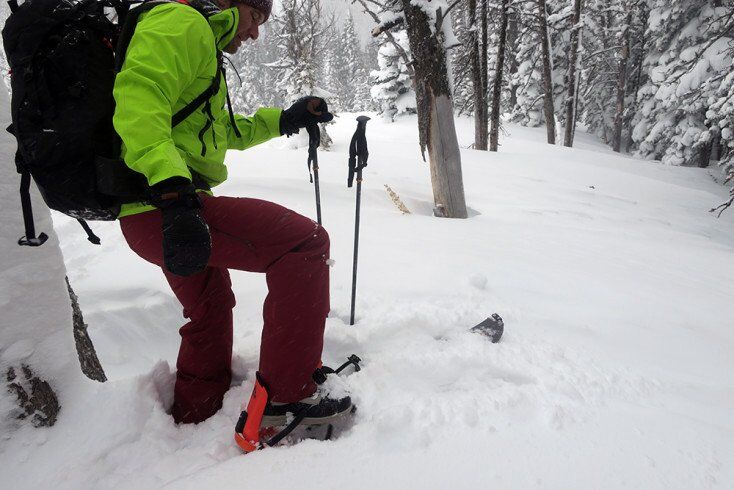 I've taken them skinning and booting; on resort hotlaps and spinning off lips. Days when the snow is so rimey it plasters everything, the Patagonia Snowdrifter takes the abuse and never passes it on to you. But move your legs, there's no interference from the pants. More breatheable than most other bibs without sacrificing warmth and water-repellence. The gaiters lock out snow (and held up to a few crampon bites last weekend). And I really like the feel of its upper that hugs like a second, heavier base layer. But that drop-seat? Dude, does THAT come in handy when you're grinding uphill first thing in the morning after a bulletproof coffee and a sausage burrito.
Patagonia's trademark is clean without being square, super-designed without feeling techy. And they nailed that with the Snowdrifter bibs. And the oxide red with gray upper colorway just looks so unlike any other bibs; you can tell Yvon's obsession with fishing has led to some crossover from fly waders, including the gray zipper pocket on the upper, that looks like a sick pair of waders. One thing to note, I'm about 6 foot 180-something with big meathead legs and these bibs in medium fit me perfectly.
Overall Impression
Patagucci is the highest end brand ever founded by an old dirtbag who climbed rowdy routes with a belly full of catfood. And somehow they've managed to make gear just as popular with Brad and Chad as with the athletes, dirtbags and scallywags who actually explore the alpine. Comfortable and strong and cheaper than overbuilt winter bibs. Patagonia's Snowdrifter ($349.99) has all the features and the tech you need to get after it — and, to be crude for a moment, it allows you to dump when it's dumping. Plus they really look cool as hell.
Related Articles: