Powster – experience the mountain with products created with the rider in mind. Powster studios new line of goggles was created to provide technically built outdoor gear that doesn't compromise on aesthetics and price. With so many options for snow sport goggles Powster is forging their brand with innovation straight from their athletes.
Zeiss Lenses
The Powster Pulsar Goggle comes with 2 magnetic lenses made by Zeiss. Zeiss is a leader in the optics field, reaching far past snow sports. The quality and clarity of these lenses create a high definition visual experience. The Pulsar Goggle comes with a sunny day and a low light lens. Both perform great but I am extremely impressed with the low light lens. It brings out textures and provides depth perception in whiteout conditions.
Fogging is not a problem with these Powster Snow Goggles, the double layer Zeiss lenses have 360 degree ventilation as well as "Ri-pel". This is an anti dirt and anti water coating applied to the lens.
Magnetic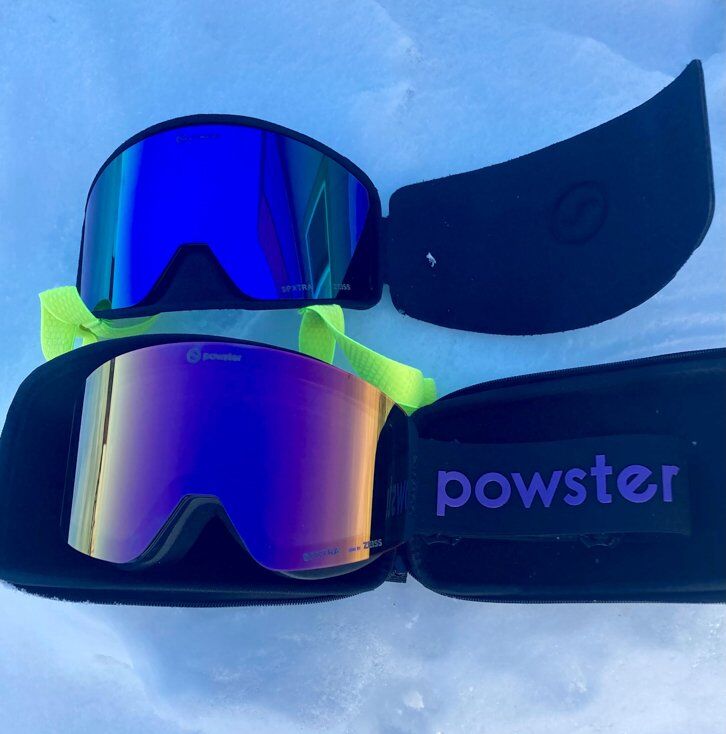 One key feature of the Powster Pulsar is the magnetic lenses. Gone are the days of trying to snap an awkward lens into your goggles with a bunch of little tabs. As the clouds come in- reach into your pocket and grab your low light lens that comes with a handy, small hard case. The swapping of lenses has never been easier. The magnetic lens pops on and off extremely easy yet holds on strong for that unexpected crash. A mirrored exterior finish provides durability.
Even taking a few branches to the face while tree skiing, the "scratches" wiped right off proving this is a durable lens and it will take a beating.
Fit
The fit of the goggle is generous providing a large field of view while not feeling overly cumbersome. The Pulsar has a good fit around the face with very comfortable foam. This is the style goggle that sits farther away from your face – so your nose may feel a little squished depending on face shape. The Pulsar fits nicely with most helmets -eliminating the dreaded gaper gap.
The Pulsar comes with 2 lenses, a hard case for the goggles and a sleek hard case for your spare lens. This all adds together to be a high value and high performing option. With so many choices on the market, this goggle stands out with Zeiss quality lens, magnetic attachment and a high quality build.
Overall Impression
Looking good on the slopes is just as important as having a product that won't let you down no matter the conditions and that will live firmly in your snowboarding or ski bag for years to come. For a great new pair of optics check out the Powster Pulsar Goggles ($245.00)
Related Articles: